Greater Manchester Police (GMP) has apologised to families of the 96 victims killed in the stadium disaster after an officer used the images during an "internal training session".
The force has not revealed which images were used or given more information about the context.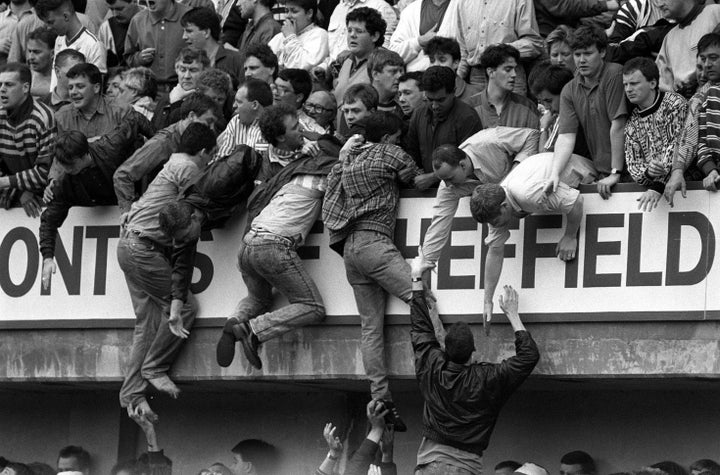 It follows an earlier apology GMP made in June, when it distributed images of the 1989 disaster to staff as part of a recruitment campaign for "super recognisers" with specialise in memorising faces of suspects.
The police handling of the disaster has regularly been in the headlines in recent years after a 2012 report alleged a subsequent cover up of what happened.
An inquest earlier this year concluded the 96 who died were unlawfully killed.
Louise Brookes, whose brother Andrew died in the disaster, tweeted that the ongoing news about police conduct was "relentless", adding "every week there is something".
Brookes told the BBC that she was grateful to GMP for contacting the families and "keen that they focus on a thorough and open investigation".
The suspended officer's conduct is gross misconduct, the force said, meaning they could face dismissal over it.
"The fact that we believe these images have been used again is totally unacceptable," Assistant Chief Constable Debbie Ford said in a statement.
"I have written to the families of the Hillsborough victims to apologise for the distress this may cause them."
She added she had suspended the super recogniser programme until 2017 while the "necessary measures are taken to remove any inappropriate images".
She said: "The 'super recognisers' programme is widely used in policing and is aimed at recruiting staff who have an enhanced ability to recognise faces.
"GMP accept that the use of images from the Hillsborough disaster was totally inappropriate and staff were directed that using these images in any format is prohibited."
Popular in the Community