The anti-racism campaign charity said it has been "overwhelmed" by the response to the fundraiser set up on its website.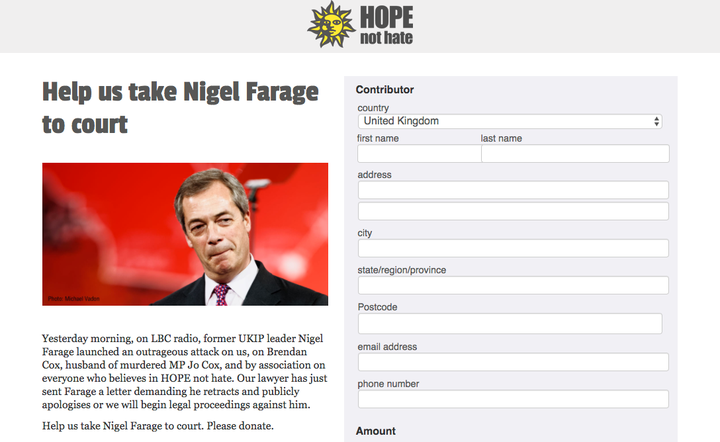 Yesterday morning, on LBC radio, former UKIP leader Nigel Farage launched an outrageous attack on us, on Brendan Cox, husband of murdered MP Jo Cox, and by association on everyone who believes in HOPE not hate. Our lawyer has just sent Farage a letter demanding he retracts and publicly apologises or we will begin legal proceedings against him.

Help us take Nigel Farage to court. Please donate.
A spokesperson for Hope Not Hate told HuffPost UK: "We have been overwhelmed by the level of support we have received: thousands have donated to HOPE not hate in response to our appeal."
The spat between Farage and Cox began when the Ukip MEP said the Berlin terror attack, which left 12 people dead and 48 injured, was "no surprise" as he criticised German Chancellor Angela Merkel's "legacy".
Farage sparked outrage on Tuesday after hitting out at Cox:
When asked about Cox's comments during an interview on LBC, Farage responded: "Yes well of course he would know more about extremists than me, Mr Cox.
"He backs organisations like Hope not Hate who masquerade as being lovely and peaceful but actually pursue violent and very undemocratic means.
"And I'm sorry Mr Cox but it is time people start taking responsibility for what happened. Mrs Merkel has directly caused a whole number of social and terrorist problems in Germany, it's about time we confronted that truth."
Related