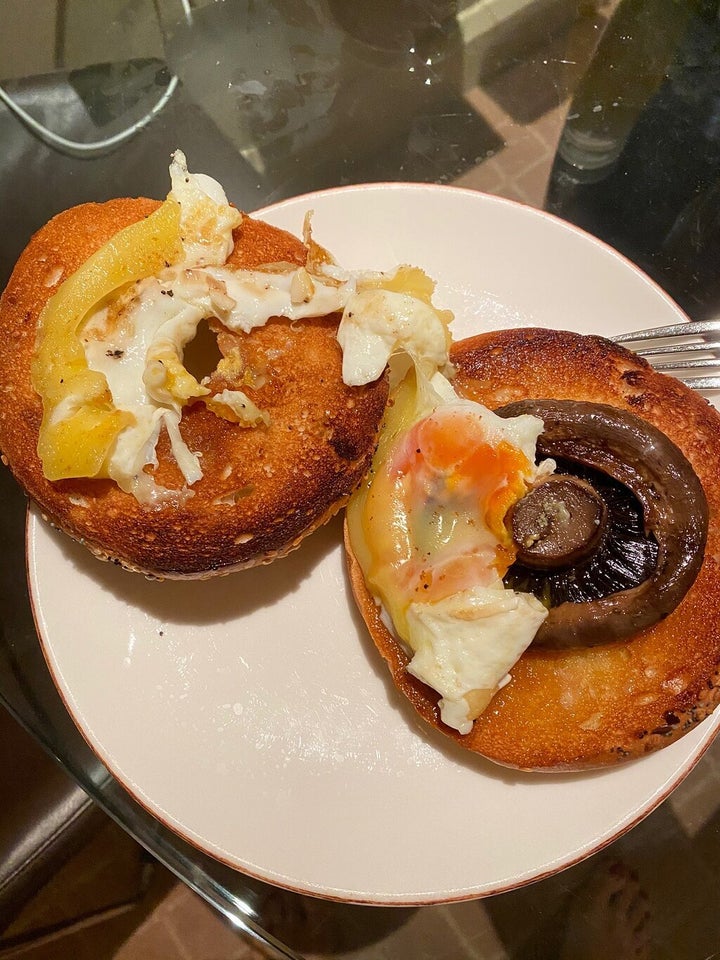 The reviews are in for England's quarantine hotels – and it's fair to say they're not glowing.
Anyone arriving in the UK from one of the 33 "red list" countries must self-isolate in a hotel for 10 days to stop the spread of "potentially harmful variants" of coronavirus.
They have to pay £1,750 for the pleasure, a fee that covers the cost of the hotel, transport and the two Covid tests they must take.
But reviews on Trip Advisor are questioning the eye-watering amount – with one guest claiming the programme is being run "on the cheap" because guests have no choice but to pay up.
One person staying at the Radisson Blu Edwardian Heathrow said the hotel was being "disrespectful" to its guests.
They said: "For Covid reasons, no one cleans the room and the only way to leave the room for 15min to get a bit of fresh air is if you are escorted, hence is already a difficult situation to be in and to make our stay even more awful, the food is completely disgusting and served in paper boxes with paper cutlery.
"We had to ask for normal plates but now we need to wash them in the sink without any soap... and we are PAYING for this!"
Posting photos of their meals, including Monday's breakfast of "field mushroom bagel with fried egg and cheese", they added: "The food is so awful that we order some McDonald's after receiving our last dinner!"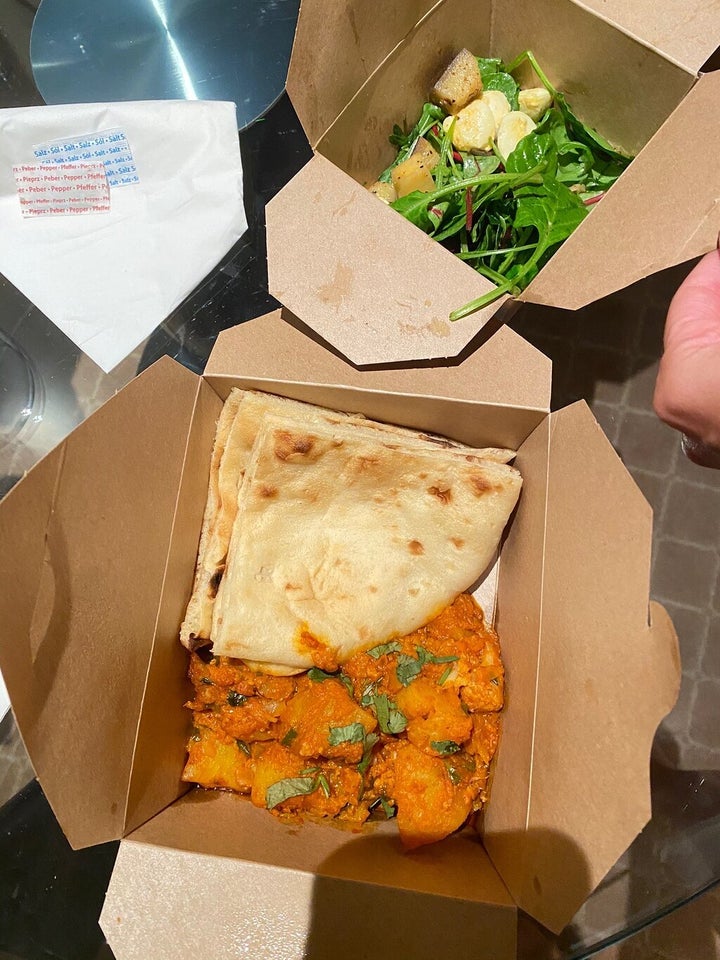 The "red list" is largely made up of countries in South America and southern Africa, and also includes Portugal and United Arab Emirates. The rule applies to travellers who have passed through any of them in the 10 days before their return.
It is, of course, currently illegal to travel abroad for a holiday. However, some of the first guests to check in at the hotels complained about the measures – not least the cost – and explained they had been visiting sick relatives or dealing with legal matters.
A guest at Heathrow's Holiday Inn hotel hit out at the forced quarantine, titling their one-star review: "ALCATRAZ."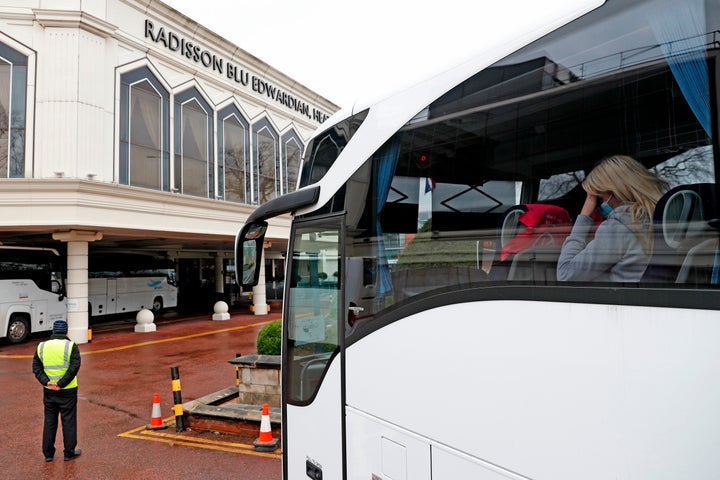 Back at the Radisson, another guest labelled the food "disgusting" and summed up the experience as "basically a total disgrace".
A third headlined their review: "Not worth it."
"The room is basic but ok," they wrote. "The quality of the food varies, sometimes it's actually not that bad, other times it's all soggy or tasteless.
"Moreover often the food is cold by the time we get it. Most of all: it's delivered in cardboard boxes which is just not tasty.
"Still we do pay £180 a night for us two, where a standard room rate would only be £80. I would never pay £100 a day for food like this.
"In the end, everything is done as cheap as possible because we don't really have any choice. And that's disrespectful."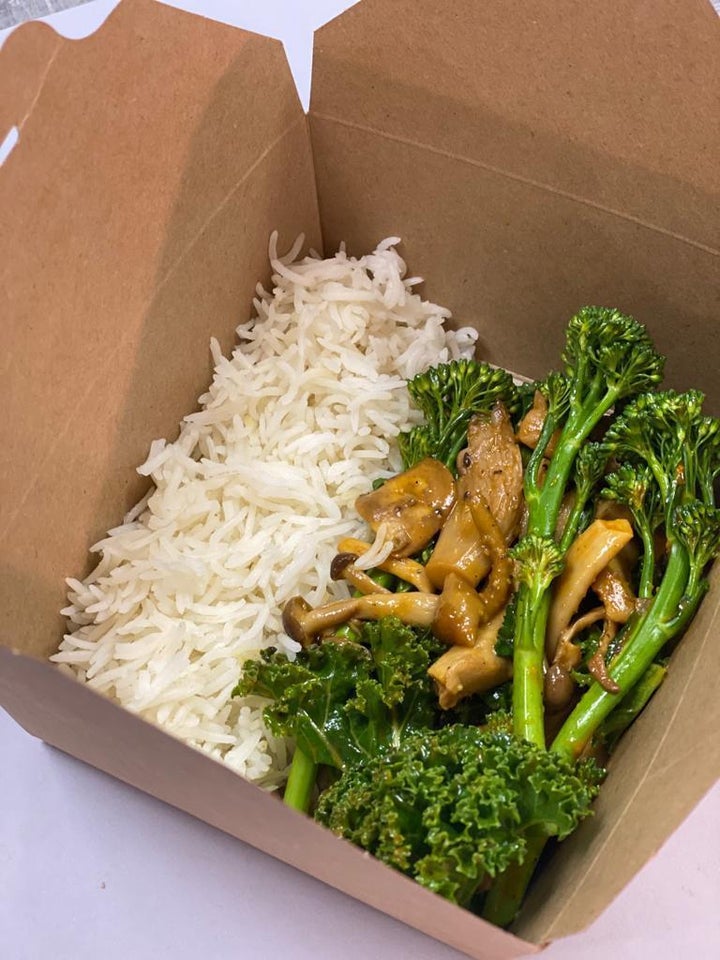 Radisson sent HuffPost UK a sample menu to highlight the quality of its meals.
Tuesday's offerings include fig and orange Bircher muesli with
citrus-infused honey for breakfast, a lunch of cod and roasted fennel with soy and ginger sauce, with a side of endive, feta, macadamia nuts and roasted figs
with honey dressing.
Thai green curry served with pomegranate tabbouleh with lime dressing was one dinner option.
A Radisson Blu Edwardian Heathrow spokesperson told HuffPost UK it took its role in the government's programme "very seriously".
"We work with the Department for Health and Social Care to provide this service based on the costs set by the government," they said. "This fee includes providing three meals per day to guests.
"All staff at our properties have been trained in the Radisson Hotels Safety Protocol which includes mandatory use of PPE along with sanitation and hygiene procedures, as well as regular training for all staff on these procedures. Our team is working in partnership with the UK government-contracted security staff at the property to help keep guests safe and secure.
"We take any feedback from guests on board to help continue to meet the standard of service in our property whilst complying with the requirements set by the DHSC."
Anyone who fails to quarantine in a government-sanctioned hotel for 10 days face fines of up to £10,000 and anyone caught lying on their passenger locator forms about visiting a red list country faces up to 10 years in jail.
Holiday Inn has not commented on comparisons with the notorious former prison island.