House building under the Tories has fallen to its lowest peacetime levels since the 1920s, HuffPost UK reveals today.
An analysis of house building going back more than a century shows the most recent years of Conservative rule has seen the lowest average house build rate since Stanley Baldwin was in Downing Street in 1923.
According to figures compiled by the House of Commons Library, an average of 127,000 homes a year have been built in England and Wales since the Tories took office in 2010.
This is the lowest level since Baldwin's first stint as Prime Minister in 1923, when just 86,000 homes were built.
Labour's Shadow Housing Secretary John Healey – who obtained the figures – said: "These humiliating figures show that Ministers' promises on housing since 2010 have been nothing more than empty words.
"Official statistics confirm that since 2010 not only have Conservative Ministers built many fewer homes than the last Labour government, they've built fewer homes than any government, Labour or Conservative, since 1923.
"After seven years of failure the Conservatives have no plan to fix the housing crisis.
"Labour's New Deal on housing will back first-time buyers and build the genuinely affordable homes to rent and buy the country needs."

The figures reveal that the Government which oversaw the highest average house building through its time in office was Harold Wilson's Labour administration from 1964 to 1970 – where an average 343,783 homes a year were constructed.
Wilson also saw the highest individual year for house completions – 371,720 in 1968.
Among Tory-led governments, the 13 years of Conservative rule from 1951 to 1964 produced an average of 271,748 homes a year, and the Margaret Thatcher/John Major period of 1979 to 1997 saw an average of 180,929.
The New Labour years from 1997 to 2010 saw an average of 154,591 homes built a year.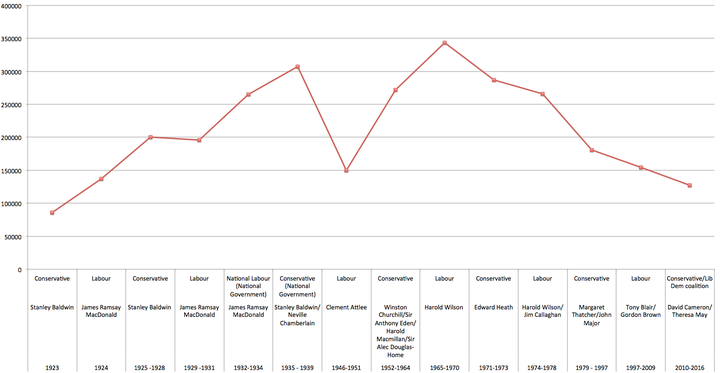 Alongside the figures, Labour also released a dossier of broken election pledges from the Tories' 2015 manifesto. This included the promise to "build 200,000 Starter Homes" by 2020.
The manifesto also pledged to build "more affordable housing", but the number of affordable homes built last year fell to the lowest level in 24 years.
Housing Minister Gavin Barwell admitted in the Commons in December last year that figure was "unacceptably low", and added: "That was because we finished one programme the previous year and the new programme was late starting. That is a feeble excuse, and the Secretary of State and I are determined to ensure it does not happen again."
Reacting to today's analysis of average house building rates, Barwell told HuffPost UK: "Under the last Labour Government, the economy crashed, seeing house building fall to its lowest peacetime rate since the 1920s. Conservatives have cleaned up Labour's mess, with 190,000 new homes delivered across England last year.
"Under the Conservatives, the economy continues to grow with a strong supply of new homes in the pipeline thanks to our reformed, locally-led planning system.
"But Jeremy Corbyn and his coalition of chaos would wreck the economy – grinding house building to a halt, hitting family homes with a barrage of new taxes and kicking away the housing ladder from first time buyers."
Related