It arrived through the post this morning: my 2018 Virgin London Marathon 'Good for Age' entry pack. It's my third time securing a place in the world's greatest, and most iconic marathon by achieving an age-related qualifying time, and – dare I say it – I've become somewhat blasé about it. As have other people. People who have only ever known me as 'Rach, the Runner.'
'Oh, it's alright for you...' 'You look like a runner…' 'It must be easy for you…' 'You're the right build…' 'You're just a natural…'
It wasn't always this way. In fact, the messages I received growing up couldn't have been more starkly different.
'You're no runner, Rach…' 'You're not built like a runner…' 'You're a more "studious" type… 'You're "sturdy", "well-built"' and every other polite euphemism for 'fat'.
But we are all so much more than we allow ourselves to believe. The labels we are given, and the boxes in which we find ourselves can be transient. They don't have to define us. We can rewrite the label; break out of the box. Create a brand new, improved version of ourselves, which is who we really are - who we really want to be.
I know this because I did.
From a place where once all I saw were the gaps - my own inadequacies, flaws and shortcomings, I created and eventually learned to see a version of myself who was all the things I never believed possible. I became visible - most importantly to myself. As a baby deer is born and can barely stand on its pathetic, spindly, rickety legs - so was my self-worth. Uncomfortable to watch and witness the struggle, whilst willing it to stand and take a brave step forward. This is the very same, fragile basis from whence I came.
I've always admired those who appear to be so self-assured, confident, and whose default position is to assume that they ′can', that they 'are'... (fill in any appropriately positive adjective here). Those who stand firm and unwavering - who take their place in the world without intrinsically questioning their right to do so, and not instinctively wanting to shrink or hide.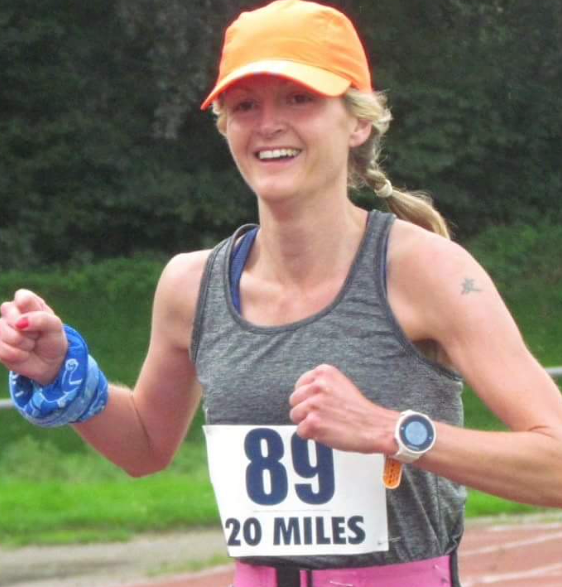 But my relationship and growth through running has taught me this: that it is possible to learn how to take your place in the world, to feel able to stand upright, and with confidence. Through running, I have learned to appreciate and value my own worth, and myself.
This is not some do-gooder's account of her own perceived (ahem) 'greatness' in any sense - it couldn't be further from the case. Nor is it an egotistical pat on the back, to relish in my own gloriously humble achievements. To be either of these would mean I have learned nothing, but instead only continued to seek others' validation and approval, which I've already wasted too many precious hours, days, months – and cumulatively years - of my life mindlessly chasing.
Granted, I am very proud of my own personal running achievements, but this is about so much more. I'm actually far prouder of the fact that every day I'm learning to be a happier me - someone who is realising that I am simply enough. The freedom and confidence that running has given me in making life choices, which may have seemed incomprehensible at one time, but I learned were possible. I have the right to choose my own path in life, and to feel free. And most importantly, I am now happy to be able to share my own journey, and my story with others.
We may well have a lot in common...
Running For My Life by Rachel Cullen out 11th January RRP £12.99 (Blink Publishing)
We've launched Gym Buddies, an online fitness community to help you make lasting changes towards a healthier lifestyle. Sign up for daily motivation straight to your inbox, whether complete beginner or seasoned pro looking for a new challenge.