New Year's resolutions aren't always easy to keep – and the idea of failing can put you off having a go in the first place. Instead, for 2020, HuffPost UK is looking at good intentions we'll try to focus on, from greener living and better money management to looking after our bodies and minds, with small achievable steps from the experts and inspiring tips from our readers.
At a time where more people than ever are aware of how their habits impact the environment, we're all looking for ways to reduce our carbon footprint.
Everyone has one – it's the amount of carbon dioxide released into the atmosphere as a result of your daily routines. The lower it is, the better for the planet. Sadly, a staggering 40% of the UK's emissions come from households – things like heating, electricity, car travel, waste and the flights we take.
"With the world in the middle of a climate emergency we can all play a part in cutting the emissions that are heating our planet," Muna Suleiman, climate campaigner at Friends of the Earth, tells HuffPost UK.
"There are lots of things we can all do in our lives to reduce our own carbon footprint – but crucially we need to force our politicians to act, too. Let's make 2020 the year we all take action to end the climate emergency."
If you want to green up your act in 2020, here are five ways to get started.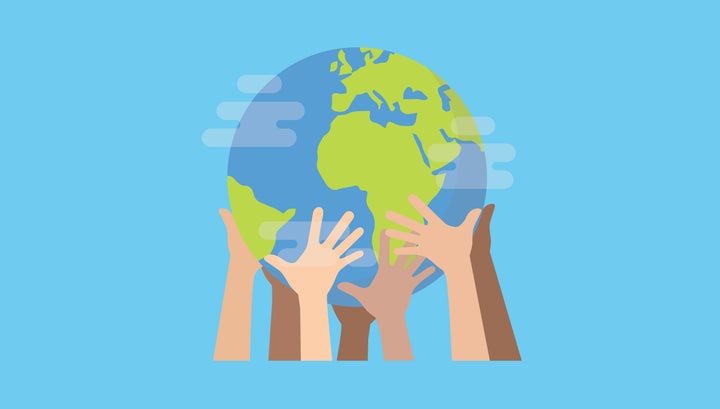 1. Eat less meat.
Eating less meat, or giving it up completely, is one of the biggest ways to help fight climate change, a major United Nations report revealed earlier this year. Eating locally-grown produce reduces the carbon produced by vehicles having to transport goods, as well. Why not try out Veganuary (here are five simple recipes to get you started) and see how you get on? Or, Friends of the Earth suggests easing yourself in with meat-free Mondays.
2. Don't buy into fast fashion.
You know – those cheap, trendy pieces you see on the high-street, wear once, leave it in your wardrobe, and forget about. Generally, these clothes aren't made with durability in mind, so won't be wearable past a few seasons. Instead, commit to buying secondhand or from charity shops – you can use our extensive charity shopping guide to find out secrets from those in the know, such as the peak time to shop, and how to find the best vintage bargains.
3. Cut down on flying long-haul.
"Aviation is a huge problem for climate-wrecking emissions," says Suleiman, who tells HuffPost UK that Heathrow airport is one of the UK's biggest single sources of carbon emissions. "From the stunning Scottish Highlands to Cornwall's beautiful coasts there are lots of wonderful places to visit in Britain without getting on a plane," she says. "And with its extensive rail network, Europe is a great destination too." Book early to get the cheapest options.
4. Leave your car at home.
How many places can you travel to by foot or bike, instead of jumping in the car for ease? It's better for your health, will save you money – and reduce your impact on the planet, as petrol and diesel cars are a huge source of emissions. For longer journeys, Friends of the Earth suggests using public transport as much as possible, or car-pooling where you can.
5. Watch your (food) waste.
Plan your meals so you only buy the ingredients you know you're going to use. Freeze your leftovers or make them into a packed lunch. "By only using the food you need you'll save on emissions coming from production and transport – and save money too," says Suleiman.
Check out Friends of the Earth's website for more tips and actions on what you can do to help the planet: www.friendsoftheearth.uk. In need of further inspiration? A reader shares some of her own green intentions below.
'If something breaks, I'll try to fix it before I replace it'
Tamara Fletcher, 46, Brighton aims to make a range of changes in her life.
Like many of us, arts professional Tamara Fletcher has become very conscious of buying 'stuff'. "Generally, I don't go shopping for clothes unless I need something specific. Even then, sometimes it's easier to find in a charity shop," she says. "There are things I wouldn't buy secondhand for hygiene reasons but I like the stuff I have and if something breaks, I will try to fix it before I replace it."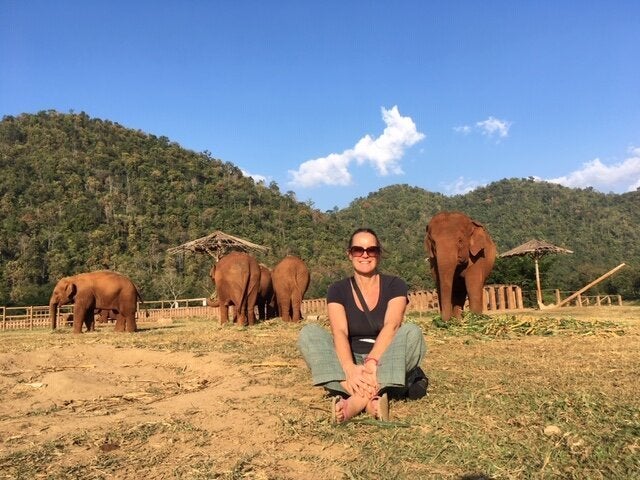 She's also become more aware of her plastic consumption – especially in the kitchen and bathroom. "I've started refilling where I can and I'm replacing plastic items for more sustainable alternatives. I've just bought a traditional stainless steel razor usually aimed at the male market (women are supposed to buy the more expensive plastic pink ones!) I've also invested in a bamboo toothbrush!"
Buying secondhand needn't mean compromise, she says. "When I refurbished my flat, I set myself the challenge of making a contemporary space with only upcycled or secondhand furniture. I rescued a few things I found on the street and either upcycled them myself or employed a talented professional friend to help. I'm proud of the results – it was really satisfying and I saved money, too!"
Next year she wants to do better, switching to 100% renewable instead of partially renewable energy. It's vital that multinational companies take serious responsibility for carbon reduction, too, adds Fletcher, who also plans to focus on what she eats and how she travels. "I don't drive, but I do still fly. It's the hardest adjustment to make so I have decided that if I do fly long-haul, I'll contribute through an environmental project of some kind while I'm there. The photo above was taken at the Elephant Nature Park near Chiang Mai, Thailand – a wonderful project giving sanctuary to abused elephants and other animals."