Hugh Fearnley-Whittingstall has slammed major coffee companies for "taking the public for idiots" over recyclable coffee cups.
The chef and campaigner has taken Starbucks, Caffe Nero and Costa to task over the receptacles they sell their hot drinks in since we throw away a staggering 2.5 billion cardboard coffee cups every year in the UK.
He felt that the public was being misled on what would actually happen to their cups once they were finished with.
In the latest instalment of Hugh's War On Waste, Fearnley-Whittingstall was shown learning that just 1% of coffee cups in the UK are actually recycled - despite claims by major coffee chains that they have "recyclable" cups.
The problem is that "paper" cups are not actually simply made of paper but include a layer of polyethylene. This means they cannot simply be recycled with paper or cardboard.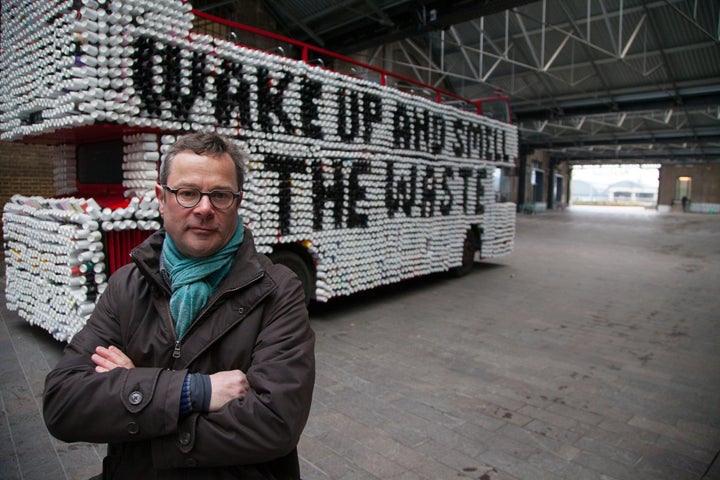 There is one facility which is able to process cups but he explained that Costa sent less than 1% of their cups there.
Fearnley-Whittingstall became particularly incensed by Starbucks' claims that their cups were recyclable when they didn't even send any to the only recycling facility in the UK able to do so.
He said: "They cannot reasonably claims that on a technicality their cups are recyclable because in theory there's one place that could do it but they don't send the cups there.
"That's total nonsense. That is taking the public for idiots and they can't get away with it."
Later in the programme, Fearnley-Whittingstall was able to sit down with two members of Starbucks' senior team.
When challenged about the fact that the public seemed to believe that their cups were recyclable, one of them told him: "Technically our cups are 100% recyclable but here in the UK we recognise there just aren't the facilities locally to do that.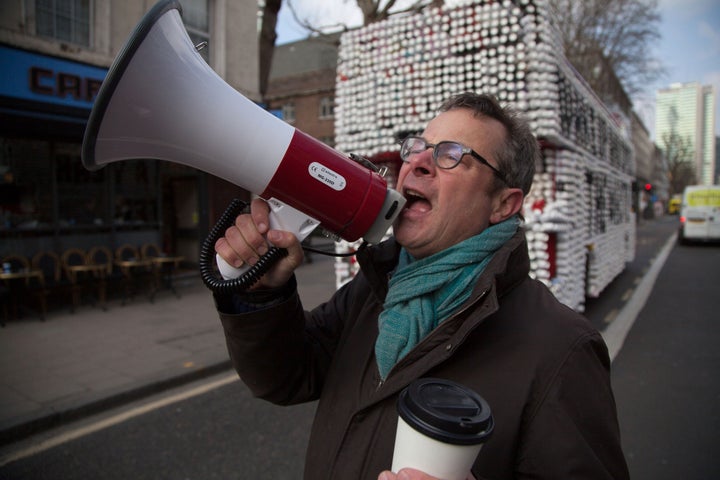 "What we want to do - and we are actively doing - is working with the recycling processors in the UK because this technology exists today to do it."
He added: "We don't want to mislead any of our customers. That's why we as a company have been crystal clear not to put anything on this cup to say that it is recyclable."
To really hammer home his message, Fearnley-Whittingstall was also seen in the programme taking to the streets in his battle bus, complete with 10,000 paper cups attached - the number thrown away in the UK every two minutes.
As the finishing touches were being put to the BBC One programme, he explained that all the major coffee chains had signed up to a manifesto to do more on the issue.
But he added: "My concerns about these bold announcement is that they're usually more about defusing a PR disaster than committing to real action."
And so - just like with his recent success on food waste and wonky veg - the chef is calling on people to get involved via social media in hammering home the message.
Simon Redfern, VP for communications at Starbucks Europe, said: "We are committed to reducing the impact of waste generated in our stores. Reusable cups are a key part of our overall waste reduction strategy – and we have been offering a money off incentive to anyone who brings in a reusable cup for over a decade. This is 25p and applies to any cup, not only a Starbucks one, which we sell from £1.
"The ability to recycle our take-away cups, whether at home, at work, in public spaces or in our stores, is dependent upon many factors, including local government policies and access to recycling markets such as paper mills and plastic processors. For this reason we don't include recycling symbols on our paper cups.
"We are always looking at ways we can help to make more of a difference and are actively exploring initiatives and partnerships, both as a business and as an industry. This includes undertaking a trial with our waste management supplier Veolia on cup segregation and collection. We are also exploring potential solutions with cup suppliers, including testing Frugalpac on our standards for safety and quality.
"We are members of the Paper Cup Recovery and Recycling Group, who represent the industry across the supply chain, and are supporting initiatives as part of this wider industry group."
Hugh's War On Waste: The Battle Continues goes out on BBC One on 28 July at 9pm and will be available to catch up on BBC iPlayer.
Related