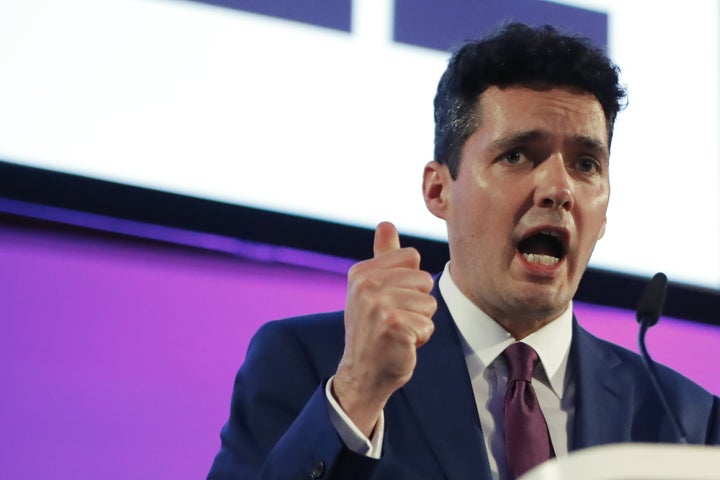 A Conservative MP has told Boris Johnson to "shape up or ship out" as pressure builds on the prime minister to get his government back on track.
Huw Merriman made his comments as it was revealed that another No. 10 official had quit Downing Street - the fifth to do so in less than 24 hours.
Elena Narozanski, who was a member of the Number 10 Policy Unit, joined Murina Mirza, Jack Doyle, Martin Reynolds and Dan Rosenfield in resigning their posts.
Speaking on Radio Four's Today programme, Merriman, who is chair of the Transport Select Committee, said his constituents in Bexhill and Battle had been "let down" by the partygate scandal which has engulfed the PM.
He said: "I'm deeply troubled by what's going on.
"We all know that if the Prime Minister doesn't ship up, then they have to shape out, and that's exactly what happened when this Prime Minister took over.
"We know how it works. I'm sure the Prime Minister will be focused now on getting on with the job in hand, focusing on policy and regaining the public's trust."
Johnson is now beginning the work of re-shaping the No. 10 operation following the departure of so many members of his backroom team.
Mirza stunned Westminster yesterday by announcing that she was quitting as Downing Street policy chief over the Jimmy Savile smear row.
She resigned just hours after the prime minister finally backed down over his untrue claim that Keir Starmer had failed to prosecute the notorious sex offender when he was Director of Public Prosecutions.
In her resignation letter, she said: "I believe it was wrong for you to imply this week that Keir Starmer was personally responsible for allowing Jimmy Savile to escape justice.
"There was no fair or reasonable basis for that assertion. This was not the usual cut and thrust of politics; it was an inappropriate and partisan reference to a horrendous case of child sex abuse.
"You tried to clarify your position today but, despite my urging, you did not apologise for the misleading impression you gave."
She was followed out the door shortly afterwards by Doyle, the No. 10 director of communications.
And in a further dramatic development last night, it was announced that Reynolds, Johnson's principal private secretary, and chief of staff Dan Rosenfield were also resigning.
Reynolds has been under pressure since it emerged he sent an email inviting Downing Street staff to a "bring your own booze" party, attended by the PM and his wife Carrie, in the No. 10 garden during the first Covid lockdown.
Energy minister Greg Hands this morning insisted Johnson remained in control, despite the chaos engulfing No. 10, and that most of the departures were a direct result of the heavily-critical Sue Gray report into party on Monday.
He said: The prime minister was absolutely clear on Monday that there would be changes at the top in No. 10 and that is what he has delivered.
"This is about the prime minister saying at the Sue Gray report update - there were failings at the top of the operation. This is the prime minister taking charge."