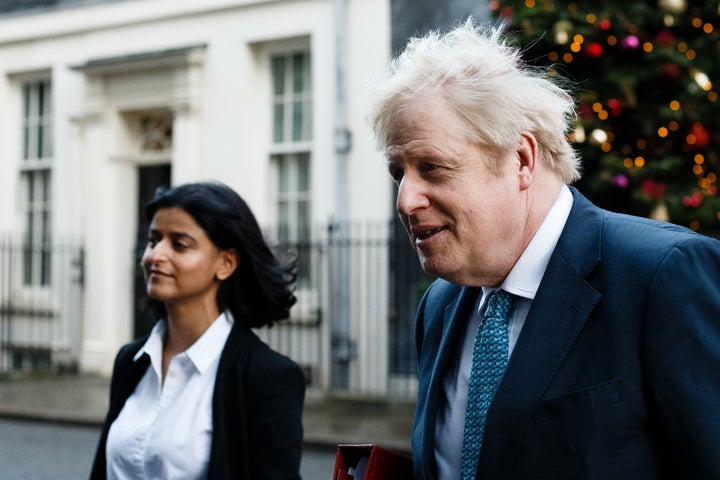 Boris Johnson was dealt a fresh blow today after his policy chief dramatically quit over the Jimmy Savile smear row.
Munira Mirza resigned just hours after the prime minister finally backed down over his untrue claim that Keir Starmer had failed to prosecute the notorious sex offender when he was Director of Public Prosecutions.
In a devastating resignation letter, revealed by The Spectator, Mirza revealed that she had urged Johnson to apologise for the slur, which he initially made in the Commons on Monday, but that he had refused.
Hours later, Jack Doyle, No. 10's director of communications, also resigned.
The departures from heap further pressure on the PM, who is facing mounting calls to quit from disgruntled Conservative MPs.
In her letter, Mirza said: "I believe it was wrong for you to imply this week that Keir Starmer was personally responsible for allowing Jimmy Savile to escape justice.
"There was no fair or reasonable basis for that assertion. This was not the usual cut and thrust of politics; it was an inappropriate and partisan reference to a horrendous case of child sex abuse.
"You tried to clarify your position today but, despite my urging, you did not apologise for the misleading impression you gave."
She added: "You are a better man than many of your detractors will ever understand which is why it is so desperately sad that you let yourself down by making a scurrilous accusation against the Leader of the Opposition."
Mirza's resignation is particularly damaging as she has been one of Johnson's closest, and most loyal, aides in Downing Street.
She has worked for him for 14 years and he once described her as one of the five women who have most inspired him.
No.10 said Andrew Griffith, the MP for Arundel and South Downs who already serves as parliamentary private secretary to Johnson, would replace Mirza.
Downing Street said in a statement: "We are very sorry Munira has left No 10 and are grateful for her service and contribution to government."
Dominic Cummings, a friend of Mirza's and Johnson's one-time chief adviser and now sworn enemy, tweeted: "Moral courage from Munira who has done her best to make progress with a professional team throughout the horror since 11/20. It's also an unmistakeable signal the bunker is collapsing & *this PM is finished*. Flicker of moral courage from Cabinet & Cabinet Office asap please."
Of Doyle's resignation, a No 10 spokesman said: "Jack Doyle has left government. He has made a huge contribution and the prime minister is immensely grateful for the work he has done."
Asked about the row at a Downing Street press conference on his plans to tackle the cost of living crisis, Sunak described Mirza as "a valued colleague" who he had enjoyed working with.
On the PM's Savile remarks, the Chancellor said: "Being honest, I wouldn't have said it and I'm glad the prime minister has clarified what he meant."
To add to the chaos, chief secretary to the Treasury, Simon Clarke, was at odds with his boss Sunak.
"I have the highest regard for the Chancellor...but it is my view that it was a perfectly reasonable remark for the PM to have made," he reportedly told BBC Newsnight.
Earlier, Johnson climbed down from his initial claim, made on Monday, that Starmer had "spent most of his time [as DPP] prosecuting journalists and failing to prosecute Jimmy Savile".
In an interview with broadcasters, the PM said he wanted to "clarify" that he was "not talking about the leader of the Opposition's personal record."
During PMQs this week, Starmer angrily accused Johnson of peddling the "conspiracy theories of violent fascists".
Several Tory MPs have cited Johnson's decision to link Starmer to Savile as a reason for demanding he resign as prime minister.
Tobias Ellwood, the chairman of the Commons defence committee, said the "false allegation" should be withdrawn.
And Anthony Mangnall, the MP for Totnes and South Devon, said "standards in public life matter" when he called for a no confidence vote in Johnson.
Amber Rudd, the former Conservative home secretary, told ITV that Johnson's comments had been "Trumpian".
In 2013, Starmer, as DPP, said Savile could have been prosecuted in 2009 – two years before he died – had police taken victims more seriously.
His comments followed a review of the Savile case by Alison Levitt QC, the legal adviser to the DPP. Starmer said at the time: "I would like to take the opportunity to apologise for the shortcomings in the part played by the CPS in these cases.
"If this report and my apology are to serve their full purpose, then this must be seen as a watershed moment."
In 2020, fact checking charity Full Fact also looked into the claim that Starmer had stopped Savile being charged in 2009.
It said Starmer was head of the CPS when the decision not to prosecute Savile was made on the grounds of "insufficient evidence", adding: "The allegations against Savile were dealt with by local police and a reviewing lawyer for the CPS.
"A later investigation criticised the actions of both the CPS and the police in their handling of the situation.
"It did not suggest that Mr Starmer was personally involved in the decisions made."
Savile – who is now thought to have been one of Britain's most prolific sex offenders – died in 2011 aged 84 having never been brought to justice for his crimes.