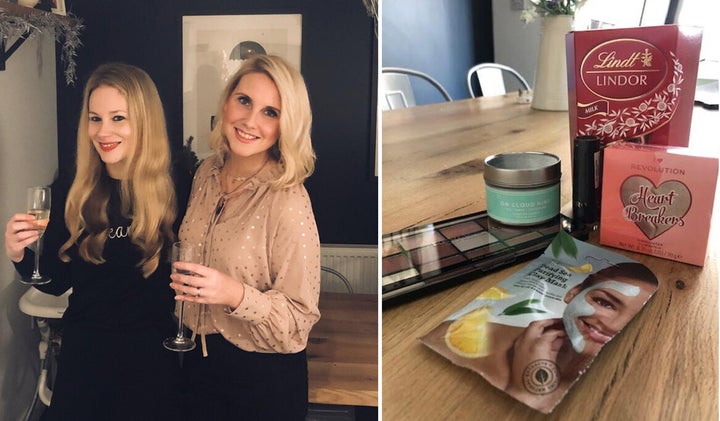 In these uncertain times, having friends we can rely on to make life that little bit better is more appreciated than ever.
To add some positivity to your day, we asked readers to share the special things their friends have done to help them during the UK lockdown.
From delivering a "honeymoon at home" to posting notes on a friends' window as a surprise for the morning, here are just some of the ways pals are pulling together.
The 'Costa-Del quarantine' honeymoon at home
Ruth Barrett and her husband, Jordan, were thankfully able to get married before the UK lockdown began. But the continuing Covid-19 situation meant their honeymoon has been put on hold.
It was also Ruth's birthday last week, so her friend Danielle sent her everything she needed for a "Costa-Del quarantine", including hula skirts, a cocktail making kit, a photo booth kit and some umbrellas for drinks.
"I've been friends will Danielle for two and a half years," says Ruth, 33, from Newcastle. "We work together and she's honestly one of the nicest people ever with the biggest heart. It was so incredibly thoughtful and sweet."
The package boosted Ruth's mood, but she's quick to acknowledge that there's "so many people worse off than us right now".
"Sure we could have been in the Maldives on our honeymoon, but I'm still with my favourite person," she adds.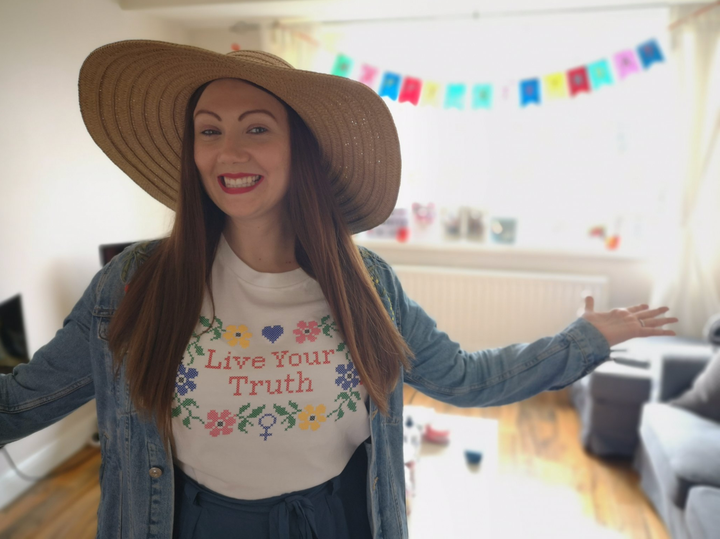 The unexpected parcel drop-off
Laura Beattie, 31 from Manchester, is classed as vulnerable to the effects of Covid-19 as she has cystic fibrosis and is awaiting a double lung transplant. Her two best friends, Hannah and Lisa, who are both teachers, have helped her stay positive by dropping off unexpected parcels.
Lisa dropped off a selection of vegan treats including crisps, sweets, cookies and a drink, while Hannah delivered an invite to her wedding, plus a beautiful card that was made by her primary school class.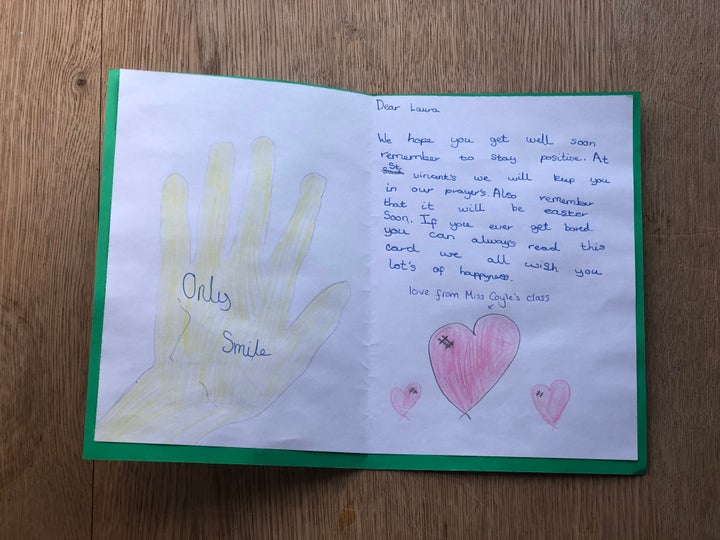 "Both of these made me cry and have really helped me during this time," says Laura. "It was such a lovely thing to do and they are amazing. I knew I was not alone."
"It made me feel so special. Even though we can't be near each other, it meant so much that they wanted to give me stuff so I knew they were thinking of me and there for me."
The pick-me-up self-care package
Knowing how stressed she's been, her friend, Jess, who's a GP, sent a "pick-me-up" package in the post with some of Vicky's favourite things, including the makeup she'd said she wouldn't be able to buy for a while.
"Jess and I have been best friends since we were 12," says Vicky, 38, from Leeds. "Our friendship began on a school trip when we paired up with each other and we've been best friends ever since – from travelling to uni to being each other's maid of honour and godparents to our children."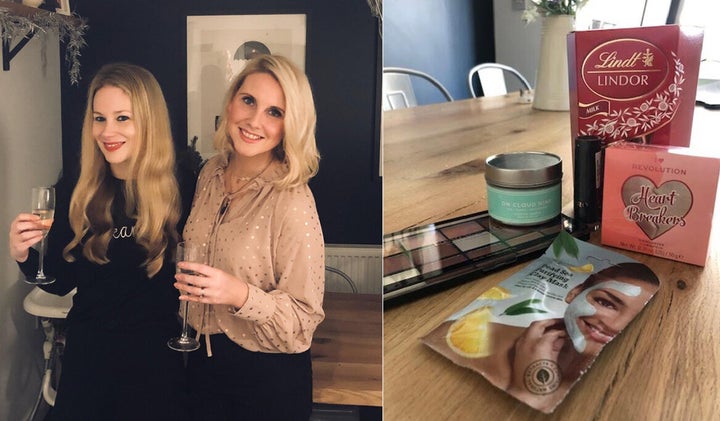 "Like most people, I feel anxious and overwhelmed with the uncertainty of the current situation," adds Vicky. "I've built up a business over 18 months, and there is a fear that it could all just disappear."
Vicky wasn't expecting the package from Jess at all, but it's helped her smile in this tough period.
"In this time of crisis, it's been a time more than ever I've really valued my family and loved ones – and Jess is part of that family," she says. "It was a welcome boost to morale and a reminder that I'm not on my own. With friends like Jess, I know I'll be alright."
The handwritten window notes
Mayah Riaz, 37 and based in Nottingham, cried happy tears when her university friend of 18 years, Sarah, delivered a care package and stuck notes to her window.
"I found it difficult not seeing friends and FaceTime just wasn't cutting it," Mayah explains. "So she got me some shopping and popped it on my doorstep. She also wrote notes which she stuck on my window so I'd see them when I pulled the curtains back [in the morning]."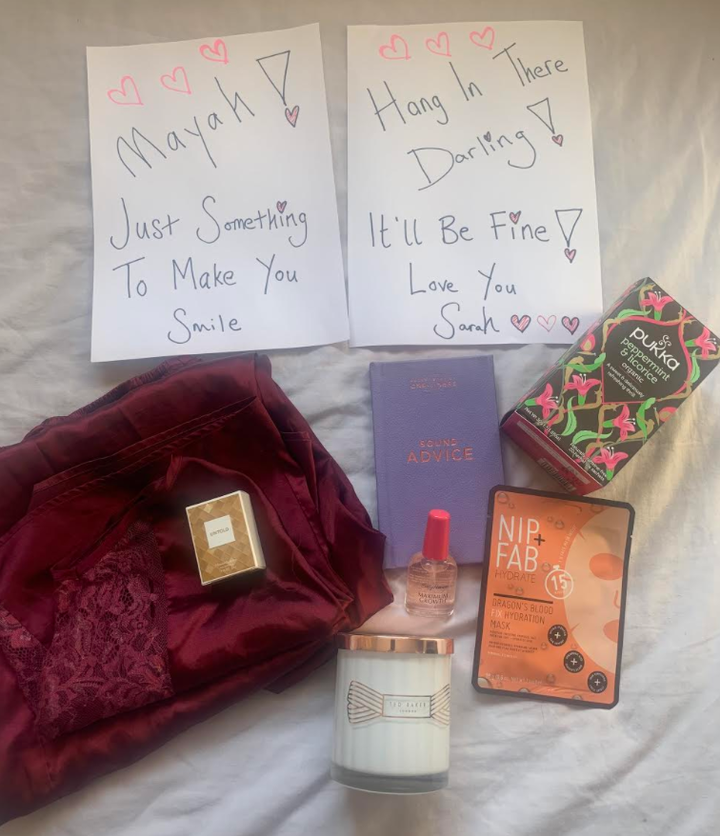 Mayah also received a care package including pyjamas, a candle, face mask, a book, tea bags, nail varnish and perfume. And her friend gave her a subscription to a course so she could keep busy and occupied during this time.
She was completely blown away that Sarah went to so much effort, when it's not her birthday or another form of occasion. "She's done all this because I was struggling at the thought of being home for so long," she says.
"It's had me in tears every time I think about it."
The Zoom call with a difference
Like many of us, Ceriann Smith, 42, from Manchester, has been getting through the lockdown with Zoom calls. She's part of a group of five who all live locally, and have been friends for around six years.
On Saturday night, the group decided the Zoom call needed to be "taken seriously as if we were going out for the night".
"Dressing up in lockdown for us meant big earrings and bright red lipstick," says Ceriann. "For me, it was reason enough to change out of joggers and into a decent outfit."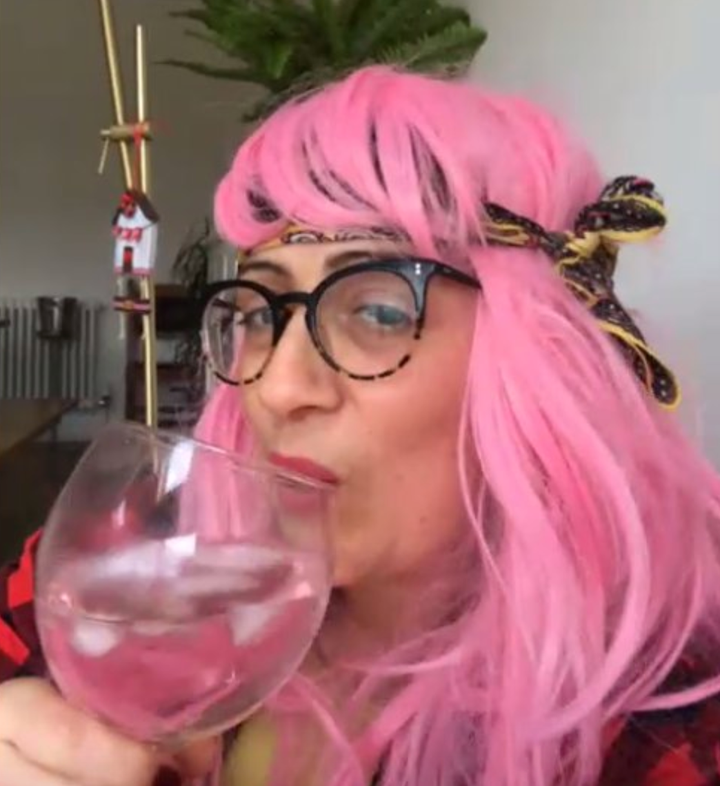 Ceriann's friend Chrisa, "pulled out all the stops" and joined the call wearing a pink wig.
"We love her for going the extra mile," Ceriann says. "We laughed – a lot – and are planning to step it up a notch for the next call scheduled for this Thursday. It turns out we own more colourful wigs between us than we realised!"