As a self-confessed beauty junkie, I am constantly on the hunt for the next best thing in makeup and skincare that'll suit my millennial budget. There's hundreds of high street makeup products that rival and sometimes outperform the luxury end of the market and I'm a firm believer that spending more doesn't always get you more bang for your buck.
With that in mind, I was eager to see how the Aldi collection performed, so I wore it all day in the office and after work to a gig to see whether it's worth your hard-earned money.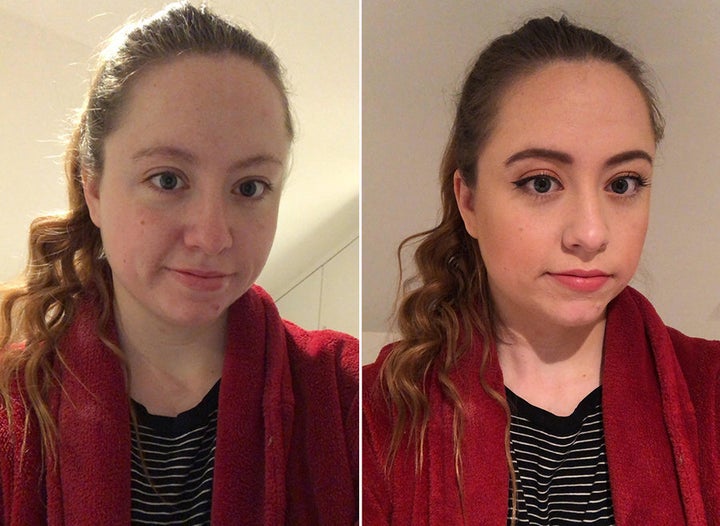 First Up, Base
I kicked off my look with the Snapshot Ready Foundation Primer, £5.99 which promised silky-smooth skin "creating the perfect canvas for makeup". Rich in silicone, it absorbed into my skin immediately and leaving a velvety-matte finish. Having a perpetually oily t-zone, I was feeling optimistic it would keep shine at bay.
Next came the Illusion Touch 2 in 1 Concealer & Foundation, £5.99 – a genius idea to combine the two essential products in my makeup bag in one handy duo. Unsurprisingly, it sold out – but check back here to see when it's restocked. If I'm being honest, my expectations were quite low and I was pleasantly surprised – at first.
This budget-friendly product provided light but buildable coverage, I have a bit of redness of my nose, cheeks and chin where I like to gradually layer my foundation and had no problems doing the same with this. However, by lunchtime I had never been so oily. I'd brought along my trusty Vichy Dermablend Make-up Transluscent Setting Powder, £18, in case of any meltdowns and spent 10 minutes in the loo furiously dabbing away the excess oil – which is where the concealer comes in.
While the creamy, fluid formula was easy to blend, sheer in finish and light in coverage, it didn't last. It was impossible to touch up blemishes, which was so creamy it promptly slid off of my face. If you're oily or acne-prone like me, steer clear of this product. I'd recommend the Maybelline Eye Eraser Concealer, £8.99, which has some serious staying power and hides all traces of dark circles and fine lines.
Eyes
After filling in my brows as normal using my Sleek MakeUp Brow Kit, £8.49, in dark, I attempted to create an orange-toned smokey eye using the Lacura Naturals Intense Eyshadow Palette, £5.99. I swept the shade Ivory all over lids before blending Cerise, a burnt copper colour, on the outer corners before patting on Rose Quartz, a shimmery copper shade, all over my eyelids for a touch of sparkle. Pigmented? Yes. Long lasting? Yes. Blendable? No.
The colours were bold, but once applied they didn't move an inch, which is a nightmare when trying to do a smokey eye. The shimmer however, lasted all day and all evening. Is it worth the £5.99 price tag? I don't think so.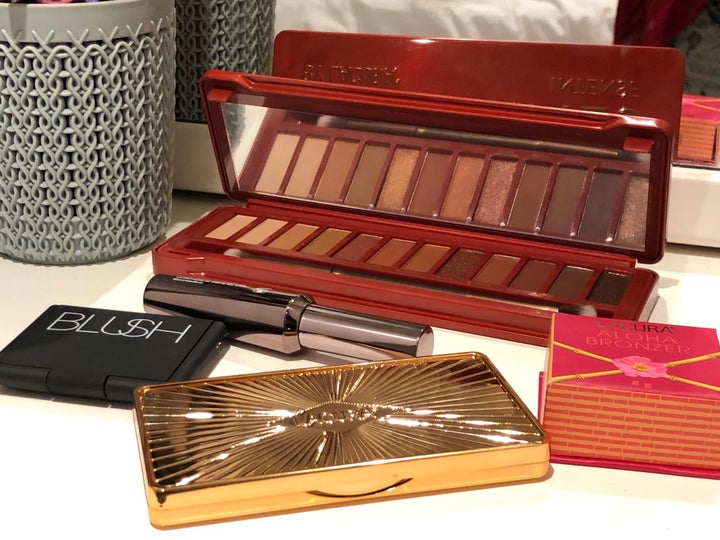 Despite my disappointment to some of Aldi's offerings, I am a big fan of the mascara. It lengthened my lashes, added volume and was easy to remove at the end of the day. I would definitely buy this in future.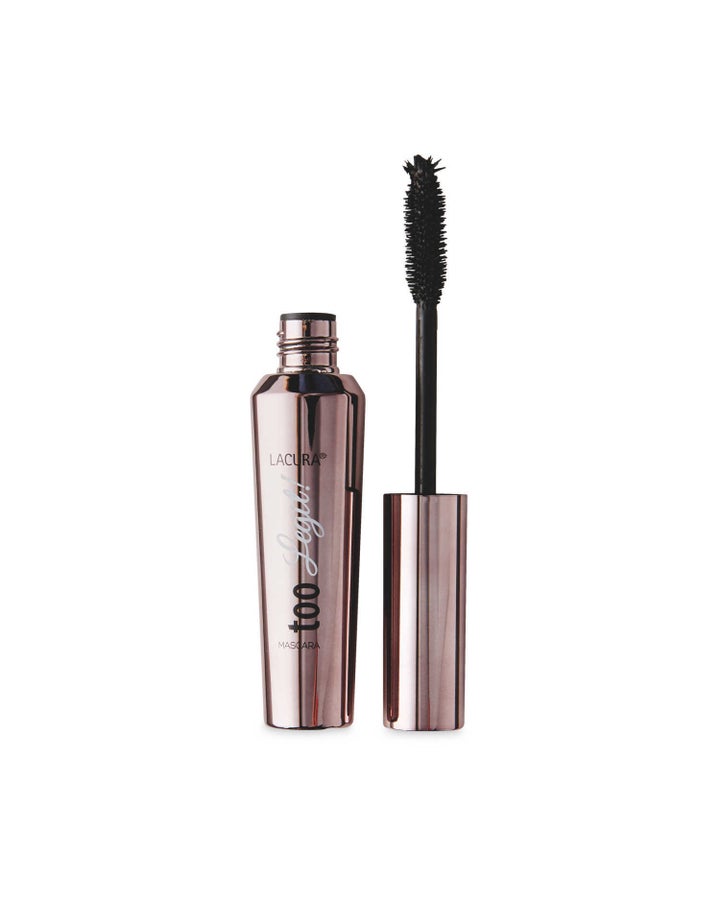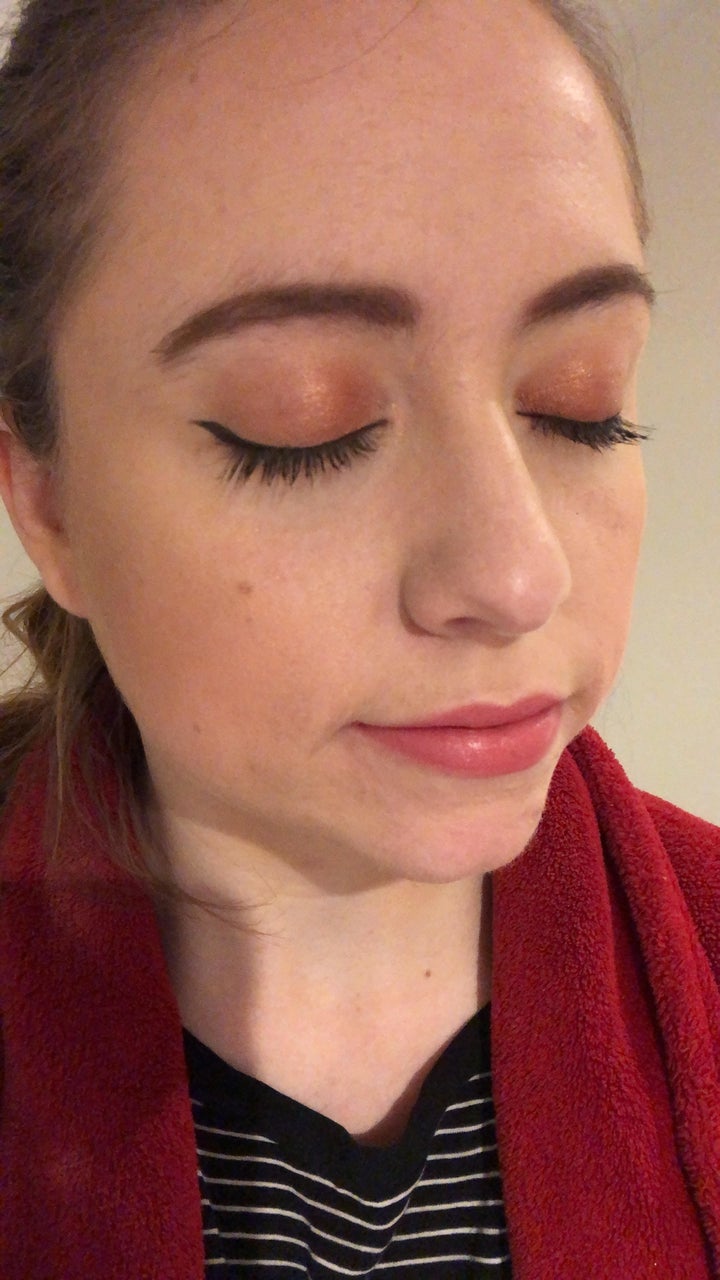 Cheeks & Cheekbones
Aldi has launched one bronzer and one palette with accompanying highlighter. The Aloha Blush, inspired by Benefit's Hoola Bronzer, was up first. Promising a "natural sun-kissed complexion", it did nothing of the sort, instead lacking in staying power and eventually turning patchy.
Next, I used a fluffy brush to lightly contour using the Broadway Shape & Glow palette, £5.99, which was also disappointing – its colour payoff was minimal and barely made a difference to my face. The highlighter left a subtle shimmer on the top of my cheekbones but wasn't the radiant look I was hoping for.
As a huge fan of NARS' Orgasm blush, £24, I was wary of getting the same results from Aldi's Lacura Blush, which left a trail of shimmer all over my face that quickly faded. The blush and bronzing palette are not currently available to buy, so check back here to see when they'll be restocked.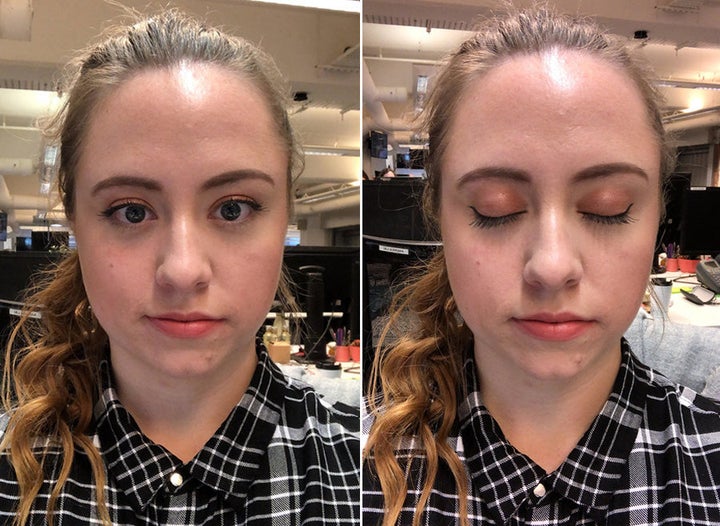 All in all the mascara was a hit, but I wasn't impressed with the rest. While on application the base products worked well, their staying power was poor and it's impossible to go from desk to disco without a touch up. With so many great affordable options on the high street for a similar cost, sadly Aldi's offering didn't measure up.
We all work hard to earn our money – so it shouldn't feel like hard work to spend it well. At HuffPost Finds we'll help you find the best stuff that deserves your cash, from the ultimate lipstick to a durable iron to replace the one that broke (RIP). All our choices are completely independent but we may earn a small commission if you click a link and make a purchase.