A split over Boris Johnson's Brexit plan has blown apart unity among Tory Eurosceptics as the PM is close to striking an agreement with Brussels.
Ex-minister Owen Paterson has broken ranks to call Johnson's customs plan for Northern Ireland, which could see the region operate a dual-tariff system, "absurd" and "unacceptable".
Former Tory leader Iain Duncan Smith is also said to be against Johnson's compromise and "exploded" at Number 10 officials in a Downing Street meeting on Tuesday night, a report for The Sun also claimed.
But other members of the hardline European Research Group of Tory MPs have said they are prepared to support Johnson.
Steve Baker, chairman, told HuffPost UK after a meeting of the group: "I absolutely can rely on Boris Johnson to take us out of the European Union. The mood of the Eurosceptics meeting here tonight was that we we do, we can and we must trust the prime minister."
UK negotiators are in so-called "tunnel" talks with their EU counterparts, with a series of reports coming out of Brussels that a deal is possible before the crunch European Council on Thursday.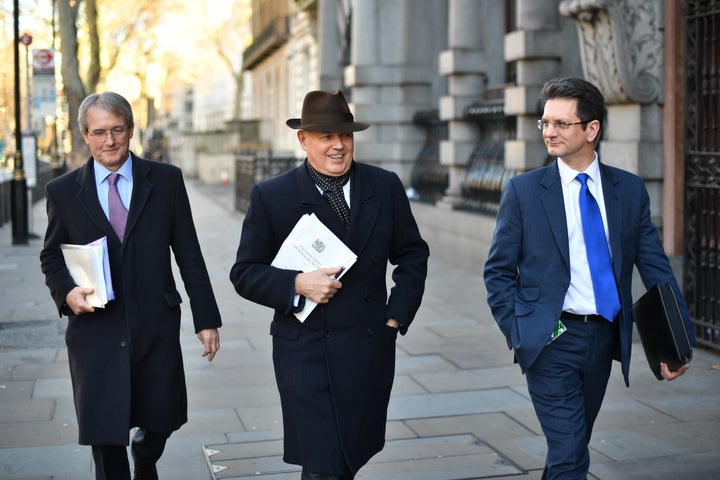 But it appears the new PM now faces an uphill struggle to win the backing of MPs in the Commons, who earlier this year three times rejected Theresa May's Brexit deal.
And there was further gloomy news for Johnson as DUP leader Arlene Foster, who once described any regulatory border in the Irish Sea as a "blood red" line for her party, reiterated her hardline stance.
Asked if she had relaxed her position on a customs barrier between Northern Ireland and the rest of the UK, she told RTE: "No. we must remain within the UK's customs union. It is a principle we have... and that will forever be there. We have to be integrally within the UK."
Bill Cash is also among the long-standing Brexiteer Tories said to be "worried" about the potential deal.
Paterson accused the EU of wanting to "trap" Northern Ireland as he warned the PM against "reheating" May's "failed ideas of customs partnerships or single customs territories that proved so disastrous".
He said: "We await the full details of the new deal to see exactly how they address the objections to the dead Theresa May deal, but dual-tariff systems like this would be, as Priti Patel has said, unacceptable."
Paterson added: "When would any other country ever give up part of its territory as part of trade talks? It would be particularly absurd for Northern Ireland.
"It would shatter the Belfast Agreement's Principle of Consent and completely undermine Northern Ireland's status as an integral part of the UK. We must not go down this route."
It means Johnson could turn to Labour MPs with Leave constituencies for backing, but many will demand protections on workers' rights and the environment in exchange for support.
If accepted by the Speaker, it could mean MPs vote on the issue as early as Tuesday.