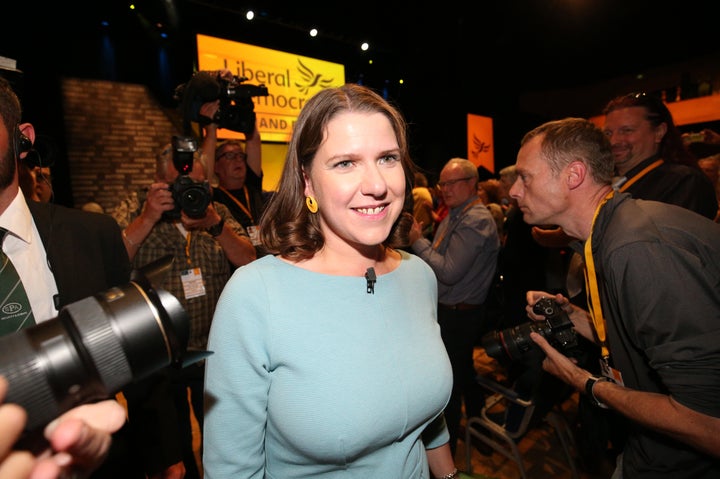 The Lib Dems have launched a bid to get MPs to back a second referendum on any Brexit deal by tabling an amendment to the Queen's speech.
If party leader Jo Swinson's amendment is picked by Speaker John Bercow, the Commons could be voting on the idea as early as Tuesday.
It comes as Prime Minister Boris Johnson was reported to be on the cusp of a deal on Tuesday night, with UK and EU negotiators in "tunnel" talks over an agreement.
The move piles pressure on Labour leader Jeremy Corbyn, whose party's support is key, to throw his weight behind a so-called confirmatory vote.
Many of his MPs want Labour to back a referendum before any snap election, but key power-brokers are holding out and maintaining that a Corbyn government should renegotiate Brexit and then offer voters a choice.
Swinson controversially moved Lib Dem policy to revoking Article 50 and cancelling Brexit.
Since she became leader in July there has been a number of high-profile defections to the Lib Dems, with former Tory minister Sam Gyimah, Heidi Allen and Chuka Umunna all taking up seats on the yellow benches
"The Liberal Democrats are the strongest party of Remain and have been the leading voice in the people's vote campaign," she said in a statement on Tuesday.
"Boris Johnson is determined to have a general election, but the best way to resolve the Brexit chaos is to have a people's vote and give the British people the final say about their future.
"The best deal we have is as members of the European Union and we want to give the people the chance to choose to stop Brexit."
The amendment reads: "Instruct the government to prepare for a people's vote in which the public will have the choice between the latest Withdrawal Agreement and remaining in the European Union."
But the Conservative Party's deputy chairman said MPs "can't pick and choose which votes they respect".
Paul Scully MP said: "Yesterday the Liberal Democrats wanted to ignore 17.4 million voters by revoking Brexit, today they want to do it by holding a second referendum.
"Whatever they wake up saying tomorrow, it's clear that what you'll get with them is more delay, gridlock and uncertainty.
"Politicians can't pick and choose which votes they respect."