Chef Imad Alarnab left Syria on 27 July 2015. "It was the hardest decision I ever had to make, but I knew I had to try to find safety for my wife and children," he tells HuffPost UK. "Everything I knew: my family, friends, life, home, was behind me. It was incredibly difficult, but through the pain I found hope and love in the UK."
The 41-year-old refugee's love for his home country is the driving force behind Imad's 'Choose Love' Kitchen, a pop-up in collaboration with charity Help Refugees which invites the British public to 'experience the true taste of Syria' with a three-course meal perfected by Imad himself. You can expect plenty of his favourite spices featuring heavily including cumin, dry mint, za'atar and sumac.
All profits raised by the dining venture will be used to fund a cause close to Imad's heart: Hope Hospital, which has saved thousands of lives in Syria's Aleppo region. In early 2016 it became the first ever crowdfunded hospital, providing incubators for newborn babies, treatments for pregnant and postnatal women and lifesaving surgical operations to those injured in the conflict. It serves over 250,000 people, but in a dramatic turn of events, it will be forced to close in a month's time if funds aren't raised.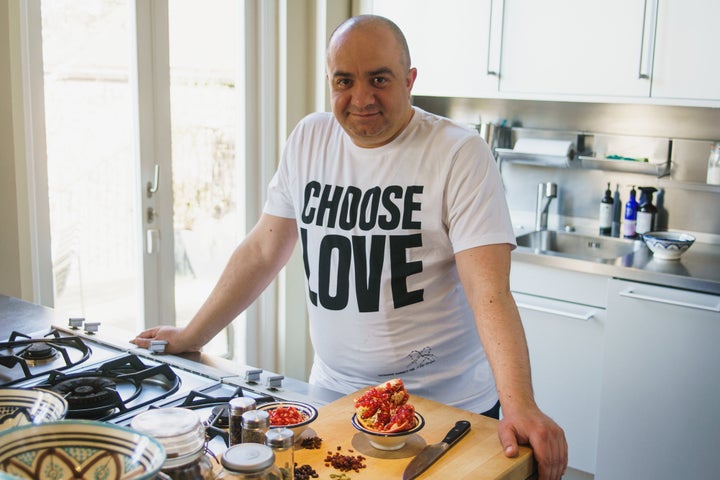 "When I found out that Hope Hospital was about to close, my heart stopped," Imad says. "I knew that I had to do all I could to save this incredible children's hospital. I feel so proud to be working alongside Help Refugees, and to use my skills for such a noble cause."
The 41-year-old was a successful restaurateur in Damascus, with two restaurants, but during the war they were both destroyed. When he came to the UK he worked as a car salesman but has since gone on to pursue a career as a chef.
"For years I have had this dream," Imad adds. "From the day I left Syria until today, I wanted to use my cooking to bring people together to experience the true taste of Syria."
His pop-up, open from 28 March until the end of April, will be staffed by Help Refugees volunteers who will be on hand to serve food, answer any questions and take donations.
Customers can buy a ticket online for £40 and enjoy a set menu at the restaurant, based at 134 Columbia Road, Soho, London W1F 8HS. Evenings will be relatively intimate: there will be two sittings for 20 people per night (and two a day on Sundays), it's also BYOB (bring your own booze) with a £5 corkage donation that will go directly to Hope Hospital.
Josie Naughton, CEO of Help Refugees, says the charity has worked with Imad to "create something positive amid the chaos". She describes his pop-up as "a place where the British public can see refugees contributing to the culture of Britain, and at the same time give people a simple, practical way to help those most in need".
Imad adds: "This restaurant is all about giving something back: to the people of Britain who have welcomed me, and to the people of Syria who really need our help right now."
HumanKind is HuffPost's celebration of kindness, featuring people who do incredible things for others or the planet – transforming lives through small but significant acts. Get involved by joining us on Facebook or telling us about the people who you think deserve recognition for their kind works. You can nominate them here or share your personal story by emailing natasha.hinde@huffpost.com.