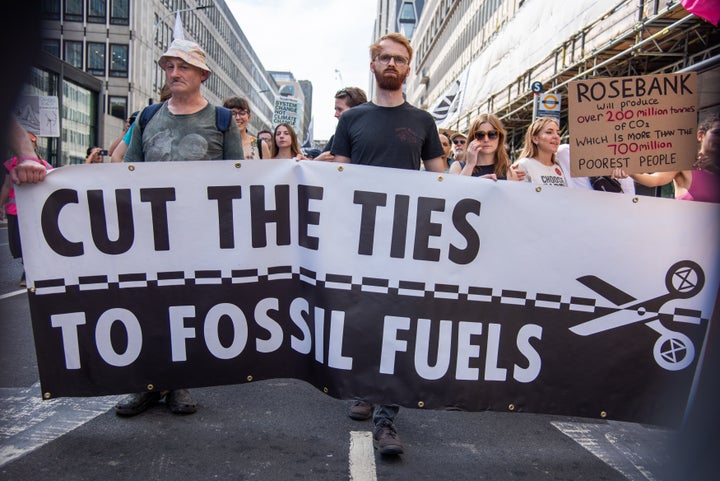 Inflation was stuck at 6.7% in September, according to the latest figures. Could that be down to our dependence on fossil fuels?
The Bank of England's target inflation rate is 2% – that's enough to grow our economy, but not so high that prices will soar, and the cost of living will become unattainable.
And though UK inflation held steady at 6.7% for both August and September, it's still much higher than many comparable economies.
Inflation in the Eurozone was 4.3% in the 12 months to September, having fallen from 5.2% in August, while it's at 5.7% in France (unchanged from August) and at 4.3% in Germany,(down from 6.4%), according to the government's figures.
So why does the UK seem stuck at a higher inflation rate?
Is it anything to do with fossil fuels?
In an email to HuffPost UK, Bob Ward said: "The latest inflation figures provide further evidence that our dependence on fossil fuels is continuing to drive the cost-of-living crisis.
"It shows once again why the prime minister's decision to slow down the transition away from fossil fuels will be costly to households and businesses."
Sunak announced last month that he was weakening key green policies, including phasing out gas boilers and delaying a ban on the sales of new petrol and diesel cars.
And, while food prices have driven inflation previously, they actually fell in September – it was fuel prices which kept inflation stats up, as the ONS pointed out, amid a global surge in prices.
Food and non-alcoholic beverages declined from 13.6% in August to 12.2% in September, while diesel prices rose by 6.5p per litre this year to stand at 157.4p per litre.
"Although the price of gas has fallen from its peak last winter, it is still higher than before Russia's invasion, and British energy bills are still above pre-pandemic levels."
Ward pointed out that international market price of oil is rising because major producers like Russia and Saudi Arabia have decided to cut production.
Additionally, Ward claimed much of the natural gas and oil produced in the UK is sold internationally, and does not protect Brits from international market volatility.
He concluded: "The prime minister claimed last month that he would protect consumers against the costs of net zero. He should have admitted that slowing down the transition away from fossil fuels will cost British households and businesses even more."
Why do some think food prices are still to blame?
He said: "As inflation had been falling, and the Bank of England paused on its base rate hikes, there had been a sense of cautious optimism returning – a sense that we may have turned a corner after two years of economic turbulence. Today's data will dent that confidence."
Competition between supermarkets over essentials, like eggs and milk, has helped keep them low.
Helen Dickinson, chief executive of the BRC, previously said a fall in food prices was due to "fierce competition between retailers."
She explained: "This brought year-on-year food inflation down to single digits and contributed to the fifth consecutive monthly fall in the headline rate, helped by easing cost pressures."
Yet, as Ondhia pointed out: "Clearly, there is a long way to go to properly stabilise the economy and financial markets."