"There was a phase at our school when people would create Instagram accounts such as 'Local slags' or 'School whores," one teen told HuffPost UK.
"They would post pictures of girls with captions like: 'This girl is a slut'.
"So many people followed these accounts and saw the posts immediately.
"The accounts were taken down last year, but people still talk about it now."
Those are the words of a 16-year-old who has witnessed the impact of bullying on Instagram and who has asked to remain anonymous.
Bullying has gone far beyond the confines of the classroom, now that young people are fully immersed in the world of social media.
Instagram is the most commonly used network for online bullying, according to the Annual Bullying Survey 2017, published by the anti-bullying charity Ditch the Label.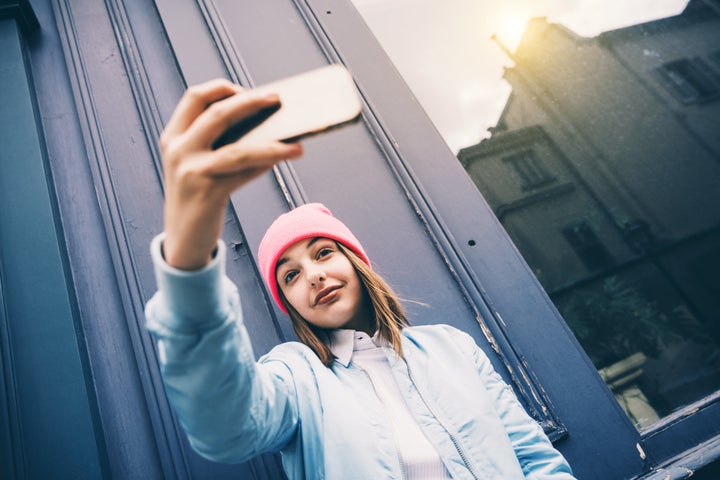 The charity surveyed 10,020 young people between the ages of 12-20 and found one in five have been bullied online and nearly half (42%) of those have been bullied on Instagram.
A further one in three young people are scared they could be bullied online.
Michelle Napchan, from Instagram, told HuffPost UK the app has a "zero tolerance" of bullying and they are committed to making sure Instagram is a place where people feel comfortable expressing themselves.
"We know that comments posted by other people can have a big impact and that's why we have recently invested heavily in new technology to help make Instagram a safe and supportive place," she said.
"Using machine learning technology, offensive comments on Instagram are now automatically blocked from appearing on people's accounts. We also give people the choice to turn off comments altogether, or make their own lists of banned words or emojis that won't appear in their comments. If someone is being bullied or sees content that makes them uncomfortable we encourage them to report it through our in-app reporting tools. The content is reviewed and removed if it violates our community guidelines."
So what can you, as parents, do about it?
Why do parents need to know about Instagram?
Liam Hackett, who runs Ditch The Label, told HuffPost UK parents often feel detached from the tech their kids are engaging with, because it evolves at such a rapid pace.
"It's important to understand that anywhere you go online is a place where you can experience abuse and bullying," he said.
"When you look at the data, Instagram is one of the biggest platforms young people are on, so inevitably it is going to be a place with higher rates of bullying and abuse."
Nishma Shah, digital communications co-ordinator at Bullying UK, part of Family Lives, said while Instagram may be a fun, photo-sharing app, parents should ensure they gain a real understanding of how it works and what the features do.
This will help them approach future conversations on the subject with their kids with confidence, she said.
What signs of bullying on Instagram should parents look out for?
Lauren Seager-Smith, chief executive officer at children's bullying charity Kidscape said if a person or a group of people are repeatedly making comments with the intention to make someone feel bad, it's bullying. Simple as that.
"As well as hurtful or offensive comments, there can be situations where children are manipulated to share content or are mocked in school for things they've shared," she said.
"Children might also feel they're being deliberately blocked from other accounts as a form of social exclusion."
Shah said there are many other ways bullying can happen on the app, adding: "Bullying on Instagram can also take the form of fake profiles, where people use these to humiliate and embarrass the person they are bullying.
"It can be sharing and manipulating images of someone, or posting or tagging a picture to intentionally humiliate their target.
"Some bullies may use nasty hashtags under someone's photo which could then go out to a broader audience.
"They may also take screenshots during video chats and use this in a bullying manner.
"Bullying can also take form in group chats in the direct messaging feature or on the stories feature."
Despite there being many different ways bullying can occur on Instagram, Hackett said Ditch The Label's research found one method was the most common: one in three children who are being cyber-bullied said it took the form of a nasty comment being posted on a photo.
The NSPCC spokesperson described this as trolling, adding: "This is when someone sends menacing or upsetting messages on social networks, chat rooms or online games. If an Instagram account is established with the specific intent of bullying or harassing another person or if a photo or comment is intended to bully or harass someone, young people need to report it."
Hackett said feeds into an underlying issue of young people turning to Instagram for validation and to feel good about themselves.
"When we asked young people about how they used Instagram, a significant amount of them said they would delete a photo if it didn't get enough likes," he said.
"There's a huge role for parents to play in how we deal with and boost self-esteem and confidence in kids, so they don't have to post photos for validation, as it puts them in a vulnerable position."
How can we inform our kids about bullying on Instagram?
Seager-Smith said it's likely children who are on Instagram would have heard bullying can take place, but it's still important to start a conversation with them.
"Talk about the pros and cons," she said. "Help your child to understand what might be a good idea not to share, and work out together how to block users or report content before you ever need to.
"It's also really important to help your child see the bigger picture - that all is rarely as glossy or beautiful as it seems in the Instagram world and real friends make you feel good - not bad."
A spokesperson for NSPCC told HuffPost UK: "Giving children examples of the darker side of social media sites such as Instagram will hopefully help them identify when they are being targeted by cyber-bullies and encourage them to seek help straight away rather than suffer in silence."
Hackett agreed, and said parents should talk about their kids' online lives just as they would their offline lives, such as around the dinner table.
"Don't be overwhelmed at the pace of innovation of these apps," he added.
"Despite the minimum age on Instagram being 13, there is no reason why 10-, 11- and 12-year-olds should not learn about the platform."
Hackett said parents should give children phased access to Instagram.
"Children are not given the social and critical skills to navigate the internet," he said.
"Kids aren't given training on what is appropriate so we're finding they often learn the hard way what is right and wrong on social media.
"So the role parents play is strong. Aside from having open communication and modelling through their use of social media, it is reasonable to be checking on what the child is posting and be proactive talking to them about privacy."
Shah added that privacy is an important issue to bring up with your child. She explained: "It is important for parents to encourage their child to set their page to private and only add followers that they are friends with.
"They also have the option to turn commenting off on images so it limits malicious comments. Instagram take all of these violations very seriously."
3. Get children to tell you about what they have seen.
The earlier parents talk to their kids about bullying online, the more likely it is that they will feel able to have an open conversation about things they see on the app.
"If a young person spots bullying on Instagram, it is important that they share what they have seen with an adult so steps can be taken to support the person being bullied," said Shah.
"If they see a nasty message, they shouldn't respond or comment, whether it is under an image or in direct messaging.
"They should not share or like any posts that make them feel uncomfortable or which looks like bullying, as this may make the bullying worse and they could get in trouble too.
"Encourage them to see the warning signs and to ensure they keep themselves safe."
4. Teach young people empathy.
"Compassion skills and empathy are important to instil in children," said Hackett. "Discuss the impact a nasty comment may have.
"You don't have to wait for an incident to happen. You could use the results of our anti-bullying survey as a conversation starter to discuss how someone could get help."
The NSPCC said the Government also needs to take responsibility for the bullying happening on Instagram and and create laws to force social networks to protect children online.
They stated: "The NSPCC are calling on Government to create a set of minimum standards enshrined in law and enforced by an independent regulator for all social media companies. Social networks must be required to give all under-18s 'Safe Accounts' with the highest privacy settings as default and better controls over who they connect with, so that all followers must be approved by the young person."
For more information:

Ditch the Label: Anti-bullying charity working to end bullying and to support young people aged 12-25. Their 'Get Help' section supports young people.

Kidscape: Charity providing children, families, carers and professionals with advice, training and practical tools to prevent bullying and protect young lives.

Bullying UK: Bullying advice and information for young people, parents and schools.

NSPCC: National children's charity preventing abuse.