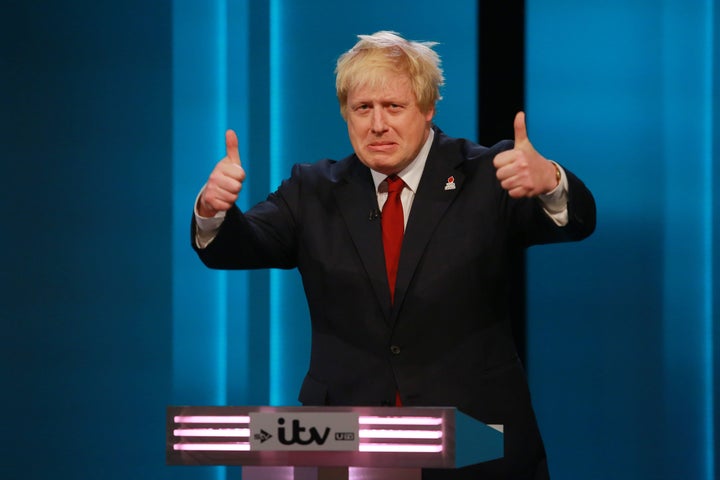 The Remain campaign launched a series of personal attacks on Leave cheerleader-in-chief Boris Johnson in a feisty six-way TV debate.
In the prime-time ITV face-off with the referendum two weeks away, SNP leader Nicola Sturgeon, Tory minister Amber Rudd and senior Labour MP Angela Eagle took it in turns to duff up the former London mayor.
Rudd, a close ally of George Osborne, was the most spiky - beginning on the front foot during the first question of the night on immigration numbers, contending:
"I fear that the only number Boris is interested in is Number 10."
She bookended the evening with closing brutal remarks when she launched the most ferocious broadside:
"Boris is the life and soul of the party but he is not the man you want driving you home at the end of the evening."
Later, it appeared the "blue-on-blue" onslaught was ordered from up high.
The mantle was picked up by Eagle, who seized on the much-questioned statistic emblazoned on the side of the official Vote Leave bus and leaflets - claiming the UK hands Brussels £350 million a week.
"Take that lie off the side of your bus."
In her closing remarks, the Labor Shadow Defence Secretary went on the offensive again:
"Listen to Britain's trade unions and listen to the economic experts: they say leaving Europe will damage the economy, costs jobs. It won't be Boris Johnson who suffers the consequences of a smaller economy."
And Sturgeon continued the charge on the NHS, contending:
"I wouldn't trust Boris Johnson with the health service as far as I could throw Boris Johnson. Boris Johnson is the guy who said that if people had to pay for the National Health Service they might value it more. Whatever else you do, do not trust a word Boris Johnson says about the NHS."
The First Minister of Scotland was anxious to double down on the personal attacks, adding later:
"Boris is only interested in David Cameron's job."
Johnson, joined on the Leave side by Tory Andrea Leadsom and Gisela Stuart from Labour, attempted to rise above it. At one stage he said:
"I'm afraid I missed the insult."
Johnson turned the table when he used Sturgeon's words about the Remain campaign being "miserable, negative and fear-based and fear-based campaigning of this kind starts to insult people's intelligence".
He went on: "I agree with Nicola."
But Sturgeon returned to the £350 million figure: "At least it's not driving around the country in a bus with a giant whopper on the side."
The attacks were obvious to most onlookers.
Related