"This week, during the NATO conference in London, foreign leaders were caught on a hot mic making fun of President Trump," text at the beginning of the sketch explained. "This included Canadian prime minister Justin Trudeau, French president Emmanuel Macron and British prime minister Boris Johnson, who Trump had considered a friend.
"Some dismissed it as petty high school gossip, but you should have seen what happened in the NATO cafeteria."
Viewers were then introduced to Trudeau, Macron and Johnson, with the latter apparently struggling to "keep up" with the "cool guys".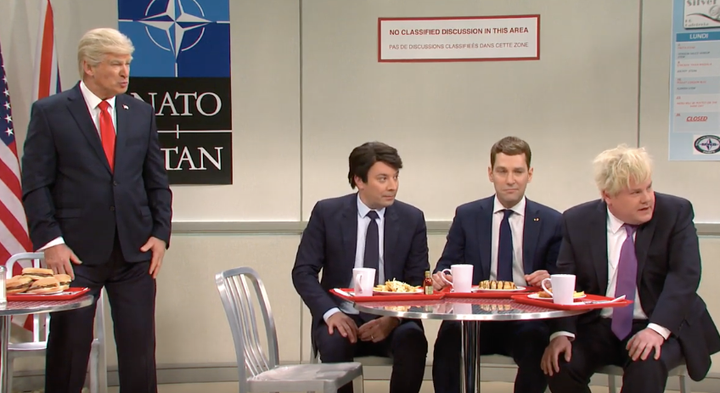 The scene also featured Kate McKinnon as Angela Merkel, and ended in Johnson putting an "impeach me" sign on Trump's back.
Earlier this week, Johnson referred to the claims he'd made fun of Trump behind his back as "nonsense".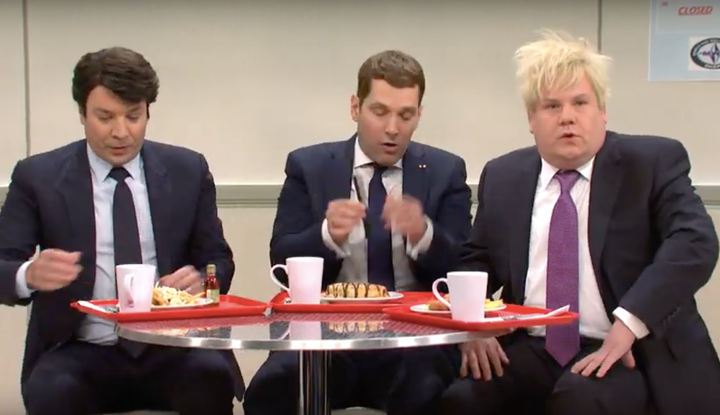 Shortly before Johnson took over from Theresa May as prime minister, James commented: "How do I explain Boris Johnson to someone who's never seen him before. Basically, America elected Donald Trump as their president, and now Britain is saying, 'hold my beer'."
Insisting that Johnson had "nothing to do with Grenfell", James did highlight that the former London mayor previously came under criticism regarding his attitude to fire safety, cutting the fire service's budget, closing 10 fire stations and removing 27 engines during his time in charge.
"I'm not saying we shouldn't trust Boris to sort this out," James continued. "Maybe someone brave enough to rock that fringe is brave enough to face this problem head on, but just in case he isn't, on the off-chance that Boris Johnson doesn't care enough about most disadvantaged people in Britain, where does that leave us?"
James also sat next to the future PM in a Jonathan Ross interview back in 2014, branding Johnson's claims about why bike helmets should not be made mandatory "bullshit" to his face.