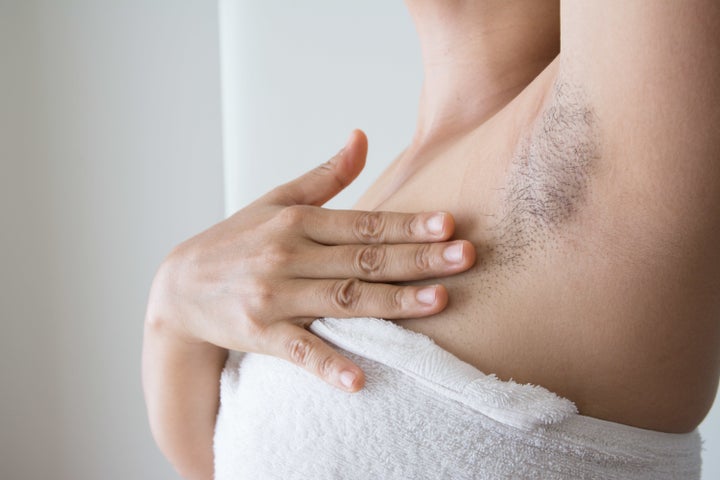 "In the name of feminism I don't shave a single hair on my body until the first of Feb," declared Nessa on the recent Gavin & Stacey Christmas special. "Last year by the 19th, I'd grown a full goatee."
And she isn't the only one. November might be the month for men to grow their facial hair, but an annual campaign is encouraging women to grow their body hair in January to raise money for charity.
The 'Januhairy' campaign, which encourages women to avoid shaving their legs, armpits, arms or anyone else on their body, was started by 21-year-old Laura Jackson from Warwickshire in 2019.
Jackson says she wants women to feel they're in a "safe space", and to love and accept the way their bodies naturally are, rather than always grooming them – perfect for a season when you're always wearing tights or jumpers.
The third-year Exeter University student first came up with the idea after she grew her own body hair for a drama performance. "I felt more liberated and confident in myself," she told the BBC in 2019.
However, she didn't get such a positive reaction from other people and realised society has a long way to go before women can ditch the razor full-time.
This prompted her to start a campaign that would not only tackle the taboo, but also raise money – she hopes to raise cash for charity Body Gossip's education programme, which teaches young people about body image.
On the official 'Januhairy' Instagram, Jackson wrote: "I realised that there is still so much more for us to do to be able to accept one another fully and truly.
"There had been some parts that were challenging for me, and others that really opened my eyes to the taboo of body hair on a woman."
Jackson explained her decision to her family: "When I first started growing my body hair my mum asked me: 'Is it you just being lazy or are you trying to prove a point?' Why should we be called lazy if we don't want to shave? And why do we have to be proving a point," she wrote.
Now her mum is one of her biggest supporters and will also be joining in with Januhairy and growing her body hair out, says Jackson.
Not only are people close to home supporting the campaign but Jackson said she's had support from women all over the world – in the USA, Canada, Spain, Germany and Russia.
One of those people taking part is Lila Boschet, 21, from California, who told the BBC: "I expect that there will be peaks and troughs, moments where I will feel awkward, but it's exciting to see where it takes me.
"I forget to shave quite often. But I'm looking forward to doing something actively instead of passively."