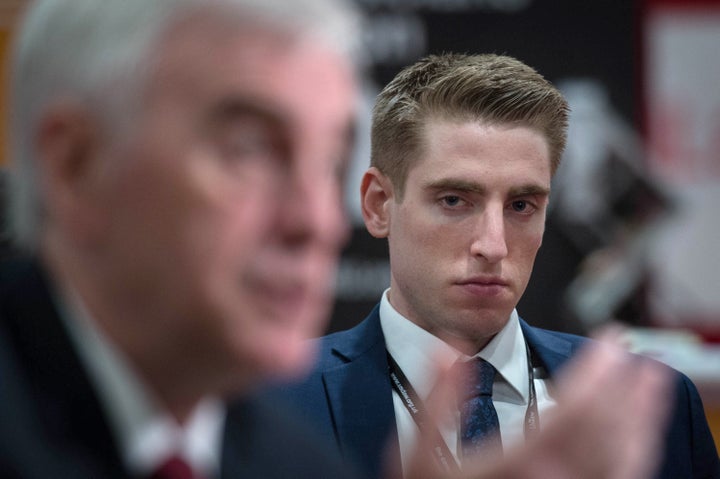 Jeremy Corbyn's son Seb is self-isolating after experiencing coronavirus symptoms, HuffPost UK has learned.
The Labour leader's second son, who works for John McDonnell, has not come into with his father or the shadow chancellor since becoming ill. He is recovering at home.
It comes as his father, who is 70, faced questions over whether he should continue coming to parliament or be isolating himself, as per government advice, because of his age.
After working on his father's leadership campaign in 2015, Seb Corbyn moved to become McDonnell's chief of staff and later his advisor.
Speaking to Sky News' Sophy Ridge on Sunday, Corbyn said that parliament should continue to sit and scrutinise the government.
A number of parliamentarians, including the opposition leader, are aged 70 or over.
Government advice is for all vulnerable groups to strictly self-isolate in order to slow the spread of the contagion.
Corbyn insisted, however, that he would continue to work. He said he was making sure he was "not getting too close to people", and was ensuring "everything is kept absolutely clean".
Asked by the Sky News presenter whether he should still be going to Westminster, he said: "I think parliament should remain in session, it's very important that we have the chance to put questions to the government and this legislation is going to come up on Monday.
"But what we agreed was, informally between the parties, we'd greatly reduce the number of MPs that came into the chamber, they'd have to sit one to two metres apart."
MPs will today scrutinise emergency legislation that will hand powers to the police to enforce a lockdown in attempts to tackle the virus.
When asked if he will continue going to parliament, Corbyn replied: "Yes, of course."
He added: "I've got to speak there and ask the questions there, but again we've reduced the number of people in my office to as low as we possibly can, they're working from home, and we're all getting very good at Zoom calls and conference calling."