A mum has criticised Heathrow airport after staff "forced" her to throw nearly 15 litres of her breast milk away.
Jessica Coakley Martinez said she felt "humiliated" when security operatives reportedly wouldn't allow her to board the flight with the milk.
In an open letter on Facebook, the mum-of-two explained how she had been on a 15-day work trip to Europe and had pumped milk for her son when she returned.
"You made me dump out nearly two weeks-worth of food for my son."
Martinez called being a working mother the "hardest thing" she's ever done, trying to manage the logistics of meetings while still taking care of a family.
She pumps milk at "every available opportunity" in order to have a constant supply of milk for her son, even when she's away.
During this particular trip, Martinez was pumping "between meetings, presentations, business lunches and dinners, taxis, flights and long waits in airports".
However, because she was not travelling with her son, the airport's rule meant she was unable to take the milk on the plane.
"That is incredibly unfair and exclusionary in consideration of all of the other working mothers like me who are required at certain times to spend time away from their baby, but intend to continue to breastfeed them," she told them.
"That being said, more than 300oz of that milk was frozen. Solid. Like a rock. I was willing to let go of the liquid milk.
"But you also wanted the solid milk because it could 'melt and become a liquid'."
Jessica Coakley Martinez and her husband Ricardo Martinez
The mother explained how travelling was a big part of her job and having her milk confiscated was like "denying every possible point of compromise".
"Despite my begging, pleading and even crying out of sheer shock and desperation for a solution (which you essentially scoffed at with annoyance), you treated me as if I was trying to smuggle litres of hydrogen peroxide onto the plane.
"This wasn't some rare bottle of wine or luxury perfume I was trying to negotiate as a carry on. This was deeply personal.
"This was my son's health and nourishment. This was the money I would now need to spend buying formula that wasn't necessary.
"This wasn't tomorrow's milk it was two weeks-worth of nutrition for my child and it was the countless hours of my time, my energy, even my dignity in some instances."
Martinez added: "Beyond literally taking food from my child's mouth, you humiliated me and made me feel completely defeated as a professional and a mother."
The Facebook post, uploaded on 21 April, has been shared more than 4,000 times in four days.
Many mothers said they were "devastated" for her.
One mother wrote: "I'm so angry and heartbroken for you, but thank you for sharing this horrible story that needs to be told again and again.
"Being a working mum is so hard always, but so tangibly so when you're trying to breastfeed, and it is atrocious that people would seemingly go out of their way to make it even harder."
Another person commented: "Your letter is incredible and truly touched me, as I'm sure it will everyone who reads it.
"Breastfeeding has been literally one of the hardest things I've ever done. The successes and failures centred around it no longer impacting myself but my boys as well.
"As a working mother, my body and my career didn't allow me to continue breastfeeding when I returned to work."
A spokesperson for Heathrow said that the airport "complied with the UK's aviation security laws".
"To assist security screening, please do not carry these items in a flask.
"If you are not travelling with a baby or infant all your liquids must comply with the 100ml rule. Spare supplies should be packed in hold baggage."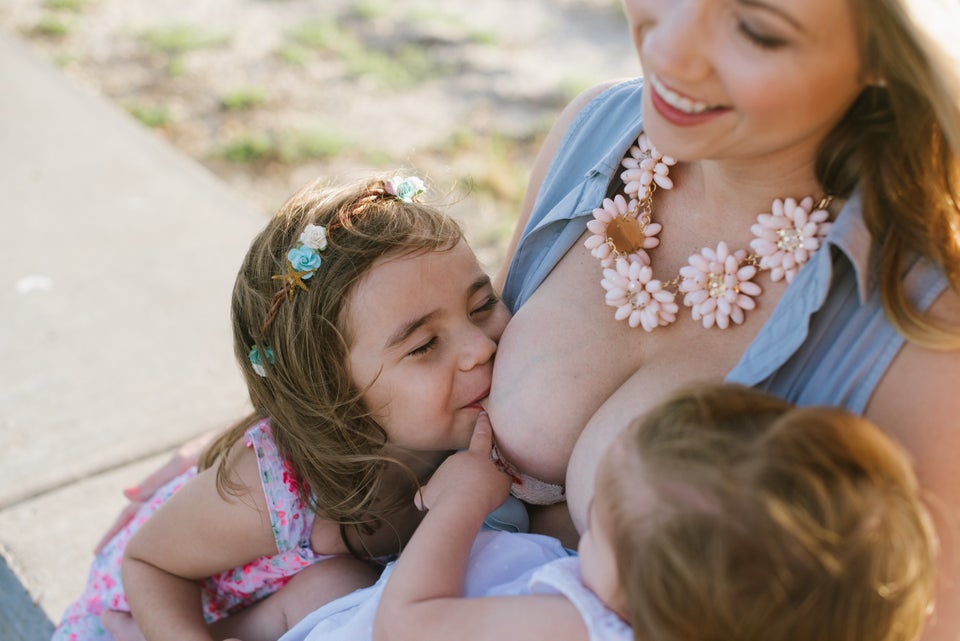 Breastfeeding Tandem Photography