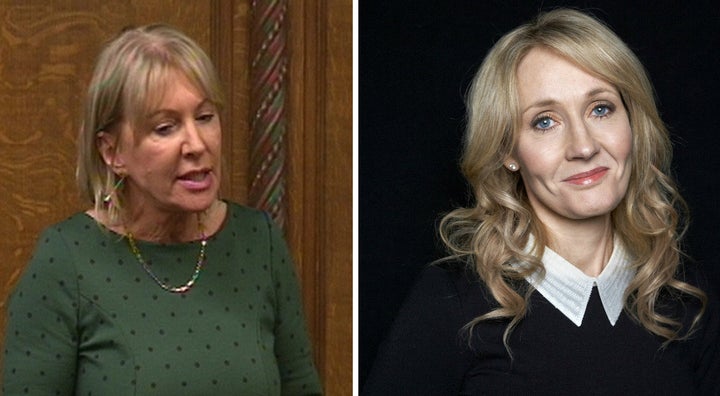 The Harry Potter author castigated a tweet by pro-Brexit Tory MP Dorries, who said Beckham's position as a multi-millionaire proved the June 23 vote had become a "division of the classes".
Here's where it all began:
An incensed Rowling hit back at the claim, suggesting that Dorries thought successful men from working class backgrounds should "know your place".
She defended Beckham's ability to air his thoughts on Brexit, after the footballer said he was supporting the In campaign because "we live in a vibrant and connected world where together as a people we are strong".
Rowling mocked Dorries, interpreting her criticism as thinking it meant: "Don't start thinking you can have opinions just because you made it."
After the response, both engaged in a heated debate on class and how Brexit could affect some of the poorest in society.
Dorries struck first, saying that she had in fact grown up in a working class family on a council estate in Liverpool. "Till mid-adult years," she wrote.
"Then you should be applauding and enabling social mobility," Rowling retorted, "not sneering when it happens".
She claimed an independent Britain would mean borders being better protected and fewer migrants being able to offer cheap labour and supress the wage growth of those who struggle like she did during her formative years on an estate.
But Rowling branded the claim a "desperate lie" and cited experts who agree that a 'Leave' win would severely hamper the employment rate.
"Yours [job] will be safe, though, eh?" Rowling quipped.
At which point Dorries said she had to draw the conversation to a halt to attend a meeting.
But she didn't let the matter lie, telling Rowling that she should go on to the streets and speak to those "hit and hurt" by Britain's membership of the EU.
That's where the conversation could have come to a natural conclusion - but Dorries decided to let her followers know she had been made late for an appointment by the argument.
To which a surprised Rowling could only issue a withering response:
The Huffington Post UK understands the pair have not conversed for at least an hour at time of publication.
NOW READ: