Jo Swinson has vowed to stay "true to her values" despite plummeting poll ratings for the Lib Dem leader and her party.
A policy to cancel Brexit by revoking Article 50 and rows over tactical voting have seen the Lib Dems' vote squeezed since the snap December 12 general election was called.
The party had hoped Swinson's appearance on last week's prime-time Question Time debate would boost the party's chances.
But an Ipsos Mori poll published on Wednesday showed 50% were unfavourable towards Swinson, a figure up from 41% a week ago. The same poll showed 49% were unfavourable to the Lib Dems as a whole (up from 42%).
But speaking on the campaign trail in Scotland, Swinson was defiant over criticism of the party, telling HuffPost UK: "Look, I'm standing up for what I believe in and those things are what drives me in politics - staying true to my values.
"When I say I want Scotland to stay in the UK, people who support Scottish independence don't like that and they are not going to be favourable to that.
"And when I say I want to Remain in the European Union, people who passionately want to Leave the European Union probably aren't going to like that.
"I don't think this is a popularity contest, I'm in this for the things that I believe in. I'm not going to change what I believe in just to court votes.
"It's about the values that we stand for - and that's what matters."
It also said the Lib Dems were set to gain just one extra MP.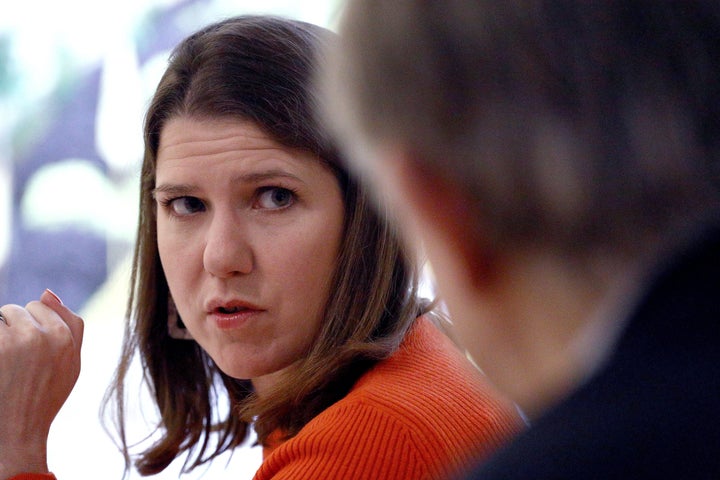 She said: "If I woke up in the morning and basically just tried to ponder the question 'how do I make people like me' then I don't think I would be very successful in politics, right.
"The questions I am trying to think about in the morning are 'how do I make sure we stay in the EU' and 'how do we build a future for our country where we don't have a scenario where the Jewish community is afraid of one mainstream party and the Muslim community afraid of another and where everybody can be themselves and thrive and every single child can have the life chances they deserve'.
"Those are the questions uppermost in my mind when I think about what I want to achieve and I'm going to keep pursuing those things and stay true to myself."
It came as the Lib Dem leader was campaigning for re-election in her East Dunbartonshire constituency after Nicola Sturgeon's party launched its manifesto in Glasgow.
With the Conservatives picking up support north of the border, Sturgeon said she would consider a coalition with Jeremy Corbyn's Labour Party, on the condition he would agree to a second Scottish independence referendum.
Challenged on whether Swinson would prop up a Jeremy Corbyn-led government, she said the Labour Party was "wilfully ignoring" anti-Semitism, adding: "We are not in the territory of talking about coalitions with either Jeremy Corbyn's Labour Party or Boris Johnson's Conservative Party.
"Neither of them is fit to hold the office of prime minister."
She added: "Liberal Democrat votes would not put Jeremy Corbyn into Number 10."