Boris Johnson is braced for a backlash from hardline Eurosceptics by signing up to Theresa May's Brexit deal if it is stripped of the controversial 'backstop' for Northern Ireland.
In a sign that the prime minister is ready to defy some of his own MPs, he told EU leaders in recent days that he is prepared to accept most of the Withdrawal Agreement as long as the issue of a border in Ireland was solved.
Asked if Johnson had made clear he was ready to accept the rest of the May deal with that proviso, a No.10 spokeswoman said on Tuesday: "We have been clear the changes we are seeking relate to the backstop."
Senior Brexiteers like David Davis, John Redwood, Iain Duncan Smith, Steve Baker and Mark Francois have all warned that just dropping the backstop – a guarantee of continued EU trade rules to keep the Irish border open after Brexit – would not be enough.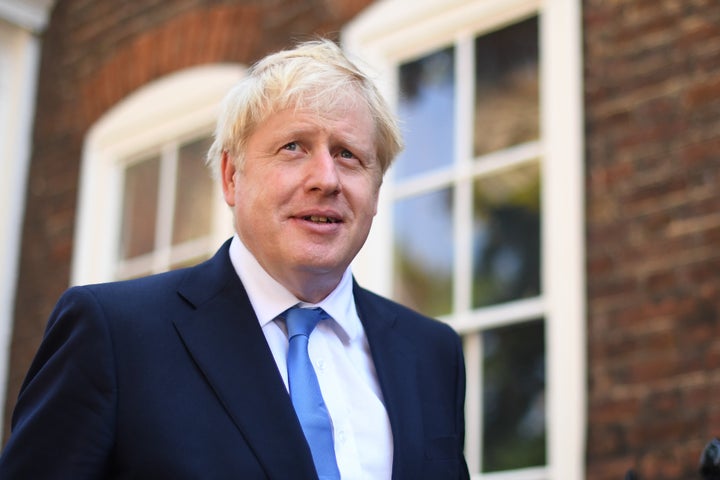 Duncan Smith said worries about the transition period, the supremacy of EU law and defence and security issues were all still problematic. Davis has said Johnson must have a 'shopping list' of other demands, including new conditions on the UK's divorce bill.
Some 'Spartans' – the nickname hardline MPs have given to themselves – only agreed to back Johnson for Tory leader last month on the grounds that he had told them the withdrawal agreement is dead.
But in a reference to the hardcore of the European Research Group (ERG) of backbench Tory MPs, one ally of the PM said: "We know that the 'Spartans' are going to accuse us of betrayal at some point."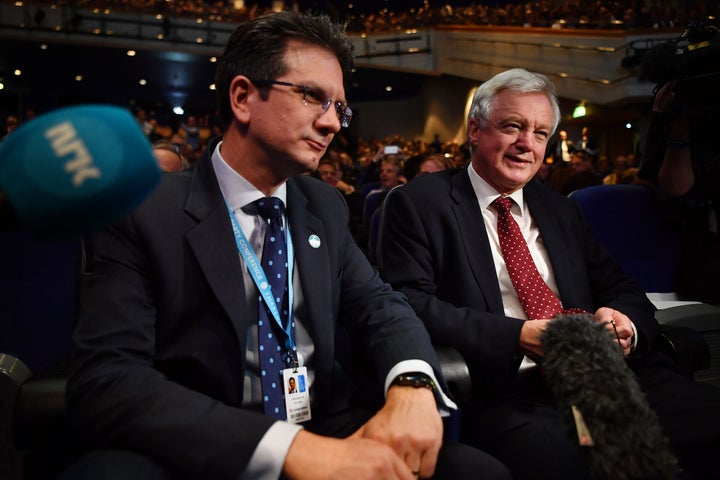 Some senior government figures believe that Johnson has a chance of getting a Brexit deal through parliament despite opposition from a clutch of Tory 'ultras', as long as rebel pro-Leave Labour MPs back him.
When contacted by HuffPost UK, former Brexit minister Steve Baker pointed to his previous tweets on the issue.
"The withdrawal agreement is not merely about the mechanism for our withdrawal and arrangements in the short term," he had said.
"It in effect binds the uk into a permanent relationship with the eu in which it remains subject to many of the constraints of membership while having no vote."
The political dangers of the move were underlined by Nigel Farage on Tuesday, when he warned that his Brexit Party would fight the Tories in every parliamentary seat if Johnson accepted even an amended form of May's deal.
"The Withdrawal Agreement is not Brexit. It is a betrayal of what 17.4 million people voted for.
"If you insist on the Withdrawal Agreement, Mr Johnson, we will fight you in every seat up and down the country."
Farage offered a 'non-aggression pact' if the PM opted instead for a no-deal Brexit.
One plan being discussed in government is to devise sector-specific deals for the UK and Northern Ireland to ensure areas like agriculture continue to operate with effective common regulations.
Fresh moves to get a deal are underway and No.10 confirmed that the PM's chief EU negotiator David Frost would go to Brussels on Wednesday for further talks on a detailed alternative to the Irish 'backstop'.
Johnson and European Commission president Jean-Claude Juncker are also set to talk on the phone on Tuesday about the prospect of a revised Brexit deal. Johnson also spoke to Dutch counterpart Mark Rutte.
Johnson was pleased that when he talked to France's Emmanuel Macron and Germany's Angela Merkel last week and at the G7 summit in Biarritz there was a willingness to talk rather than just listen to the UK's new ideas.
One government source said there had certainly been "a rhetorical shift" from the EU compared to a month ago when they were insistent the backstop and Withdrawal Agreement was "sacrosanct".
"We don't believe it is a substantial shift but we must try now and prise open some space for negotiations," the source added.
A Downing Street spokeswoman said: "There is a clear understanding now that the commitment to leave on October 31 is absolute but that the PM wants to do so with a deal.
"What is clear is that if there is goodwill on both sides, and a determination to get things done, solutions to the backstop exist and the PM believes they should be discussed."
An EC spokeswoman confirmed the Juncker phone call, saying: "We stand ready to, of course, engage constructively with the UK on any concrete proposals that are compatible with the Withdrawal Agreement, so this is exactly in the spirit of constructiveness and engagement that the two will speak later."
"We have seen these ideas, of course, it's good that there is a vibrant discussion and that ideas are being put forward, but as we have said it is up to the UK government to come with concrete proposals."
As Johnson made his fresh diplomatic push this week, aides noted that the Daily Telegraph's leader column declared on Monday "If MPs want to leave the EU in an orderly fashion they need to back the PM to get a new deal."