Boris Johnson will unveil a £1bn package of tax cuts and investment for firms as he faces business leaders angry at the ongoing Brexit uncertainty.
The prime minister will vow to cut business rates and employers' National Insurance contributions, while introducing tax breaks to boost construction and research and development.
Jeremy Corbyn and Jo Swinson will also speak at the event, with Labour unveiling a plan for almost a million "climate apprentices" and the Lib Dem claiming she leads "the natural party of business" as the Brexit crisis engulfs others'.
It comes as the economy showed signs of stalling, growing just 0.3% in the year's third quarter while employment fell at its fastest rate for four years between July to September.
"Let's not beat around the bush, big business didn't want Brexit," Johnson will say, blaming a "broken parliament" for the deadlock.
"You made that clear in 2016 and this body said it louder than any other.
"But what is also clear is that what you want now - and have wanted for some time - is certainty.
"So that you can plan and invest, so you can grow and expand, so that you can create jobs and drive prosperity."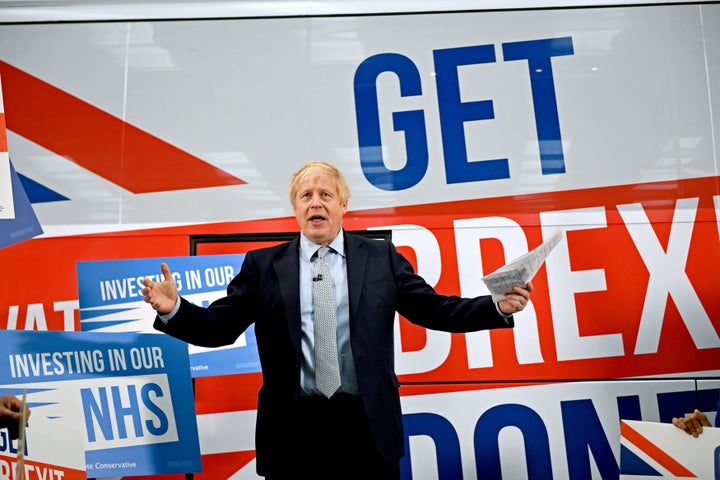 He will also underline the Tories pledge to raise the employment allowance from £3,000 to £4,000 and boost cash for research and development.
The Labour leader will also be trying to win over business leaders, after the CBI's director-general Carolyn Fairbairn claimed his party's bold plans to renationalise rail and offer free broadband would "crack the foundations" of the UK economy.
His climate apprenticeship programme which will train an average of 80,000 people a year via reforms to the current apprenticeship levy, Corbyn will tell the conference.
Labour plans to deliver 320,000 apprenticeships in England during the party's first term in government, with the programme creating 886,000 by 2030.
The programme to "upskill" the UK workforce will allow companies to compete and succeed in the green economy, the party said.
Corbyn is expected to say: "Labour's green industrial revolution will be a central motor of the party's plans to transform our country and economy, using public investment to create good, clean jobs, tackle the climate emergency and rebuild held back towns, cities and communities.
"Climate Apprenticeships will offer training to school leavers and workers looking to change jobs mid-career, creating the engineers, technicians and construction workers we need to transition to a green economy.
"This election is our last chance to tackle the climate emergency. The Tories have failed to invest in our economy, failed to deliver apprenticeships and failed to face up to the climate emergency."
Swinson, whose party backs immediately cancelling Brexit by revoking Article 50, will also set out her stall.
She will say: "In an interview last week, Carolyn asked who the party of business is today.
"The answer is clear. The Liberal Democrats are the natural party of business.
"With the Conservatives in the pocket of Nigel Farage and Jeremy Corbyn stuck in the 1970s, we are the only ones standing up for you.
"Because we believe that any form of Brexit, whether it's hard or soft, blue or red, will be bad for jobs, business, and our public services."
Fairbairn, who spoke to Sky News on Sunday, hit out at both Corbyn and Johnson.
She claimed Corbyn's programme of nationalisation would "freeze investment" and said Johnson's bid to slash migration could spark a skills crisis.
Asked if she believed Corbyn was a "friend to business", Fairbairn replied: "We look at the policies on the table [from Labour] and we have real concerns that they are going to crack the foundations of our economy."
Moving on to the Tory Party, Fairbairn called Johnson's approach to immigration "a worry".
Johnson has scrapped the Conservatives' target of bringing net migration down to the "tens of thousands", but has said that all migrants coming to the UK must have a job offer unless they are special exceptions, such as skilled scientists or someone starting a business.
Fairbairn said businesses and public services need skilled workers, sometimes from abroad, and that the move threatened to leave the UK ultimately worse off.
"When we hear talk about brightest and best, I think that is a worry," she said. "If you do want to build 200,000 houses a year, you don't just need the architects and the designers, you need the carpenters, you need the electricians, you need the labourers."