Junior doctors will stage the first full walkout in the history of the NHS next month.
The strike will change from 48-hour emergency care only to a full withdrawal of labour by junior doctors between 8am and 5pm on Tuesday 26 and Wednesday, April 27.
Other doctors and staff will continue to provide care during this time.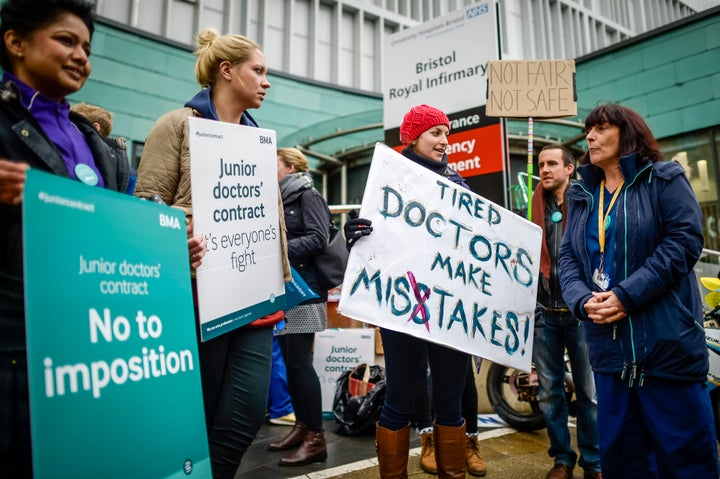 The BMA said that the government has left them "with no choice" over the imposition of the controversial junior doctors contract.
But the Department of Health today said that the escalation of industrial action was "desperate and irresponsible".
So far, there have been three walkouts by junior doctors over an ongoing battle with the government regarding their new contract.
On each occasion junior doctors have staffed emergency care, but the BMA said that this will not be the case in April's strike.
The BMA's junior doctor committee chair, Johann Malawana, said in a statement: "No junior doctor wants to take this action but the government has left us with no choice.
"In refusing to lift imposition and listen to junior doctors' outstanding concerns, the government will bear direct responsibility for the first full walkout of doctors in this country."
Talks between the BMA and the government came to a halt in January. Last month Health Secretary Jeremy Hunt announced that the contract would be imposed on junior doctors from this summer.
Malawana said: "The government is refusing to get back around the table and is ploughing ahead with plans to impose a contract junior doctors have no confidence in and have roundly rejected.
"We want to end this dispute through talks but the government is making this impossible, it is flatly refusing to engage with junior doctors, has done nothing to halt industrial action and is wilfully ignoring the mounting chorus of concerns over its plans to impose coming from doctors, patients and senior NHS managers. Faced with this reality what else can junior doctors do?
"We deeply regret the disruption to patients and our message to patients is clear; this action is wholly avoidable but the government must choose talks over imposition."
The BMA said that the "biggest barrier" to a seven-day NHS was a chronic lack of investment and a shortage of staff, not doctors' contracts.
Malawana added: "For the sake of patients, doctors and the future of the NHS the government must put politics to one side, get back around the table and end this dispute through talks."
Popular in the Community