If anyone embodies the word 'fierce' it's philanthropist, author and TV presenter Katie Piper.
The 33-year-old survived an acid-attack in 2008 which left her with facial and bodily scarring, but she's refused to let the horrifying incident define her life.
She's since starred in documentaries, released multiple books and set up her charity The Katie Piper Foundation, to support others with burns and scars.
If that wasn't enough, she's recently added "fashion designer" to her impressive CV, creating an inclusive 36-piece line in sizes 6 to 24.
The mum-of-one has worked hard to rebuild her confidence and now, she's determined to help other women love themselves.
"Being different is a wonderful thing, I wish more people embraced that," she told HuffPost UK.
"It took a long time for me to accept my appearance, but I'm so much more than just my appearance."
We spoke to Piper for our women's series Fierce about her inspirations, self-care and learning to say "no".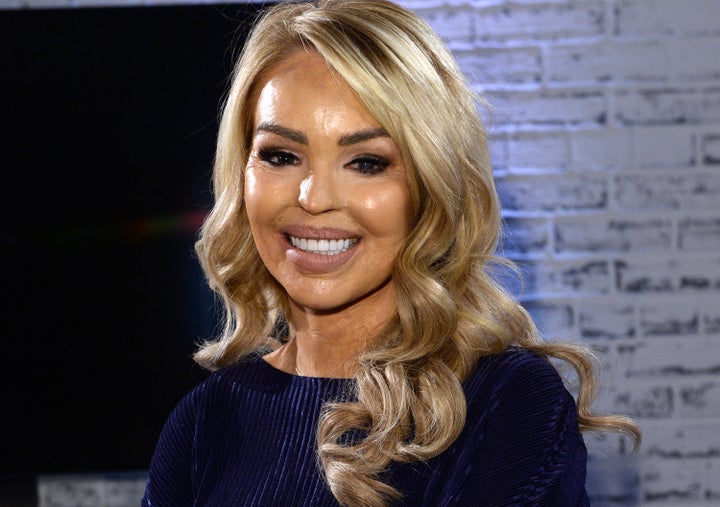 Who inspires you and why?
"My mum: she is an incredible person and has always been there for me, she's so selfless.
"Also the volunteers at my charity, The Katie Piper Foundation. Many of them are burns survivors and I couldn't do it without them. They've overcome so much personally and are now giving back to others. Incredible."

How do you think society views ambitious/successful women?
"It's getting better but we still have a long way to go. I'm all about championing women and I'm proud my daughter Belle is growing up with a working mum."

What was the last thing you did that made you proud?
"Launching my fifth book 'Confidence, The Secret' because it was such a different book for me to write. It pools on years of highs and lows, but it's a journal, as well as a self-help book.
"I also spoke to many people who have inspired me to become contributors in the book. These people range from my life-coach to burns survivors at my charity, who inspire me every day. The fact that this book is now a best-seller so quickly makes me feel very proud. To be getting so many tweets and messages to say how my book is helpful so many people every day is a very special feeling.
"I also chaired a Q&A with my eye surgeon in Dublin – I was blinded in my attack and internationally-renowned eye surgeon Sheraz Daya helped me and many others to restore their sight."


How do you practise self-care and why is it important?
"Self-care is so important. For me, it means ensuring I have time for fitness and wellbeing. I find fitness and working out is the only way I relax, it's the only way I de-stress.
"I also cook now more than I ever have before. I'm cooking a lot of vegan and vegetarian meals to broaden my cooking abilities and healthy eating regime. I find some foods hard to digest due to my throat injury, so cooking and learning new food techniques is a great tool for me."


Does success have a downside? If so, what is it?
"Everything has its good and bad. For me, my profile has allowed me to do so much good, which trumps anything bad. My profile has allowed me to raise public funds to run my charity and help change lives for burns survivors who desperately need support physically and mentally.
"The downsides are feeling the need to be 'camera ready' most of the time, when sometimes I just love being in my gym-wear in no makeup doing the school run."


If you had one piece of advice for other women, what would it be?
"Being different is a wonderful thing, I wish more people embraced that. It took a long time for me to accept my appearance, but I'm so much more than just my appearance. I'm a mum, a wife, a friend, a daughter, a sister, a businesswoman and a philanthropist."

What's your biggest regret? And what did you learn from it?
"I'm a people pleaser and really want to do my best for everyone. However this has its limits and saying yes to everything is really damaging for so many reasons.
"You must say 'no' on occasion and you need to leave time and energy for yourself and the people that love you. Being selfish and looking after yourself is okay."
What motivates you to get out of bed in the morning and keep pushing forward?
"I'm a very positive person but even I have my limits, I'm a realist and it's hard to be happy 24/7 and jump out of bed every morning.
"My daughter Belle (two) and my charity commitments will also keep me going and being positive, and my wonderful husband."

What's the one thing you would change or do in 2017 to push women forward?
"Continue what we're doing, things are changing for women. We're incredible game-changers and long may that continue and be celebrated.
"There are women in business who are celebrated world-wide. My friend Jo Malone is a great example of a strong female who launched one of the most successful brands in the world."
'Confidence: The Secret' by Katie Piper is out now, £12.99, Quercus.
Fierce is our new regular feature on Huff Post UK, asking trailblazing women what drives them. We'll be speaking to a range of women including those who've found success in male-dominated industries, created a service to help other women and those using their position to empower others.