He told reporters: "The virus is clearly out of control and there's no good the prime minister hinting that further restrictions are coming into place in a week, or two or three.
"That delay has been the source of so many problems. So, I say bring in those restrictions now, national restrictions, within the next 24 hours.
"That has to be the first step towards controlling the virus."
Starmer said he didn't want to call for the closure of schools tomorrow and "and add to the chaos", but added: "It's inevitable more schools will close.
"And the government needs a plan on children's learning but also for working parents."
As coronavirus infections continue to increase across most areas of England, Boris Johnson indicated on Sunday morning that tougher restrictions to deal with the crisis could be on the way in the next few weeks.
The PM said he was "fully reconciled" to a probable tightening of the anti-Covid measures and that the already "very tough" tiering system would likely need tightening.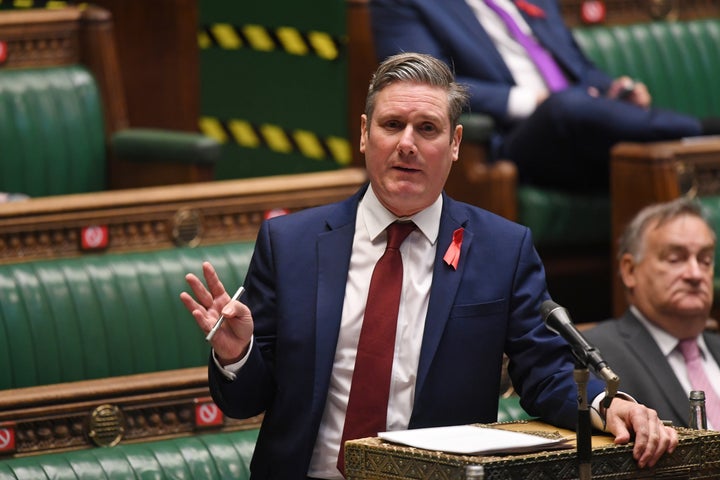 Cornwall and Isles of Scilly 161% (263.2)
Halton 143% (511.6)
Wirral 134% (515.4
Knowsley 124% (468.6)
Shropshire 116% (228.1)
Sefton 110% (400.9)
Redcar and Cleveland TIER 4 105% (260.3)
Cumbria TIER 4 88% (436.0)
Sunderland TIER 4 87% (399.0)
York 86% (450.1)
Elsewhere, the highest rates of infection remain concentrated in tier 4 areas in London and the South-East though the rate of increase has slowed and in many cases, reduced.
Thurrock -13% (1,197.1)
Barking and Dagenham 5% (1,157.3)
Redbridge -3% (1,138.2)
Newham 7% (1,048.9)
Havering -19% (1,016.4)
Enfield -4% (993.3)
Tower Hamlets -4% (967.5)
Bexley -15% (960.6)
Southend-on-Sea -20% (911.4)
Medway -8% (910.1)
The new strain of Covid-19 transmits faster and is most prevalent in London and the South East, where hospitals have become stretched.
Professor Sir Mark Walport, who is a member of the Scientific Advisory Group for Emergencies (Sage), said it was "pretty clear" tougher restrictions were needed.
Asked if Tier 4 measures were enough, the former chief scientific adviser said: "It's the Tier 4 restrictions, it's obeying them.
"It is thinking about breaking essentially every possible route of transmission we possibly can.
"Those are the things that are absolutely necessary and it is pretty clear we're going to need more."