Talks between the DUP and Labour to find "common ground" are taking place "at a senior level" as Jeremy Corbyn's party mulls triggering a no-confidence motion in the government before Christmas, HuffPost UK understands.
After Theresa May survived a bid to topple her leadership by Tory backbench rebels, it emerged her whole government could be facing a new threat as the opposition plots a confidence challenge as early as next week.
It is understood a meeting between the DUP, which props up her government, and Labour has taken place "at a senior level" in a move which threatens to blow apart the supply and confidence motion the Northern Irish party struck with May in the wake of her disastrous general election.
It comes as the confidence vote in May's leadership revealed that 117 Tory MPs do not back the Prime Minister.
The DUP has always publicly stated it would not run the risk of a Corbyn-led government - but pulling their backing for May could lead to a snap general election.
HuffPost UK has learned that, should May fail to wrest fundamental changes from EU leaders at this week's summit in Brussels, Labour is prepared to push for a vote of no confidence in the government after she updates MPs on Monday.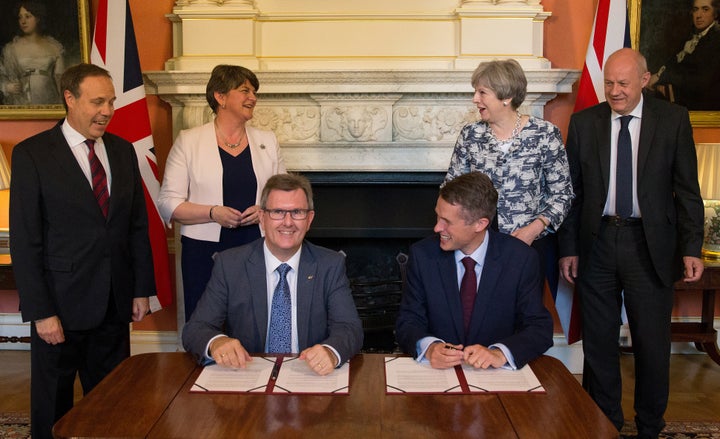 May is due to make a statement to the Commons about Brexit talks on Monday after having been forced into pulling the so-called meaningful vote this week.
It is after her statement Labour could move.
When approached about the talks, DUP chief whip Sir Jeffrey Donaldson said: "I am not aware of any such meetings."
A senior Labour source, however, told HuffPost UK: "Discussions have taken place between Labour and the DUP to see if there is any common ground there."
They added a "considerable number of Tory MPs" desperate to oust May could also back the opposition in a last-ditch bid to get the party to switch leader.
"We have seen the hostility focused on May over the last two or three weeks in particular and we believe that, when she returns from Brussels, unless she has agreed major changes to the withdrawal package, that hostility will only increase," the well-placed Labour source added.
They admitted the DUP were unlikely to throw their weight behind Labour's plan given Corbyn and his shadow chancellor John McDonnell's closeness to Sinn Fein.
However, they added: "It should happen before Christmas.
"We might just have this coalition that will vote against her and we want to maximise the vote against her as much as we can. Just a handful of MPs can make a huge difference for us.
"You pick your time for a fight, you don't pick a fight for the sake of it."