The MP at the centre of the campaign to release Nazanin Zaghari-Ratcliffe has been accused of "abusing her power", after making an "apparently threatening remark" to a pregnant female journalist while being quizzed about another Briton jailed abroad.
MP Tulip Siddiq told the journalist to have a "great birth, because child labour is hard" after being questioned about the case of lawyer Ahmad bin Quasem, who human rights organisations say was abducted by state security forces in Bangladesh last year.
The editor of Channel 4 News, Ben de Pear, has complained to both the MP, who sits on the Women and Equalities Committee in Parliament, and the Labour party over the remarks and sought an apology.
A Channel 4 News spokesperson confirmed on Wednesday that no apology had been received but Siddiq had told the news show she will reporting it to the police.
Part of the complaint to Siddiq's office seen by HuffPost UK reads:

"Not only is it offensive that Daisy should be singled out for being pregnant, but the fact that it was commented on at all whilst she was working, and then used to intimidate her by reminding how painful childbirth is, is quite shocking, especially coming from a member of the Women and Equalities Select Committee.

"As her employer I object in the strongest possible terms that a politician should turn on a journalist for asking a difficult question and seek to cause deliberate upset and distress."
The Labour Party is yet to respond to a request for comment from HuffPost UK but Siddiq this morning issued an unreserved apology for her comments:
Senior Channel 4 journalist Alex Thomson, who was leading the reporting team, tweeted that Siddiq had acted "commendably" in apologising for the incident.
Siddiq had been asked, while attending a rally for Zaghari-Ratcliffe in her Hampstead and Kilburn constituency, if she would do anything to help Quasem's release, shortly before the controversial exchange took place.
In its dispatch, Channel 4 News had earlier detailed how the MP had been "begged to help (Quasem), over and over and over again", so they decided to attend the rally to ask her again.
The MP has family connections with the government in Bangladesh, where her aunt is prime minister.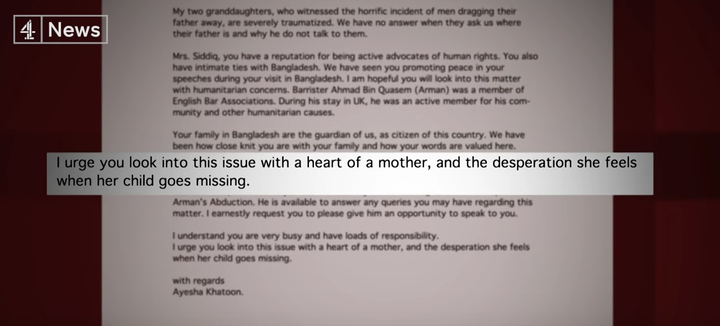 Siddiq appeared to not know who Thomson was asking her about, initially replying "Is he (Quasem) Hampstead? Is he a British citizen?", before going on to warn him about his line of questioning.
"Are you aware that I am a British MP and that I'm born in London," she retorted, before continuing: "Are you implying I'm Bangladeshi, because I am British. Be very careful with what you are saying, I'm a British MP."
Siddiq then walked off and her spokesperson Oliver Denton told Thomson "this is absolutely desperate".
The crew's producer, Daisy Ayliffe, then approached Siddiq when the exchange occurred.
Thomson detailed proceedings on Twitter where he noted that it was the first time "in 30 years reporting that an MP's said this to me ('be careful' for asking a question".
Siddiq's refusal to answer Thomson's questions has been criticised by other journalists and lawyers who pointed out that Quasem had been well publicised so she could not "feign ignorance".
Tory MP Andrew Bridgen told the Telegraph that Siddiq's "hypocrisy is quite shocking".
"When she was pregnant she brought much criticism on those who she thought were less than understanding of her situation and this was much publicised. Clearly she has questions to answer about her conduct."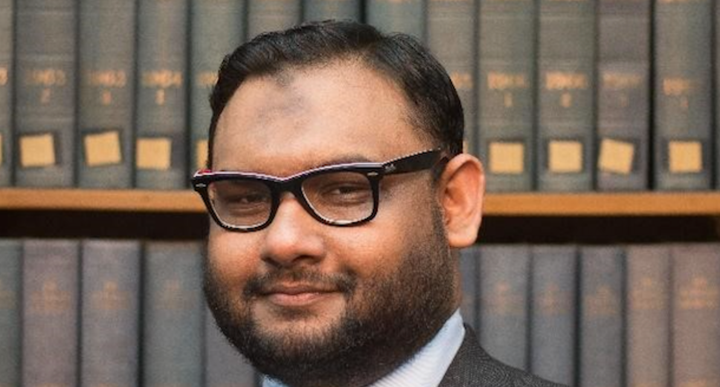 According to the chambers, Quassem is the son of Mir Quasem Ali, a member of Bangladesh Jamaat-e-Islami - an Islamic political organisation and social conservative movement founded in 1941 - who convicted by the Bangladesh International Crimes Tribunal (ICT) and "summarily executed in circumstances which has been described by international jurists as a flagrant denial of justice and which the UN High Commissioner for Human Rights called for a suspension of the verdict due to concerns of due process".
Quassem was a member of his father's defence team up until his execution and was abducted whilst the appeal was ongoing, the chambers said.
Zaghari-Ratcliffe's case has been heavily publicised in recent weeks after Foreign Secretary Boris Johnson mistakenly said she was training journalists when she was captured in Iran last April.
Siddiq has been a vocal supporter championing the Government to do more to aide her release.
Related