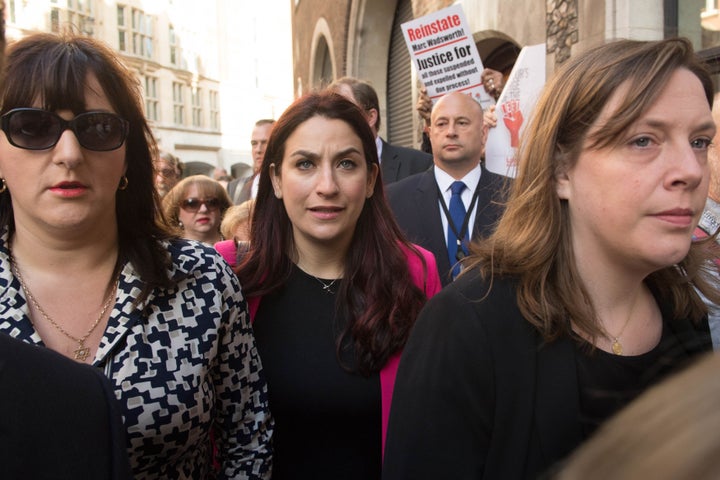 Dozens of Labour MPs and peers rallied around their colleague Ruth Smeeth as she prepared to give evidence to a hearing investigating a party member over alleged anti-Semitism.
More than 40 escorted Smeeth into the evidence session at Church House, Westminster, which is being held by Labour's National Constitutional Committee.
It will determine whether activist Marc Wadsworth should be expelled from the party, after he was suspended for verbally attacking Smeeth at the launch of the Chakrabarti report into Jew-hate nearly two years ago.
The politicians were met by a group of activists supporting Wadsworth, which included members of the Brighton and Hove Momentum group and former party member Tony Greenstein, who was kicked out of Labour earlier this year following an anti-Semitism probe.
She told reporters she wanted to see Labour leader Jeremy Corbyn take robust action to tackle the problem.
"Warm words are very nice, but they are not enough and that's why you have a whole group of MPs here today in solidarity with our colleague Ruth Smeeth," she added.
"She has an incredible amount of support here...because we want to see action taken against anti-Semitism. That's why we are all here today."
Wadsworth - who has the backing of Derby MP and Corbyn ally Chris Williamson - said he was a passionate anti-racist and was confident his name would be cleared.
"Based on the facts, this hearing, if it's fair, I will be exonerated," he said.
The panel is not expected to make any conclusions before Thursday, April 26.