Cooking With Kids is a weekly recipe series on getting creative in the kitchen with the family.
When there's nothing else in the fridge, you can always count on a carton of eggs. Here's a tasty oven-baked frittata loaded with cheese and leeks that's ideal for a light lunch or weeknight dinner. Bonus points: you can serve it cold too and pop it in your kids' lunch box – or your own – for the next day, too.
Chef and founder Marie Mitchell, who runs Caribbean restaurant, Island Social Club in East London is here to save the day and show us how it's done.
"This is a recipe that's relatively quick and easy – a must for when you've got hungry mouths to feed," she explains. "Often, getting children involved with the cooking allows them to be more adventurous with their eating and it can distract them from the things they don't like."
Prior to cheffing, Mitchell was a nanny and understands that feeding wee ones is no small feat. "As I prepare myself for my own journey into motherhood, I find myself hopeful (despite being a horrendously fussy eater myself) and excited about feeding my child," Mitchells says.
"Eggs are a great form of protein and a bit of an understated superfood. This is one of many ways you can demonstrate their uses."
Serves: 2 | Prep time: 20 mins | Cook time: 30 mins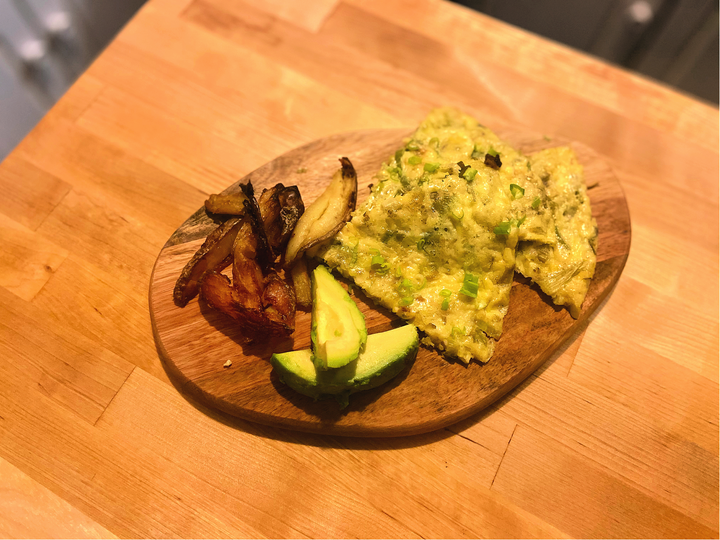 Ingredients
1 large leek, halved, rinsed, and chopped into crescents
2 tbsp of unsalted butter
1. Wash, dry and chop the leeks.
2. Warm an oven-safe frying pan over a medium heat, add the butter.
3. Once the butter is melted, add the leeks and sweat for around 15-20 minutes, you want them to brown and lightly caramelise, though be careful not to burn
3. Preheat the oven to 200°C/190°C fan/gas mark 6.
4. While the leeks are cooking, crack the eggs in a medium mixing bowl (you'll want a bigger bowl so there's lots of room to avoid spillages with your little helpers)
5. Salt the eggs and leave for 15 minutes – this helps to bring out their flavour but can be skipped if you don't wish to add any salt to the dish.
6. Whisk the eggs and grate the cheese.
7. Once the leeks are ready, take them off the heat.
8. Add the leeks to the eggs once whisked and most of the cheese, reserve a little for sprinkling on the top.
9. Grease the frying pan – be careful in case it's still warm.
10. Add your frittata mix, making sure it's evenly spread.
11. Sprinkle the remaining cheese on top and then pop in the oven for around 10-15 minutes or until cooked.
12. Serve with a dressed green salad or steamed vegetables.