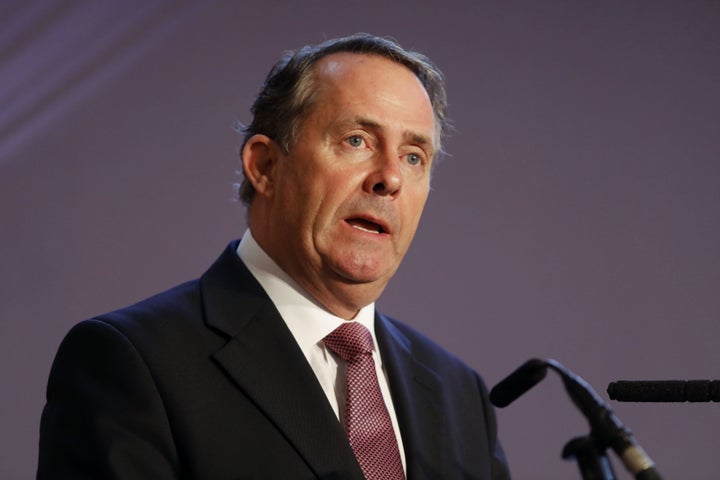 Liam Fox has said the UK is unlikely to sign a free trade deal with the EU by the time Brexit happens.
The international trade secretary told an audience in Washington DC today that there was a "growing consensus" in the Cabinet that a transition arrangement would be needed to "diminish any instability" in the economy.
"It would nice to think we could get a full free trade agreement by the time we get to March 2019, but that would be an optimistic view of recent free trade agreements," he said.
Fox's comments, during a question and answer session at the AEI think-tank, came despite him last week claiming a UK-EU trade deal would be "one of the easiest in human history" to negotiate.
His speech came amid a row over whether a future UK-US trade deal with the US would permit the importing of chlorinated chicken into Britain. Fox attacked the media for being "obsessed" about the issue.
In his speech, Fox also hit out at those in the UK he said were trying to "thwart" Brexit and for warning a vote to Leave would cause economic "chaos".
"They are dreaming," he said. "We have a majority in the House of Commons to get our Brexit legislation through."
He added: "Those who opposed us leaving EU told us, very explicitly, as soon as Britain votes to leave this economic chaos will come down on us. that we will requite an emergency budget, a rise in taxation ,the economy will slow down.
"Where is this dreadful economic armageddon that was going to happen?"
Back in the UK, splits emerged within Labour over its Brexit stance. Shadow international trade secretary Barry Gardiner said it would be a "disaster" for the UK to remain in a customs union with the EU.
His comments put him at odds with shadow Brexit secretary Kier Starmer, who has argued remaining in the customs union should be kept "on the table".
Jeremy Corbyn yesterday said Labour had yet to make a "judgement" about what its policy on the customs union would be.