Lidl is launching a vegan wine collection as part of its new Wine Tour focusing on the Rhône Valley. The three types - one white, two reds - will arrive in Lidl stores nationwide from 22 November.
You might be scratching your head thinking: how isn't wine vegan? After all it's not like there's any beef or egg in there. But actually a lot of wine isn't suitable for people following a vegan lifestyle. This is because during the winemaking process, the liquid is filtered through substances called fining agents, and some of these are animal-derived (more on that here).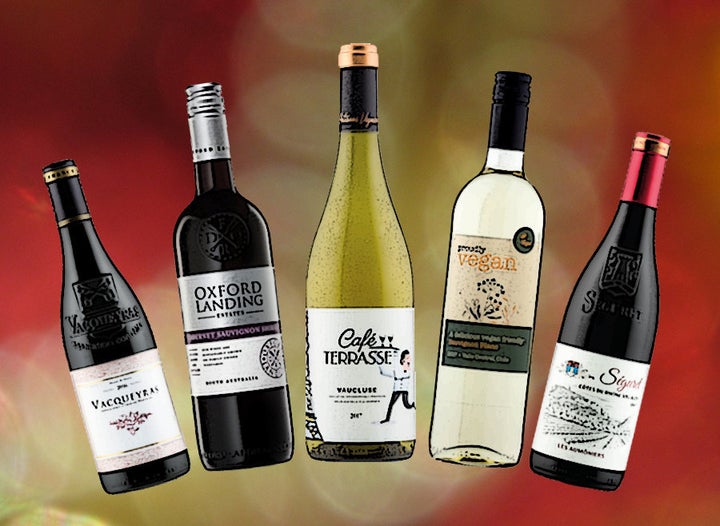 What's In Lidl's Vegan Wine Range?
Café Terrasse, £5.99, is made entirely from Muscat grapes and is described as "a delightful, refreshing, dry white with bright fruit flavours".
Vacqueyras, £8.99, is a "winter warmer with red fruits and spicy undertones". The Vacqueyras is made from the same grape varieties and the same region as Châteauneuf-du-Pape, so stylistically the wine is similar but without the expensive price tag.
Ségurets Côtes-du-Rhône Villages, £6.99, a full-bodied number with notes of white pepper. It goes great with a nut roast, according to Richard Bampfield, Lidl's Master of Wine.
Wine To Buy (Or Try) This Weekend
4. Argentinian Malbec Magnum (1.5L), £11.99 from Aldi. This medium to full bodied red wine combines "complex berry fruits with savoury characteristics and a spicy finish". Plum and blackberry flavours are prevalent with subtle violet notes to give it an intensely fruit finish.