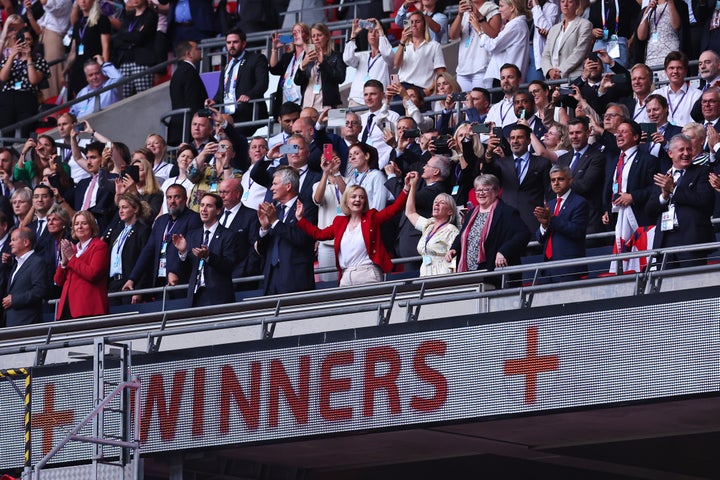 Liz Truss celebrated the Lionesses' Euro win with Nadine Dorries just hours after ministers urged her to distance herself from the culture secretary over her attacks on Rishi Sunak.
The image, intended to mimic Julius Caesar's assassination, was condemned as "distasteful" and "dangerous" by business minister Greg Hands, who is supporting Sunak in the Tory leadership contest.
He told Sky News yesterday: "I'm sure Liz Truss would disown this kind of behaviour. I think this is appalling.
"Look, it's not even a year since the stabbing of Sir David Amess at his Southend constituency surgery, so I think this is very, very bad taste, dangerous even".
Welsh secretary Sir Robert Buckland, another Sunak supporter, also condemned Dorries, saying the image she retweeted was "not just incendiary, it's wrong".
"I think it's time for those who think that an argument about Prada shoes or earrings is more important, for instance, should wind their neck in and let people talk about the issues rather than the personality," he added.
But just hours later, Truss was pictured celebrating hand in hand with Dorries at Wembley Stadium, where England's women's team beat Germany 2-1 after extra time.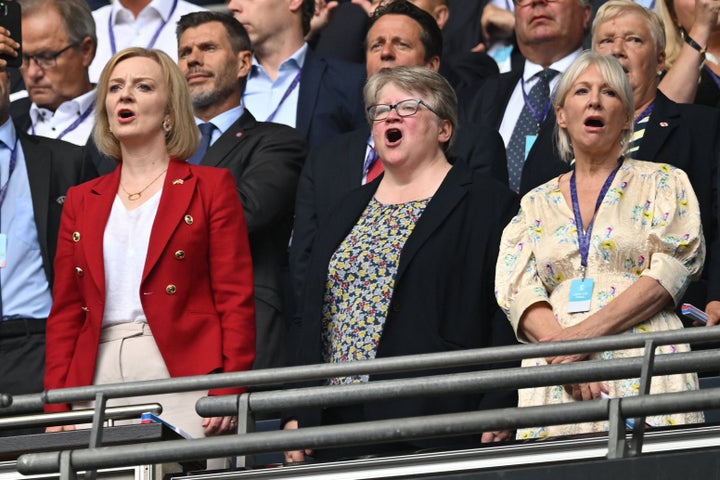 Dorries' retweet came after she admitted she may have gone "over the top" for attacking Sunak for his expensive clothes.
Dorries criticised the former chancellor for wearing £450 Prada shoes and a £3,500 bespoke suit, comparing it to Truss's decision to wear £4.50 earrings from Claire's Accessories.
But in an article for Mail+, she wrote: "I wanted to highlight Rishi's misguided sartorial style in order to alert Tory members not to be taken in by appearances in the way that happened to many of us who served with the chancellor in cabinet.
"The assassin's gleaming smile, his gentle voice and even his diminutive stature had many of us well and truly fooled."