Check your post because this week, the London Marathon 2020 ballot results will be announced.
There was a world record number of hopefuls this year, according to the sponsors, Virgin Money. This included 373,736 applicants from the UK, an increase of 25,860 from the record number that applied for the 2019 race. A total of 84,125 people applied in the international ballot.
This week, the 457,861 applicants will find out if they have been successful in the ballot and have a place in the race on Sunday 26 April 2020.
But for those who missed out on a spot, or those who didn't get their application in on time, there are other ways to bag yourself a place.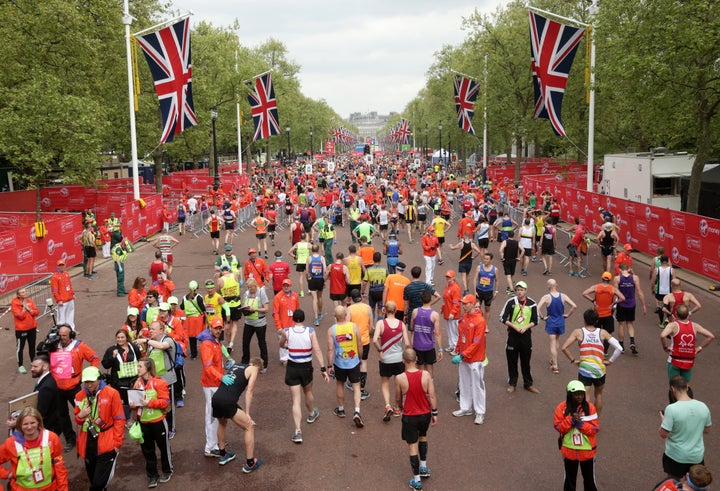 Everyone who has won a place in the ballot will receive a confirmation letter and magazine through the post. Unsuccessful applicants will receive either a magazine or will be emailed an e-zine.
Applicants who have not received their ballot result are asked to wait until Monday 14 October before contacting the London Marathon Customer Services Team.
Hugh Brasher, Virgin Money London Marathon event director, previously told HuffPost UK: "The ballot is a completely random draw, just like the National Lottery, so everyone who applies has an equal chance of success."
If you have not secured a place through the ballot, Brasher says there are three other ways you can nab a spot.
1. Apply for a charity place
Most major charities have a set number of marathon places available that they offer to runners each year. To apply for a charity marathon place, you'll need to contact your chosen charity directly. A full list of the charities advertising 2020 spots can be found here.
"They are looking for people with a connection to the charity and who can raise money. You don't need to be an experienced runner," Brasher said.
Most charities will ask you to pay a registration fee and ask you to commit to raising a certain amount of money for the charity. For example, to apply to run with the charity Sense, which helps people with sensory impairments, you will need to register by paying £100 and commit to raising at least £1,500 for the charity.
The charity will not take the £100 out of your account until they have spoken to you and confirmed your place.
2. Apply through an athletics club
If you're a member of an athletics club you could bag yourself a spot that way. Athletics clubs associated with British Athletics are able to apply for club entries for the London Marathon.
The number of entries given to each club is based on the size of the club and its total members.
For example, a club with 1-99 affiliated members will receive one place, whereas a club with 300+ affiliated members will receive four places.
Club entry opens at the end of October and Brasher explained that club leaders will have their own criteria for allocating the places they get.
3. Championship entry
If you're an experienced, fast runner you've got an extra chance to show the world what you've got.
If you're a member of an athletics club associated with British Athletics and you achieved a championship-qualifying performance for a marathon (or half marathon) in 2016 or 2017, you are able to apply for a championship entry place.
To qualify for a championship place you must be able to match or beat the following times:
Men:
Full marathon - sub 2:45
Half marathon - sub 1:15
Women:
Full marathon - sub 3:15
Half marathon - sub 1:30
Championship entry opens at the end of November and more details can be found here.
If all those methods fail, Sam Browne, CEO of endurance sports website LetsDoThis.com recommends thinking about another marathon, such as the Brighton marathon, which takes place in April and also has charity places available.
"Alternatively, there's the 'Reverse Marathon London', which takes place the day before the headline event and traces the same route – just backwards," he told HuffPost UK. "If you're feeling adventurous, you can explore the multitude of marathons taking place outside the UK."
Whatever marathon you end up doing, taking part in a shorter distance event such as a 10K or half marathon can be a great motivator for training, so don't forget to sign up to those events, too.