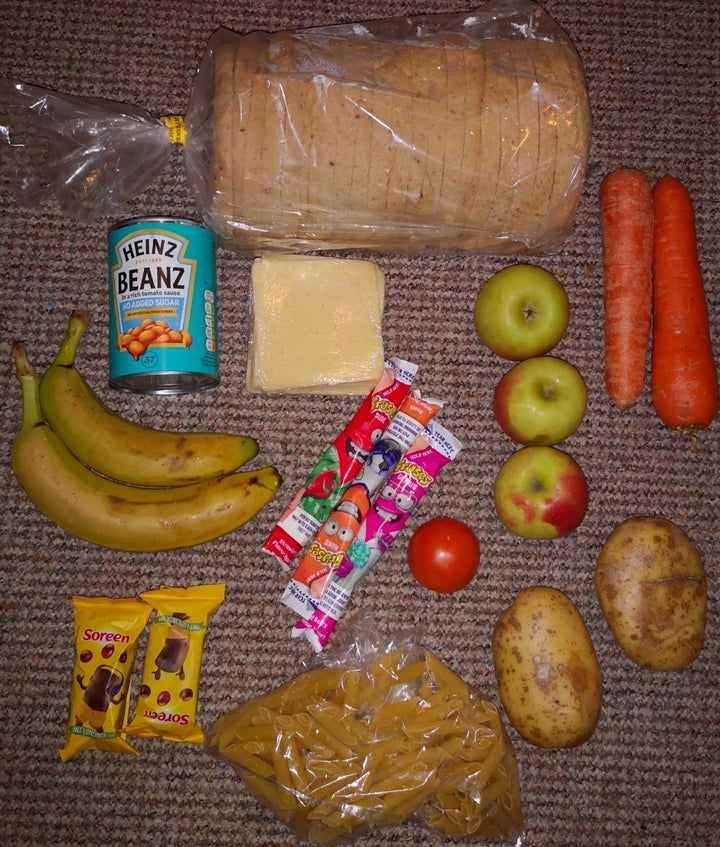 Meagre children's food parcels prepared for struggling families during the pandemic are "completely unacceptable", Downing Street has said.
Boris Johnson's official spokesperson commented after parents posted images of parcels expected to last a child 10 days. One picture was estimated to contain just over £5 worth of food.
The tweet from a poster called Roadside Mum said she had been given one loaf of bread, a small bag of pasta, one tin of beans, a few pieces of fruit and little else. The packages are expected to contain £30 worth of food.
Her post triggered a slew of similar posts and pictures by other parents showing similarly sparse food packages.
Downing Street said the Department for Education is investigating, with children's minister Vicky Ford is speaking to the company responsible and "making clear that boxes like this shouldn't be given to families".
The prime minister's spokesperson said: "We are aware of those images circulating on social media and it is clear that the contents of those food parcels are completely unacceptable.
"The Department for Education is looking into this urgently and the minister for children, Vicky Ford, is speaking to the company responsible and they will be making it clear that boxes like this should not be given to families."
The spokesperson said the national free school meals voucher scheme would shortly be reopened.
Currently schools have two options when providing food parcels for students eligible for free school meals during lockdown:
up to £3.50 per eligible pupil, per week, where food parcels are being provided, or

up to £15 per eligible pupil, per week, where vouchers for local shops or supermarkets are being provided
It is up to each individual school to decide which they provide but the government "strongly encourages" the use of food parcels.
Footballer and campaigner Marcus Rashford tweeted another picture and wrote: "3 days of food for 1 family… Just not good enough.
"Then imagine we expect the children to engage in learning from home.
"Not to mention the parents who, at times, have to teach them who probably haven't eaten at all so their children can… We MUST do better."
Chartwells, a contract food service company, responded to Roadside Mum saying it would investigate the matter.
They said: "Thank you for bringing this to our attention, this does not reflect the specification of one of our hampers."
Labour leader Keir Starmer described the situation as "a disgrace".
He tweeted: "The images appearing online of woefully inadequate free school meal parcels are a disgrace.
"Where is the money going?
"This needs sorting immediately so families don't go hungry through lockdown."