Anna McNuff is tough – and so are her feet. The 34-year-old is currently running the distance of 100 marathons through Britain completely barefoot.
The adventurer estimates the 2,620-mile journey will take five months to complete, taking her from the Shetland Islands, along rugged coastline, through small villages and over farmland, until she arrives in London.
"Going through my head sometimes is this voice saying 'what are you doing?'," she admits when we speak on the phone, one week and 80 miles into her challenge. "The body and feet are doing okay, or as good as can be expected. The first week was always going to be a shock."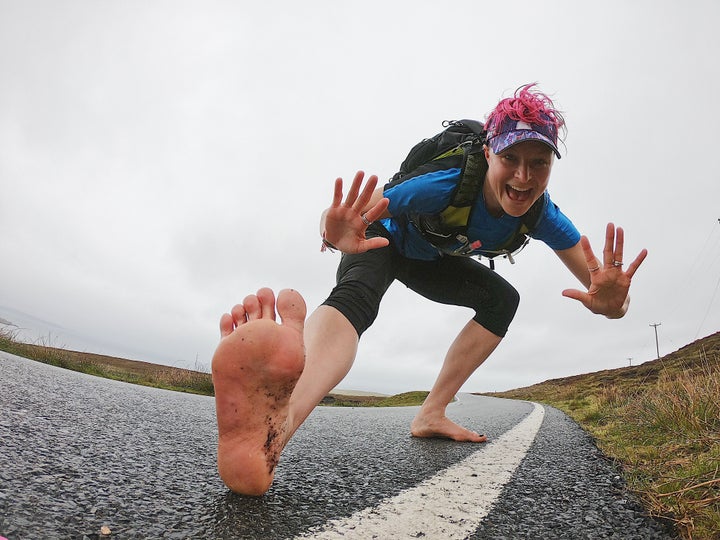 The daughter of two Olympians and a former GB rower herself, McNuff has always been encouraged to challenge herself. In February 2018, she became an ambassador for Girlguiding UK and is visiting a different guiding unit each week along her journey, carrying a simple message: "I'm on a massive adventure and girls do big adventures, so you can do them if you want to."
As a seasoned marathon runner, McNuff wanted to up the ante of the challenge, which is where the idea of barefoot running came from. "This thought just came into my head that I've done long runs in trainers before, so if I'm going to be talking to girls about pushing themselves beyond what they think they are capable of then I need to be doing that too," she says.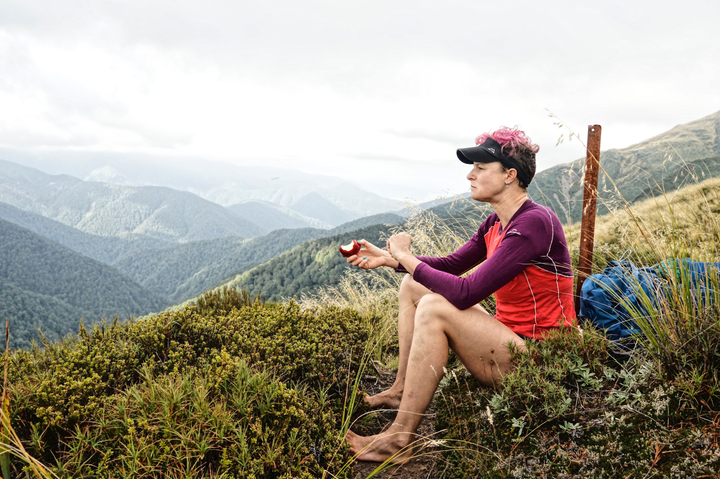 Training for the challenge was a slow, 18-month process – despite being physically fit, McNuff needed to toughen up her feet.
At first she ran in minimalist running shoes (the kind with thin, flexible soles), before switching to socks. Eventually, she completed parts of her run completely barefoot, upping her mileage gradually week-on-week. In April she ran the entire 26.2 course of the London Marathon with no shoes or socks.
She says people expect the skin on her feet to be really hard, but it's not. "It's actually quite a soft callus that builds up," she says. "Your skin gradually gets thicker, almost like layers of a trifle."
A good soak would likely ease some of her running pains, but unfortunately it isn't an option. "The problem is if you have a bath it [the skin] starts to all fall off, so I have to keep my feet outside the bath. Which is really annoying because I like a bath!" she laughs.
She's also noticed her feet widening since she began barefoot running as her toes spread out to give her more support. At the same time, her calves and thighs have tightened because "every scrap of them is being used".
"Bodies are amazing!" she marvels.
When you watch celebrity fitness challenges on TV, stars like Davina McCall or Greg James are often accompanied by coaches, a crew of camera operators and a support vehicle to carry their bags.
But McNuff is running entirely alone and has been relying on the kindness of strangers for accommodation.
She posted a callout on social media and families soon offered to take her in, with some children giving up their bedrooms for the night (shout out to Faith, who had a lovely Harry Potter themed room, and little Oscar, who valiantly gave up his bed to save McNuff from the sofa).
She runs with a small bag of essentials, but has a larger bag packed with a tent, sleeping bag and spare clothes that her host families are kindly passing along her route like a baton.
At times, McNuff is hit by doubts about her ability to complete the challenge, which has already left her sore after one week. But the people she meets along the way keep her motivated, she says. "Their energy and excitement and just being welcomed in and fed, that really offsets a tough day of running."
She's already had one mishap, where she got her toe stuck in an area of deep bog by the coast and had to wrench it free, leading to an evening in with an ice pack.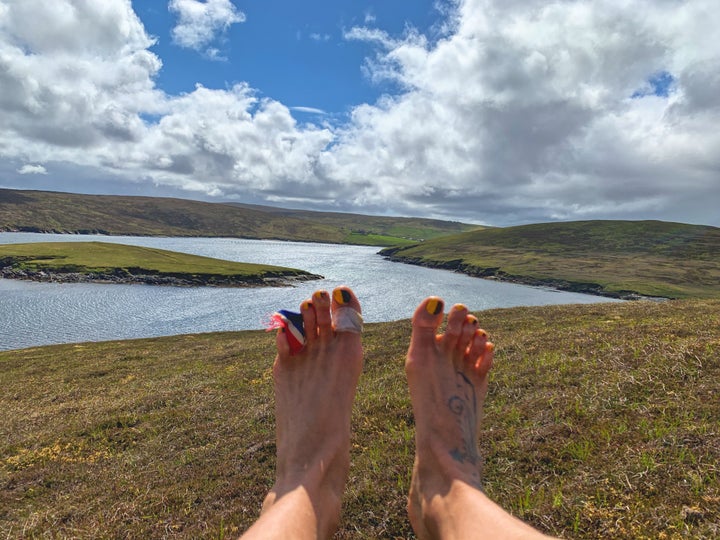 The worst thing she's stepped in so far? Sheep's poo. "Which is usually fine, I do that all the time. But one bit went right between my toes and it squelched!"
Nothing is as bad as running barefoot through London anyway, which she did between business meetings while training. "At least out here in the Shetlands, it rained yesterday so my feet were quite clean," she says. "But when I finished in London they were completely black. Just so, so gross."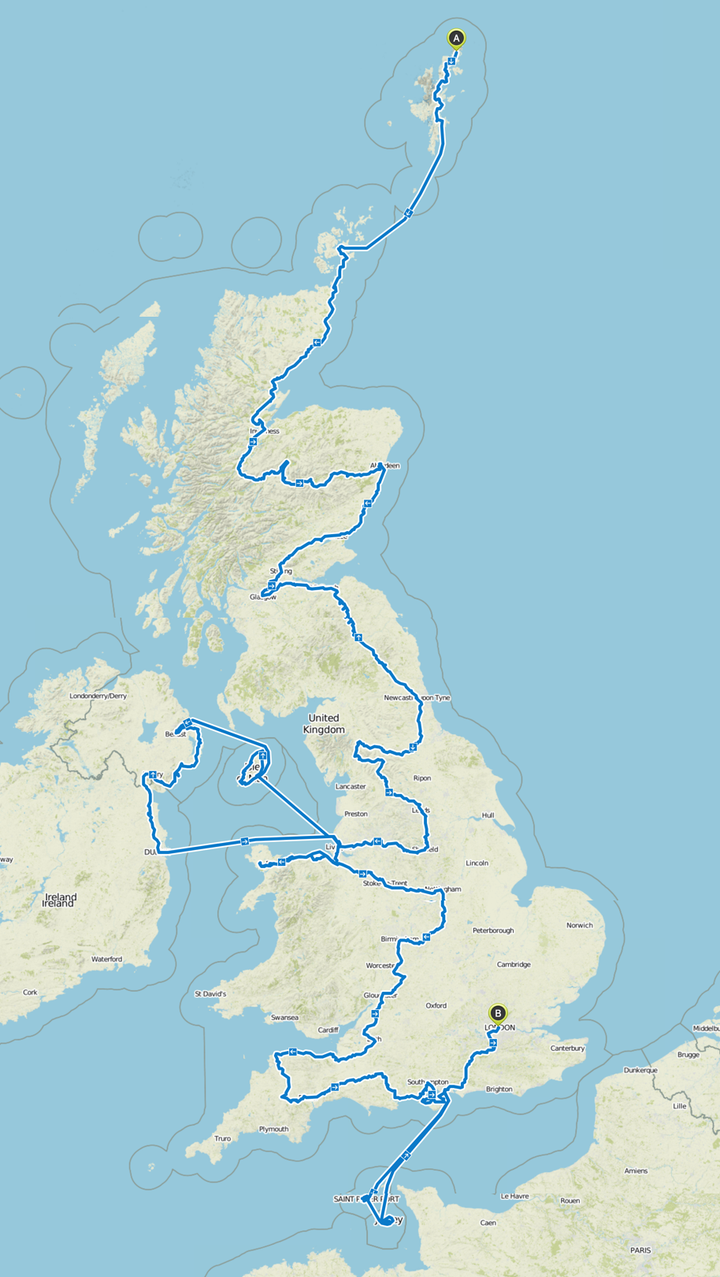 Londoners were horrified to see her running barefoot, she says. "People would pull their children away from me!" she laughs. "They'd say things like 'Look! She hasn't got any shoes on' as if I couldn't hear them."
Thankfully, residents in the Shetland Islands have mostly heard about her challenge through local news, and as word spreads, she hopes she'll continue to receive support along the way. She's excited to explore more of the UK, but also nervous about what the rest of her journey will bring.
"I just cannot imagine making it to the finish. I think I will, but you never know you will," she says. "It literally is going to be one day at a time, because it's the hardest challenge I've ever done and I've got no idea what each day will bring."