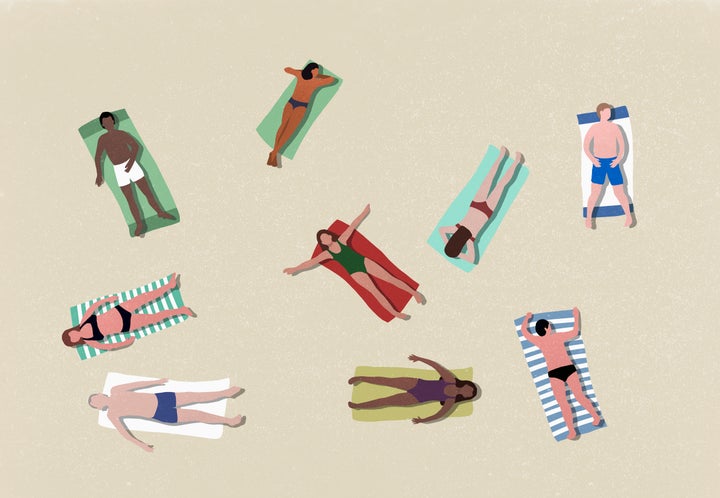 Melanoma skin cancer rates have soared by 45% over the course of a decade, with young people also developing the disease, new figures show.
Cancer Research UK found rates of melanoma – the most deadly type of skin cancer – rose dramatically between 2004-2006 and 2014-2016.
Rates have increased by more than a third (35%) for women and 55% for men over the past 10 years. And while melanoma is still more common in those over 65, rates for 25 to 49-year-olds have increased by 70% since the 1990s.
There are two main types of skin cancer: melanoma – which is less common but more serious, as it can spread to other organs in the body – and non-melanoma, the more common type of skin cancer.
Melanoma starts in cells in the skin called melanocyte, while non-melanoma slowly develops in the upper layers of the skin.
Symptoms Of Melanoma

Melanoma is considered the more dangerous form of skin cancer, killing more than 2,000 people in the UK every year. It can appear anywhere on the body but, according to the British Skin Foundation, is most commonly found on men's backs and women's legs.

Melanoma can develop from existing moles, but in 70% of cases appears as new marks on the skin. Experts recommend doing a skin check once a month. "If you have any moles or patches of skin that grow, change shape, develop new colours, become inflamed, bleed, crust, turn red around the edges, become itchy or behave unusually in any way, consult your doctor," says Lisa Bickerstaffe, a British Skin Foundation spokesperson. "If in doubt, get it checked sooner rather than later."

It's helpful to remember the ABCD rule when doing a skin check on your moles. Take note if there is:

Asymmetry: the two halves of the area differ in shape.

Border: the edges of the area may be irregular or blurred, and sometimes show notches.

Colour: this may be uneven. Different shades of black, brown and pink may be seen.

Diameter: most melanomas are at least 6mm in diameter.
The rise of package holidays in the 1970s and a more recent surge in cheap flights has seen more people going abroad, sometimes several times a year, putting their skin at risk from strong sun, according to Cancer Research UK.
But it said rising rates were also down to increasing awareness of the disease, which has led to more people seeking a diagnosis.
One quarter (25%) of people admitted they don't take any sun cream on their holiday, a survey of 2,000 people by Holiday Hypermarket recently revealed, with 44% taking just one bottle per adult.
Melanoma skin cancer is the fifth most common cancer in the UK and the second most common in people aged 25 to 49.
Experts believe almost nine in 10 cases could be prevented if people protect their skin with a high factor sun cream.
Getting sunburnt just once every two years triples the risk of melanoma.
Michelle Mitchell, chief executive of Cancer Research UK, said: "While some might think that a tan is a sign of good health, there is no such thing as a healthy tan, it's actually your body trying to protect itself from harmful rays.
"These statistics highlight the importance of our Own Your Tone campaign, which encourages people to embrace their natural skin tone and adopt sun-safe behaviours."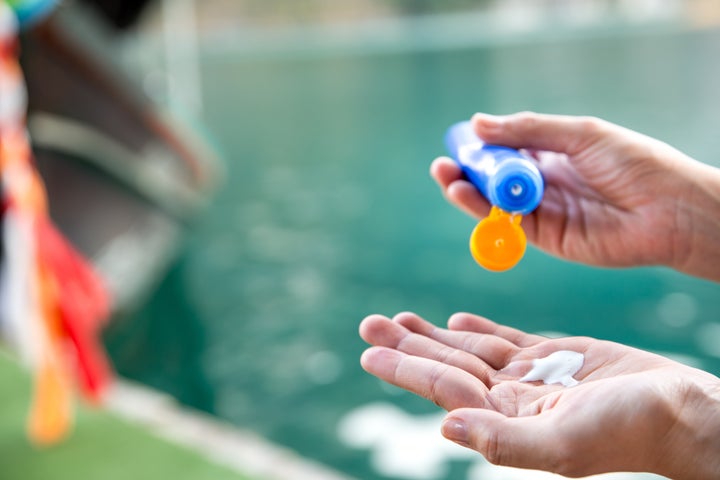 Karis Betts, health information manager at Cancer Research UK, said: "Sun safety is not just for when you're going abroad, the sun can be strong enough to burn in the UK from the start of April to the end of September.
"It's important that people are protecting themselves properly both at home and further afield when the sun is strong.
"We want to encourage people to embrace their natural look and protect their skin from UV damage by seeking shade, covering up and regularly applying sunscreen with at least SPF 15 and four or five stars."
Dr Adil Sheraz, consultant dermatologist and British Skin Foundation spokesperson, tells HuffPost UK he's not surprised by the increase in rates, as it's something he's also seeing in practice.
"We are seeing more skin cancers, including melanomas, in our clinics year on year," he says, citing factors including an ageing population, increasing frequency of cheap sunny holidays and use of sun booths, but also better self-detection of melanomas and growing public awareness about the importance of getting mole checks.
"If you have skin type 1 (always burns, never tans), 2 or 3 (sometimes burns, slowly tans) then you should definitely be applying sunscreen daily throughout the summer when outside," he says. "You should also try to avoid the sun between 11am and 3pm and wear appropriate clothing such as a broad brimmed hat and sunglasses."
Sun cream-wise, Dr Sheraz advises using a minimum of SPF 30 with a high UVA star rating, applied every few hours when out and about. "Apply 30 mins before leaving and then re-apply just before going out," he adds.