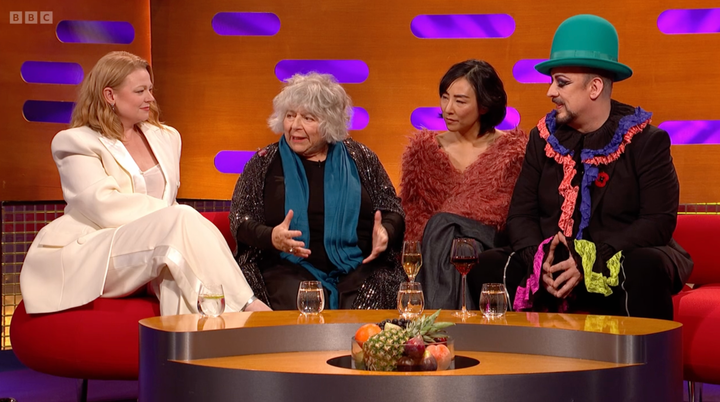 Over the course of the interview, Miriam gave us her candid takes on the political world, shocked her fellow guests with her anecdotes and even made an impassioned display of solidarity with the trans and non-binary community.
However, one thing you might have missed is that she also made a fashion statement while on Graham's famous red sofa (and no, we're not talking about her fabulous blue scarf, although that was certainly lovely as well).
No, instead we're referring to an eye-catching pin Miriam wore on her lapel, which bore the image of a sparkly onion.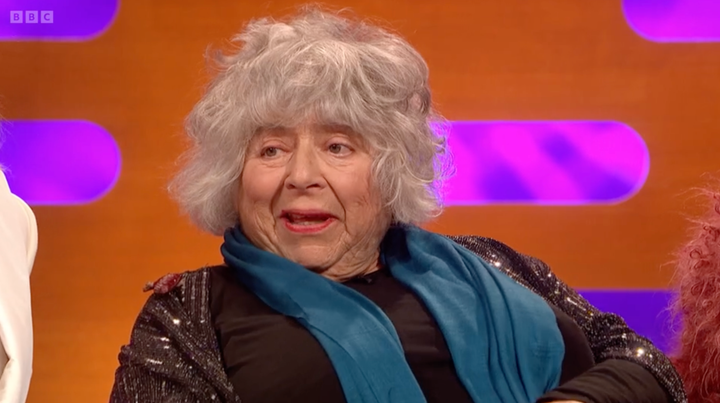 As fans of Miriam's will know, the former Harry Potter actor has made no secret of the fact she's partial to a bit of raw onion as an unusual snack.
Opening up about her go-to snack as part of a "what's in my bag" feature for British Vogue, Miriam explained: "I always carry an onion, because I love them."
After taking a bite out of one, she added: "I don't think mind if you smell of onion. It's not bad breath, it's just onion breath.
"And sometimes people say, 'Christ, you smell of onion!'. And I say… 'yeah'."
Two years earlier, she also left the Loose Women panel stunned when she was seen chomping an onion during her interview, which was conducted over video-link.
"I was told you wanted me to show that I really do eat onions like apples… so I am!" she explained.
And it's not just an onion that Miriam is fond of, either.
During her documentary Miriam's Dead Good Adventure, Miriam inspired a viral moment when she was asked if she'd rather "have a radish than sex".
"If it was good sex, then I would rather have sex… but if it was bad sex, I'd rather have a radish," she admitted.
Miriam's Graham Norton interview is available to watch now on BBC iPlayer. The Graham Norton Show continues on Friday at 10.40pm on BBC One.