A dad who appealed on Facebook for a specific sized feeding tube for his daughter who has cerebral palsy, was overwhelmed by the response.
Dan Grace, from Newcastle, urged others to share his Facebook post to find his seven-year-old daughter a tube to help her eat.
She had fallen ill due to the tube in her stomach being the wrong size. However, the device she needed (Viagon 2cm x 30cm G) had a "supply issue" and was difficult to source.
"We've seen enough of Molly's discomfort now (years' worth) and as Molly's parents and her voice, we aren't prepared to sit back and watch this happen any longer," Grace wrote on Facebook on Thursday 13 April.
Grace continued: "We are asking that this appeal be liked, shared (on your Facebook pages, friends' Facebook pages, special needs' Facebook pages, hospital Facebook pages and anywhere else) and comment (your location) to try and help us get one of these Viagon 2cm x 30cm G Jet devices urgently."
The post was widely shared within hours, including within private and internal hospital Facebook pages.
Sarah-Jane Cameron, founder of medical transport charity Scottish Emergency Rider Volunteer Service (ScotsERVS) saw the post on Facebook and informed her colleagues and staff about it.
"It was one of those things that really caught public attention," she told The Huffington Post UK. "We managed to source the device from Michelle Brooks and Christina McGuckin from the Paediatric Nutrition Team at the Royal Hospital for Children, Glasgow, within a couple of hours."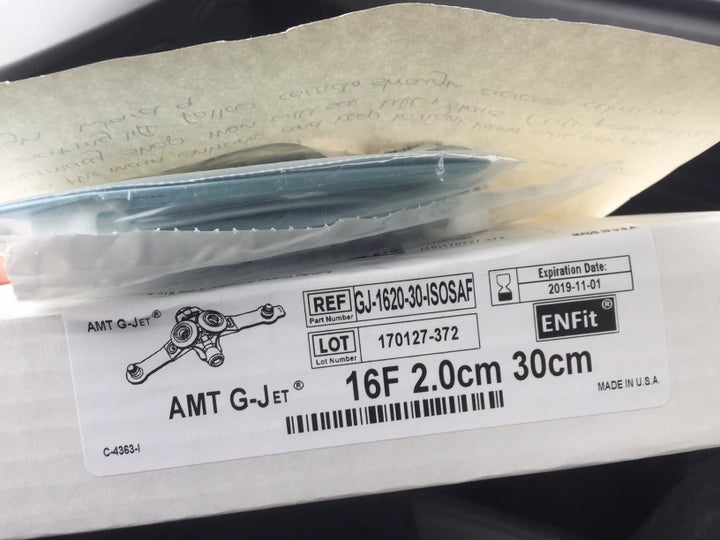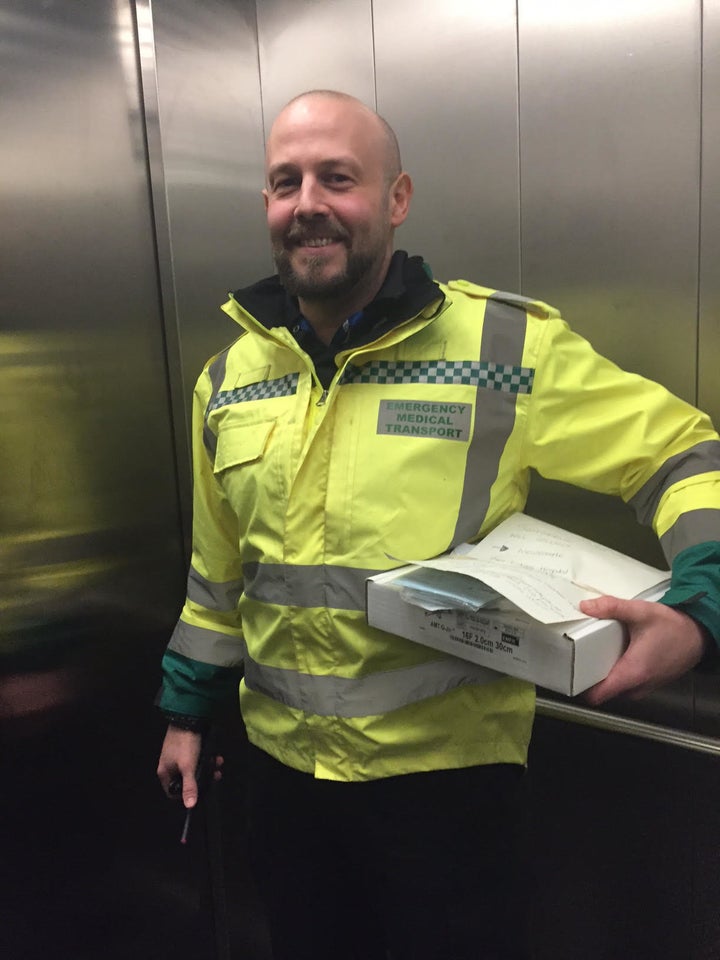 Cameron and one of her colleagues, Euan, made the 300-mile round trip to drive the device to the Grace family in Newcastle.
"There is a nationwide shortage of it," Cameron added. "We were in contact with the family the whole drive down, as well as the hospital.
"Molly was being prepped for theatre and they were practically waiting on the doorstep for it.
"We often do long distance transport for paediatric patients, this instance has just caught the public's attention."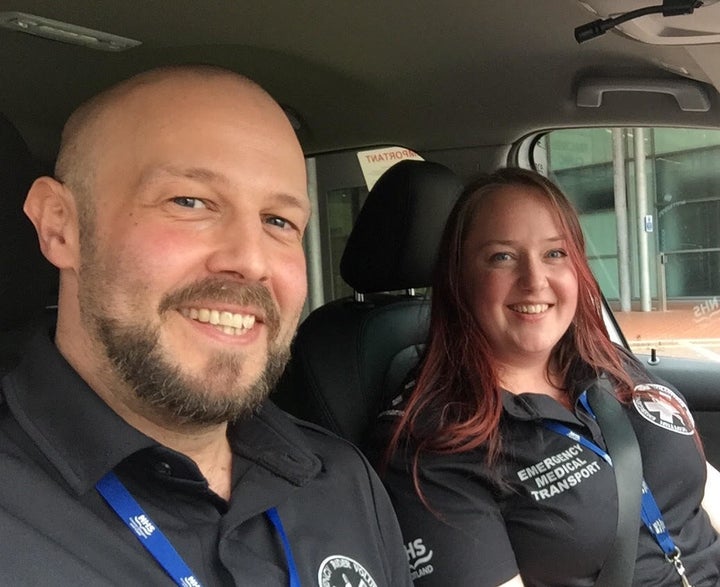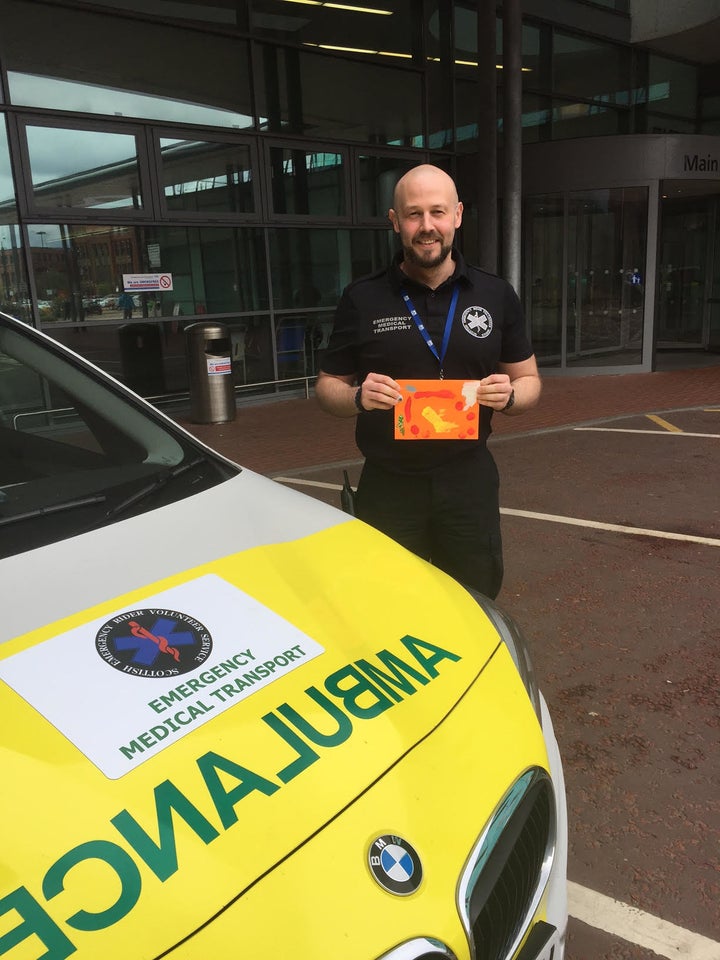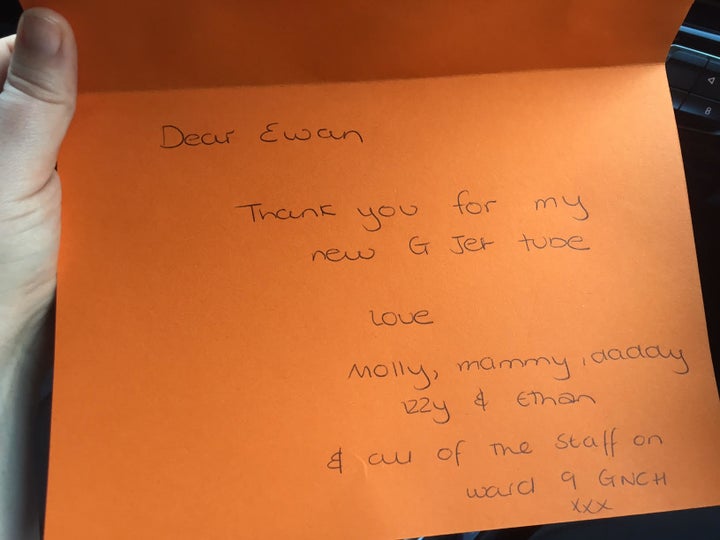 Grace later updated his Facebook status to let those who saw the appeal know that his daughter had received the device and it had been successfully fitted.
"We had a lovely chat with the drivers and Molly's brother made them a 'thank you' card as well," he wrote.
"Molly went down to theatre at 8pm last night. The device was fitted and whilst under general anaesthetic.
"The plan is to keep Molly as calm and pain free as we possibly can over the next 48 hours. Thanks for everyone's support. We never imagined a response like this."
Grace also added that the family has decided to set up a charity donation page for ScotsERVS, adding: "Whatever you could donate no matter how big or small sure would be greatly received by them ensuring they can continue to carry out such amazing things helping those in similar need."