Health officials have said "Britain needs to go on a diet", releasing new official calorie guidelines to help the nation lose weight.
The guidelines, released as part of a new report on obesity by Public Health England (PHE), encourage adults to consume 400 calories at breakfast, 600 for lunch and 600 calories for dinner. Major high-street brands are partnering with PHE on the campaign, signposting to meals that meet the 400-600-600 tip. The remaining recommended daily calorie intake (2,000 per day for women and 2,500 for men) can be consumed through snacks. Currently, adults consume between 200 and 300 calories in excess each day.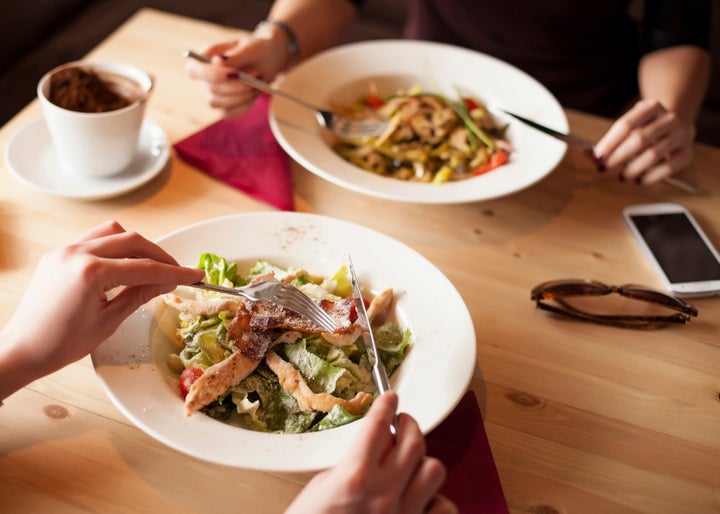 According to PHE, "too many children and most adults are overweight or obese, suffering consequences from bullying and low self-esteem in childhood, to type 2 diabetes, heart disease and some cancers as adults".
The NHS spends around £6 billion per year treating obesity-related conditions, while obesity-related health problems also keep people out of work, stifling their earnings and wider economic productivity.
PHE hopes the new 400-600-600 guidelines will reduce the amount of obese adults in England, but the report, titled 'Calorie reduction: The scope and ambition for action' also sets out a challenge to restaurants and retailers to offer healthier food to customers.
The food industry has three ways to reduce calories:
:: Change the recipe of products.
:: Reduce portion size.
:: Encourage consumers to purchase lower calorie products.
Categories of food covered by the programme include pizzas, ready meals, ready-made sandwiches, meat products and savoury snacks.
If the target to reduce calories in products by 20% within five years is met, more than 35,000 premature deaths could be prevented and around £9 billion in NHS healthcare and social care costs could be saved over a 25 year period, the report states.
The report also includes new data on children's daily calorie consumption. Depending on their age, overweight and obese boys consume between 140–500 calories too many each day and for girls it is 160–290, when compared to those with healthy body weights. Adults consume on average 200–300 calories too many each day.
Commenting on the release, Duncan Selbie, chief executive of PHE, said: "Britain needs to go on a diet. Children and adults routinely eat too many calories, and it's why so many are overweight or obese."
"Industry can help families by finding innovative ways to lower the calories in the food we all enjoy, and promoting UK business leadership on the world stage in tackling obesity."
Dr Alison Tedstone, chief nutritionist at PHE, added: "The 20% reduction target is the result of analysis of the new calorie consumption data, experience of sugar and salt reduction programmes, and more than 20 meetings with the food industry and stakeholders.
"The next step in the programme involves engagement with the whole food industry – retailers, manufacturers, major restaurant, café, takeaway, and delivery companies – and health and charity sectors, to develop category guidelines. These will be published in mid-2019."
Graham MacGregor, Professor of cardiovascular medicine at Queen Mary University of London and chairman of Action on Sugar, welcomed PHE's plans to help the nation cut its calorie intake, but said "in order for it to be successful, it is imperative that the 20% calorie reduction targets are properly enforced and transparent".
"We also need clear guidance from Government on what will happen if the food industry fails to comply, as it is vital that the industry is given a level-playing field and all companies, both retail and 'out of home', fully co-operate," he said.
He added that while the 400-600-600 guideline is a good rule of thumb, "there is also a danger that this awareness campaign could simply be used as a marketing tool by food retailers and the 'out of home' sector to sell more products."
Alison Cox, Cancer Research UK's director of cancer prevention, also welcomed the campaign, pointing out that being overweight or obese is the UK's biggest preventable cause of cancer after smoking and is linked to 13 different types of the disease.
"These targets can make a big difference as we've already seen with the sugary drinks tax. Next on the agenda, we want the government to curb junk food TV adverts before 9pm to protect young people from the constant promotion of unhealthy foods," she said.