Members of the Commons Health Committee said NHS budgets would not cope with a rapidly ageing population and an increase in demand.
Yet nearly three-quarters of the public believe it's migrants putting pressure on public services according to Ipsos Mori - and many blame them for the NHS funding crisis.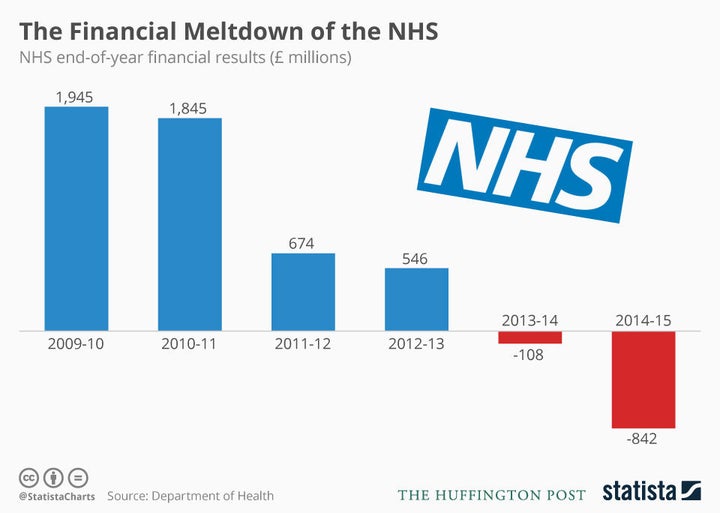 So what do migrants cost the NHS?
Migrants fall into two distinct groups: those who are visiting and those who are resident.
Visiting migrants cost the NHS around £500m each year, but around £289m of that was collected in payments last year, according to the National Audit Office.
This left a total cost to the NHS from visiting migrants of £211m.
To place these figures in context, the same research found that other rising costs and higher wages increased pressure on the health service by nearly £3 billion.
But while migration is predicted to cost the NHS around £550m in additional costs this year - migrants themselves don't necessarily use the health service as much as the native population.
"Those who move countries for work - especially across the EU - are fit and healthy"
Anita Charlesworth, director of research and economics at charity Health Foundation, told The Huffington Post: "People who use the healthcare system the most are the old and those with chronic conditions.
"Those who move countries for work - especially across the EU - are fit and healthy, and they are low users of healthcare on the whole."
And while it's true that younger people are less likely to need costly healthcare, migrant workers do still use the health service.
Robert McNeil of the Migration Observatory at Oxford University told HuffPost: "Younger migrant workers have specific health needs, such as for maternity services.
"But their overall health needs counter the perceived wisdom that migrant workers cause problems for the NHS."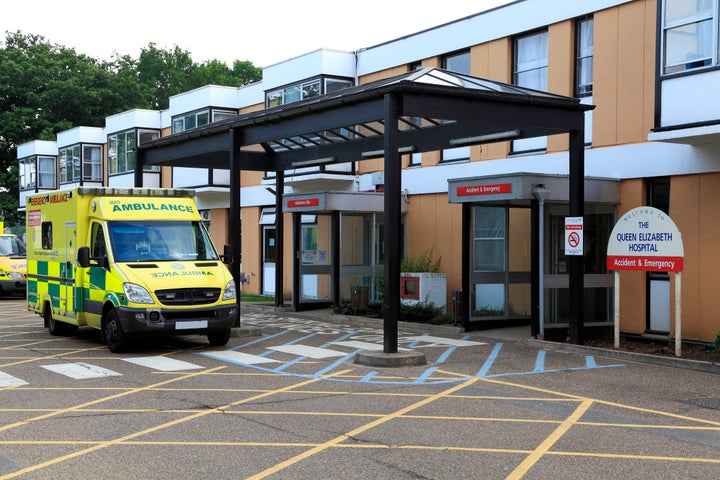 But what do migrants contribute to the NHS?
While the NHS bears some costs associated with migration, it benefits a great deal from skilled migrant workers.
The health service is one of the most reliant on foreign born doctors in the world, according to Charlesworth. "Certainly for the next couple of years the system couldn't cope without the vital contributions of migrant workers," she said.
"Even if we started to train more clinical staff now, it takes at least seven years for a doctor to begin serving patients and around three years for a nurse."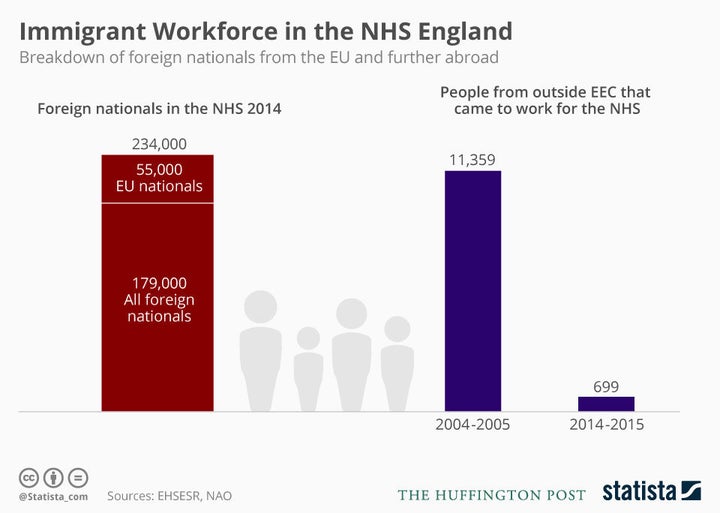 Out of over 1.2 million NHS England staff around 234,000, or 19%, registered a nationality other than British, according to the English Health Service's Electronic Staff Record.
"In some areas of England like London it can be higher," Charlesworth added.
The recruitment of migrant workers into the NHS also solves a shortfall in staff - helping to stem the huge cost of agency temporary workers in the service.
Spending on agency staff increased by half from £2.2 billion in 2009-10 to £3.3 billion in 2014-15, according to the NAO, with some 61% of temporary staffing requests to fill vacancies last year.
What's more, it found there was a direct link between spending on agency staff and the size of NHS trusts' financial deficits.
Charlesworth explained: "If you can't fill a post with a UK based permanent member of staff you can try to recruit internationally to fill that post on a full time basis. Without this you rely on agency temporary staff.
"One of the greatest concerns of agency staff is the high level of churn on wards. This raises quality concerns and hampers the drive to efficiency."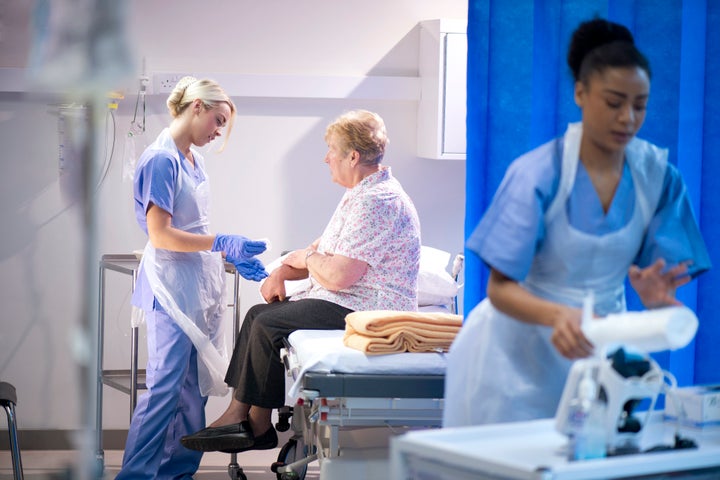 What about other effects of migration on the NHS?
There are other consequences of immigration on NHS services, but these are less certain.
Studies have suggested that migrant workers pay tax and make national insurance contributions roughly equal to the services and benefits they receive, including healthcare.
And other research has found that outpatient waiting times can actually reduce in areas of high migration.
McNeil said: "We've done research looking at the areas of migrant inflows, so in areas where you get displacement of the existing population by migrants, waiting times go down.
"Essentially, older people move out and younger people move in.
"But this creates more demand for services elsewhere.
"This is one of the reasons that it's not as simple as saying migrants are good or bad for the health service."