People with HIV positive partners should not have sex with them, a radio host has said while condemning a court ruling that the NHS should pay for a drug that protects them from infection.
LBC's Ian Collins railed against The Court Of Appeal's ruling earlier this week that the NHS should pay for Truvada for PrEP for 10,000 people whose partners are HIV positive.
Nick Perry, who was taking the drug as part of a trial, told Sky News that the drug had "taken the fear away" as part of a range of measures protecting him.
On LBC on Friday, Collins told couples where one person is HIV positive and the other is not: "Just don't have sex at all."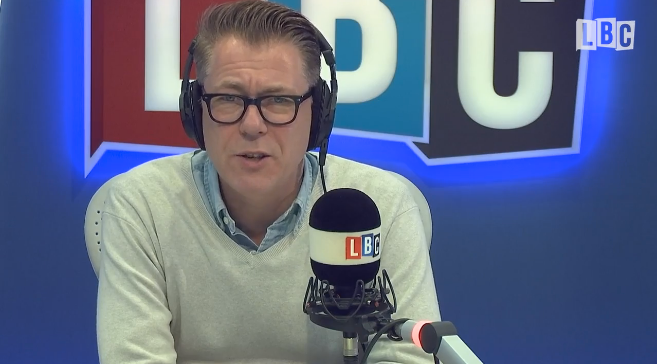 The host said: "Critics have said, at £400 per person per month, the drug treatment is too expensive and those in that high risk group should be encouraged to practise safer sex. Well just don't have sex at all.
"I'm sorry... We are funding a drug for people who haven't got HIV but as a way of protecting them so that they might not get it so they can still have sex with their partner and not worry about protection.
"That is the dictionary definition of a scandal. Can someone enlighten here?"
He continued: "Nick Perry, who's been taking PrEP as part of a trial, said that the drug was part of a host of measures to help people practise safer sex and for the him, it had taken the fear away.
"But if it's costing the NHS that much money, don't have sex, Nick. Sorry.
"Love your partner, hug your partner, kiss your partner, do all manner of other things you can do with your partner, just don't have sex. If your partner is HIV positive, don't have sex. There's lots of people that don't have sex for lots of reasons.
"Do you think kids who've got cystic fibrosis don't have to give things up, or change their lifestyle because of their disease? Of course they do.
"And you're being asked to just simply keep your pants on. This is not a drug that is funding people with HIV. It is funding people without HIV so that they can sleep with people with HIV. That's it."
People questioned Collins on Twitter, prompting him to reply to one saying:
One person complained that the debate around the drug showed "homophobia is alive and well," Collins said his comments had nothing to do with sexuality, urging people to ignore trolls.
Deborah Gold, chief executive of the National Aids Trust, said after the court ruling: "HIV is a critical issue in the UK where over 4,000 people acquire HIV every year.
"PrEP works, it saves money, and most importantly it has the power to prevent HIV acquisition for thousands of people, at the same time as beginning to end the HIV epidemic."
Popular in the Community