Nick Clegg has sarcastically said Nigel Farage should be made British ambassador to the US so he can "spend all his time in cocktail parties on the diplomatic circuit".
The former deputy prime minister, who clashed with Farage over the EU, became an unlikely backer for Ambassador Farage, after President Elect Donald Trump caused an uproar by suggesting Farage should be London's man in Washington.
Clegg told CNN on Thursday: "I think it's a great idea, absolutely great idea.
"Send Nigel Farage to Washington and let him spend all his time in cocktail parties on the diplomatic circuit. That would be great, as far as I'm concerned."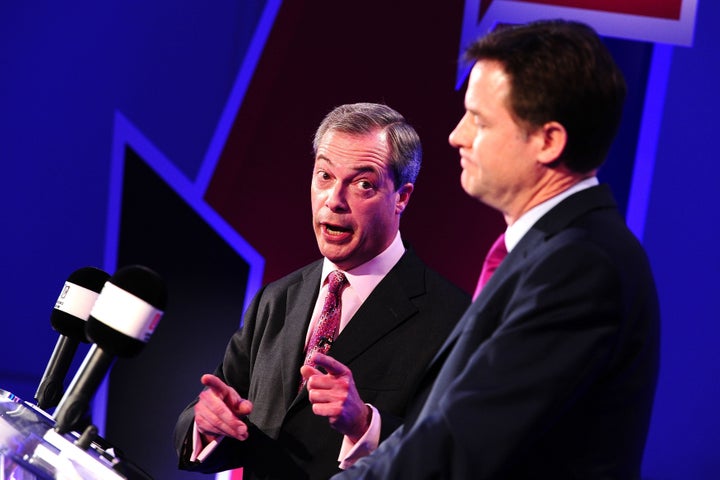 Farage said he was "very flattered" by Trump's tweet but Downing Street shot down the idea of him as ambassador, stressing the position was not vacant.
Trump's tweet followed his meeting with Trump in New York, the first British politician to meet him since the election.
Clegg's comment comes after a report in The Times that Farage was planning to emigrate to America to be "freer" from public attention.
They also ate Ferrero Rocher, in a nod to the cheesy 90s advert showcasing the chocolate at an "ambassadors reception".
Farage, who is privately-educated and has pocketed £84,000 a year since becoming an MEP in 1999, gave a speech attacking politicians he believes are out of a touch, standing on the gilded stairway of one of London's most expensive hotels.
The audience included pro-Brexit MPs, Daily Telegraph owners the Barclay brothers and Ukip's millionaire backer Arron Banks.
During his CNN appearance, Clegg said: "These people are not in touch with the folk they claim they're representing. They are elitist themselves, and that is the interesting thing. Donald Trump is hardly a 'man of the people'.
"He resides in a gold-plated tower in Manhattan."
Related