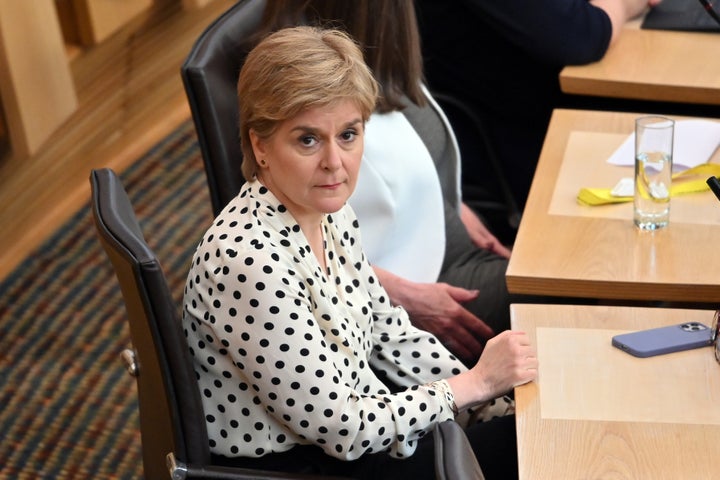 The former first minister was quizzed by detectives for seven hours before being released without charge.
Police Scotland have launched an investigation into the whereabouts of £660,000 donated to the SNP for a second independence referendum campaign
Sturgeon's husband, former SNP chief executive Peter Murrell, and the party's former treasurer, Colin Beattie, have previously been arrested as part of the probe, known as Operation Branchform.
Following her release this evening, Sturgeon issued a statement on Twitter in which she said it was "beyond doubt" that she was innocent.
She said: "To find myself in the situation I did today when I am certain I have committed no offence is both a shock and deeply distressing.
"I know that this ongoing investigation is difficult for people, and I am grateful that so many continue to show faith in me and appreciate that I would never do anything to harm either the SNP or the country."
Ms Sturgeon went on: "Obviously, given the nature of this process, I cannot go into detail.
"However, I do wish to say this, and to do so in the strongest possible terms. Innocence is not just a presumption I am entitled to in law. I know beyond doubt that I am in fact innocent of any wrongdoing."
Sturgeon thanked "the many people who have sent messages of support over these past difficult weeks – including since today's news broke".
She added: "Thank you also to my close circle of family and friends who are giving me much-needed strength at this time."
Police Scotland are investigating claims that the donations from activists to support the campaign for a second independence referendum were used for other purposes.
The inquiry was launched following allegations that the money, which was meant to be in a ring-fenced fund, had been misappropriated.
An SNP spokesperson said: "These issues are subject to a live police investigation.
"The SNP have been co-operating fully with this investigation and will continue to do so, however it is not appropriate to publicly address any issues while that investigation is ongoing."