The interim Ukip leader, who advised Trump and spoke at one of his campaign rallies in August, declared today that America finally had a President who "likes our country and understands our post-Brexit values".
The Republican candidate fought off competition from Hillary Clinton. His party also gained control of the US Senate and House of Representatives.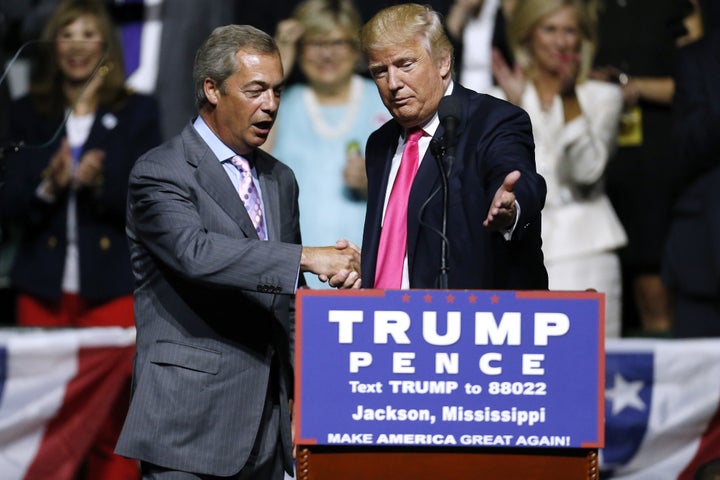 Farage heralded the shock election as marking the end of a period where "big business and big politics control our lives".
"Today, the establishment is in deep shock. Even more so than after Brexit. What we are witnessing is the end of a period of big business and big politics controlling our lives.

"Voters across the Western world want nation state democracy, proper border controls and to be in charge of their own lives.

"I commend Donald Trump for the courage with which he has fought this campaign and I look forward to a closer relationship between the USA and the UK.

"We now have a President who likes our country and understands our post-Brexit values. Prepare for future political shocks in the years to come.
Farage revealed earlier this week that he hoped to become Trump's ambassador to the EU, in a further bruising to the establishment he has fought for years to dismantle.
Not everyone is so taken with the American people's verdict. German Chancellor issued a carefully-worded response that took aim at the divisive rhetoric Trump used during the campaign.
She said: "Germany and America are connected by values of democracy, freedom, and respect for the law and the dignity of man, independent of origin, skin colour, religion, gender, sexual orientation, or political views.
"I offer the next President of the United States close cooperation on the basis of these values.
"The partnership with the United States is and remains a foundation of German foreign policy."
NOW READ:
NOW WATCH:
Popular in the Community