Nigel Farage has compared Donald Trump to Ronald Reagan, saying the former US president was successful despite many thinking he was unfit to hold office before his election.
The outgoing Ukip leader's comments come after he spoke at a rally for the Republican White House hopeful in Jackson, Mississippi.
Writing in the Mail on Sunday, he said that an aide had told him Trump was his warm-up, as opposed to the other way round.
At the rally, he did not explicitly endorse Trump but did say, were he an American citizen, he would not vote for Hillary Clinton even if she paid him.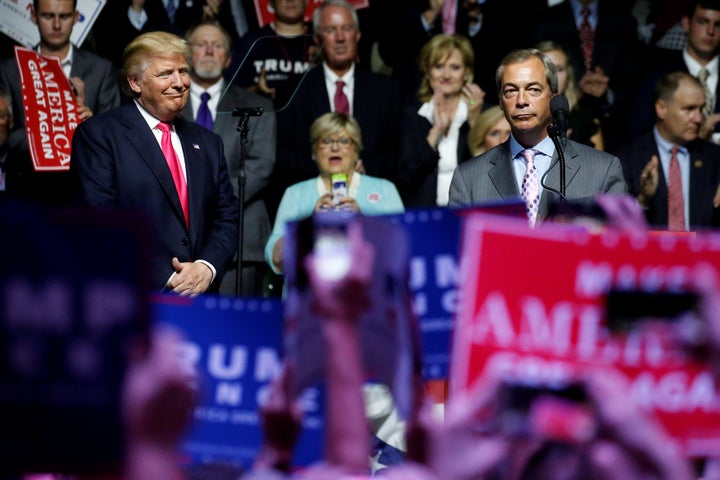 Addressing criticism of Trump in his article, Farage said: "It is worth remembering that virtually everyone thought that Ronald Reagan was unfit to be the US president before he made a huge success of his two terms."
He also explained how, after being invited to speak at a dinner hosted by the by Mississippi state governor Phil Bryant, he was given the chance to speak at the rally at the last minute.
He was expecting to be one of the earliest speakers - on stage long before Trump made his entrance.
"Then, minutes before the event began, I was told there was a change of plan. Donald would introduce me. I couldn't really believe what I was hearing," he said.
"One of his aides said, 'He's gonna be your warm-up'."
Farage said that the majority of the crowd he addressed had never voted before and these "are the same people who made Brexit happen".
While admitting that Trump has "made a lot of mistakes", he said he did not believe the Republican candidate was the "monster" he had been made out to be.
He also said he has given Theresa May the benefit of the doubt over Brexit and approved the appointment of "the three Brexiteers" - David Davis, Boris Johnson and Liam Fox, but urged her not to take too long in triggering Article 50.
Popular in the Community