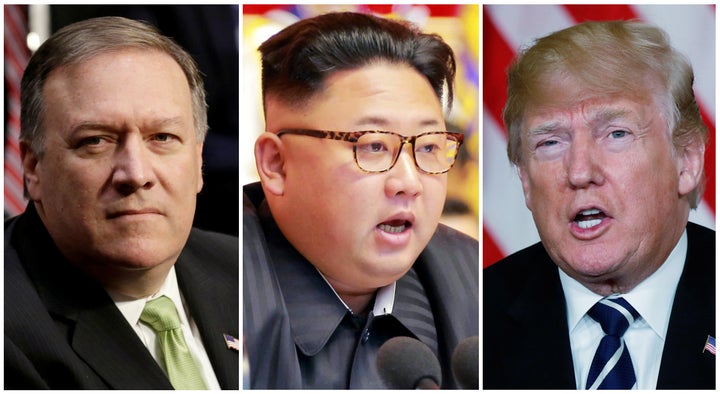 The US Secretary of State, Mike Pompeo, departed North Korea on Wednesday with three American prisoners with him, President Donald Trump announced on Twitter.
In another sign that relations between the US and North Korea are warming in advance of a first-of-its-kind nuclear summit, Trump wrote the Secretary of State was "on his way back from North Korea with the 3 wonderful gentlemen that everyone is so looking forward to meeting".
"They seem to be in good health."
The President added that the time and place of the history summit had been agreed.
Kim Hak-song, Kim Dong-chul, and Kim Sang-duk, who is more commonly referred to as Tony Kim, were due to arrive at Andrews Air Force Base at 2am on Thursday, according to Trump's tweets.
Hak-song, who had been undertaking research at the Pyongyang University of Science and Technology, was detained in May 2017 and accused of "hostile acts".
Dong-chul, accused of spying, was arrested in 2015 but sentenced to 10 years of hard labour in April 2016.
Tony Kim, who had been living in North Korea with his wife, taught for a time at the Pyongyang University of Science and Technology. He, too, was accused of "hostile criminal acts" against the regime and was detained in April 2017.
Trump hinted last week that the release could be imminent, tweeting that people should "Stay tuned!"
Trump's unconventional approach to launching a dialogue with the reclusive North Korean state consisted of wrangling with both the South Koreans and the Chinese to bring Pyongyang to the negotiating table.
Secretary of State Mike Pompeo also made a secret trip to North Korea prior to his confirmation, while he was still CIA director.
Trump and Kim plan to meet either this month or next in a location that has yet to be announced. Despite the fanfare surrounding the significance of such a meeting, experts have expressed caution that Kim will commit to meaningful steps toward denuclearisation.
"The fact that we have the opportunity to change direction here and go in a more peaceful one and having it occur so quickly is good news," said John McHugh, an Atlantic Council board director and former secretary of the US Army.
"But the lesson there is that we could very rapidly, if the upcoming summit is a failure, return to that [earlier] posture, which was an extraordinarily dangerous one."
Kim and South Korean President Moon Jae-in met last week in another historic gathering, jointly committing to ridding the Korean peninsula of nuclear weapons. The two leaders also agreed to officially end the Korean War after 65 years.