The stroke of midnight tonight will signal a historic moment in Northern Ireland's history, as laws making both abortion and same-sex marriage legal come into effect, finally bringing the country into line with the rest of the United Kingdom.
Champagne corks are ready to be popped by advocacy groups celebrating the liberalisation of rights that have long-faced stiff resistance from conservative politicians and church groups.
What are the current laws?
Currently, and only for a few more hours, Northern Ireland is the only part of the United Kingdom that does not allow same-sex marriage.
Also, unlike England, Scotland and Wales, laws in Northern Ireland forbid abortion except where a mother's life is at risk, bans that have been upheld by the region's block of conservative politicians – particularly the Democratic Unionist Party (DUP).
What's their issue?
Speaking at a special sitting of the Stormont Assembly on Monday, DUP leader Arlene Foster joined other conservative politicians in an attempt to block the new abortion law.
She said it was a "shameful day" and is "not a day of celebration for the unborn".
Foster said decriminalisation at midnight would not mark the end of efforts to prevent the introduction of abortion services in the region and her party would explore "every possible legal option" open to it.
The attempt to thwart the new law was blocked.
What actually happens at midnight?
While the old laws will lapse at midnight, the practical implications of the new laws will take a little while to be implemented.
After midnight the government will assume responsibility for introducing new regulations to provide greater access to terminations in the region by next April.
In the interim period, women will be offered free transport to access abortion services in England.
Same-sex marriage will become legal in Northern Ireland in January, with the first wedding expected the following month, PA Media reports.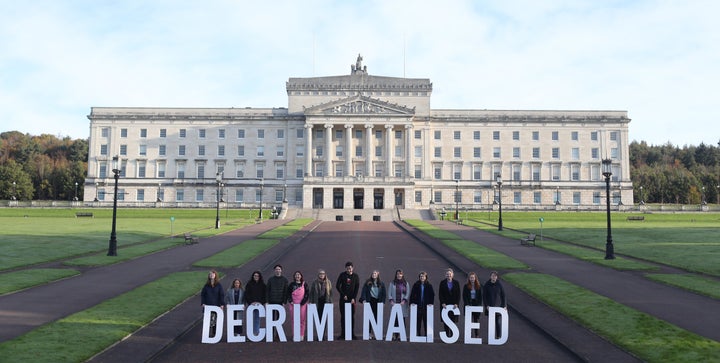 Why is this happening now?
Political power in Northern Ireland is currently in limbo due to a power-sharing standoff between Sinn Fein and its erstwhile partner in government, the DUP, on issues such as Irish language legislation and the region's ban on same sex marriage and a scandal over a renewable heating scheme.
As a result Stormont, the seat of the Northern Ireland Executive, has been in cold storage for over two and half years.
Westminster effectively took advantage of this deadlock and a vote in July compelled an overhaul of the laws if Belfast's devolved executive had not been restored by October 21.
With the DUP and Sinn Fein still at loggerheads, this means the laws will be brought into line with the rest of the UK at midnight tonight.
Is there public support for the law changes?
Abortion rights were long opposed in Northern Ireland by religious conservatives in both the Protestant community that supports continued British rule and the Catholic community that favours union with the traditionally Catholic Irish Republic, Reuters reports.
"This is a bad law being implemented through a bad process leading to bad consequences for both women and unborn children," said Dawn McAvoy from the anti-abortion Both Lives Matter group.
But pressure has mounted in recent years to change the law, particularly after the neighbouring Irish Republic voted overwhelmingly last year to repeal a similarly restrictive ban, demonstrating a stark change in attitudes on an island once known for its religious conservatism.
"We are not going to stick with the guilt and the shame any longer. Tomorrow the law changes in this place, and for the first time in Northern Ireland, women will be free," Pro-choice campaigner Dawn Purvis told a public meeting in Belfast
"Free to choose if, when and how many children they will have in the care of health-care professionals. This is a very emotional day for many here."
As for same-sex marriage, a poll in June showed 70% of people in the UK were in favour of changing the law.
Grainne Teggart from Amnesty International said the law change would pave the way for a more "compassionate" system.
"From midnight tonight history will be made, these oppressive laws that have policed our bodies and our healthcare will be brought to an end," she said.
"Finally our rights and our healthcare are being brought into the 21st century."